I'm starting a new series on the blog – a HOME TOUR, room by room! This post just happens to be a living room makeover, too.
A big thank you to Nebraska Furniture Mart for sponsoring this post!
A couple weeks ago, I got a really exciting email asking if I'd like to have our home featured in a local magazine. Um, YES please! Cue me freaking out, quickly emailing back with a "yes!" and then instantly realizing that our home was not magazine ready.
We moved in about six months ago, and I've been working on decorating…but I wasn't finished! Honestly, I'm not convinced that a home is really ever "finished"…I'll always be switching things around and changing them up. But, with that being said, we still had pieces that we were definitely missing – it wasn't just like I needed to add a few throw pillows or something. We were eating off of a plastic folding table, for goodness sake.
Thankfully our new dining table just happened to arrive shortly after I got the email. But it still wasn't finished.
If you've never been in one of their stores, you're missing out. Truly. I could spend all day there – they have EVERYTHING and I always feel so inspired (their designers do such an awesome job of setting "rooms" up!). We can't go into the physical store right now because of Covid, so I turned to their website to look for some pieces to order for our home.
We were able to put everything together JUST in the nick of time, and I am so, so thankful…because I'm absolutely feeling much more confident that the house is "magazine ready."
I worked on two spaces for the magazine – our living room off the kitchen and our dining room. I'll share more on the dining room in a separate post, but for now wanted to take you through the living room, get you links (so many questions about our new recliners over on Instagram, and for good reason – they're awesome!), and just show you around!
Keep scrolling for links to all of the products I incorporated into this living room makeover!
For starters, though, here's a quick "before" photo that I snapped: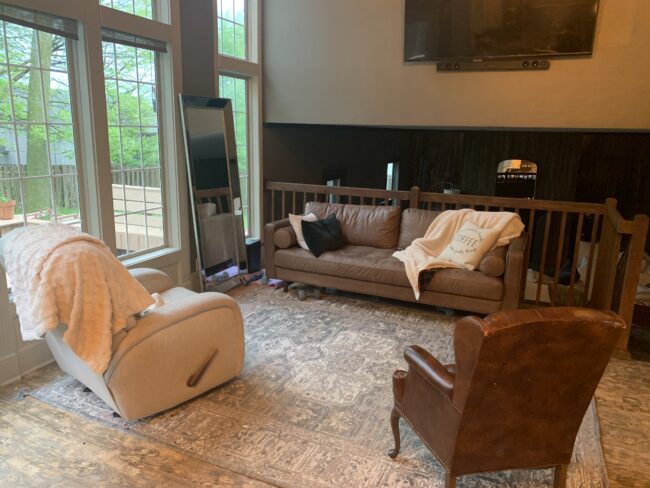 It was OK…but felt a little drab. Plus there was no coffee table, no lamp, plants….it needed some LIFE. I also felt like it needed some color. Our home has a lot of wood accents, which I absolutely LOVE…but I'm also a big fan of balance when I'm decorating. I put a feminine gold mirror over our wood plank fireplace [see it here] (and a glam gold coffee table [see that here]) – I just like to mix opposites so that things feel more balanced.
So. Bring on the color.
Here's what it looks like now: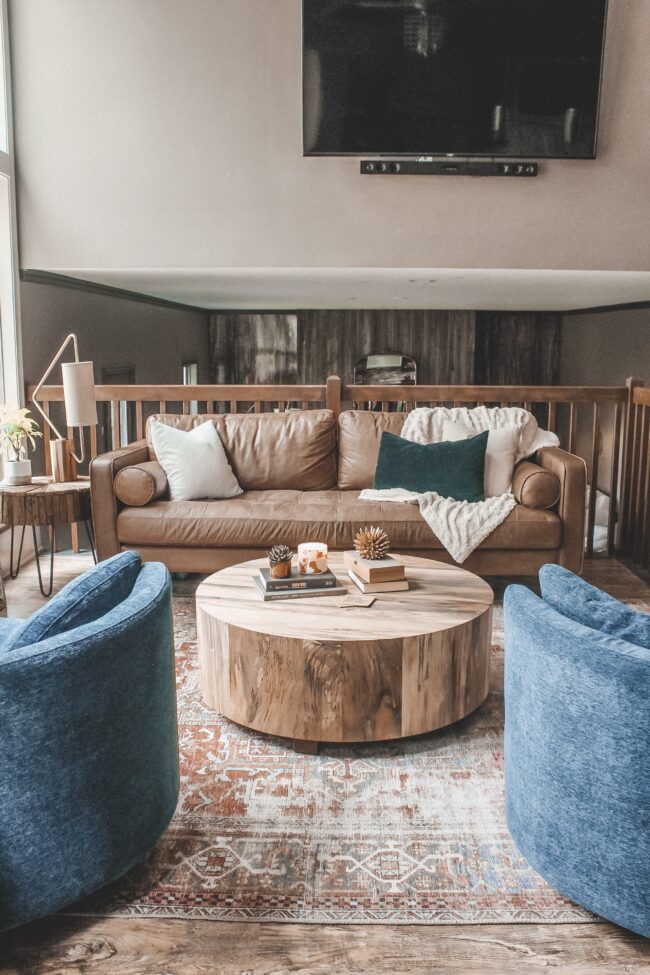 Holy transformation, right?! I love, love, LOVE how it turned out. And I'm so glad I decided to go bold with those peacock colored recliners – go big or go home, right?!
Okay so now, let's talk about the items I incorporated from Nebraska Furniture Mart!
First of all, I moved the two accent chairs out of this room. The white recliner is VERY comfortable, and it's the chair everyone always wanted to sit in when they were in this room. We have a TV high up on the wall, so a recliner was kind of a "must" so you didn't have to crane your neck to see it. The brown faux leather chair, while we love it, just wasn't quite right for this room.
So I knew I wanted a pair of matching recliners, but I went in not expecting to find much, quite honestly. WHY are attractive recliners so. dang. difficult. to find?! It's like furniture makers want our homes to be either comfortable OR pretty.
But leave it to NFM to have exactly what I was looking for.
I was honestly blown away when I stumbled upon these recliners. Here she is in all of her beautiful glory: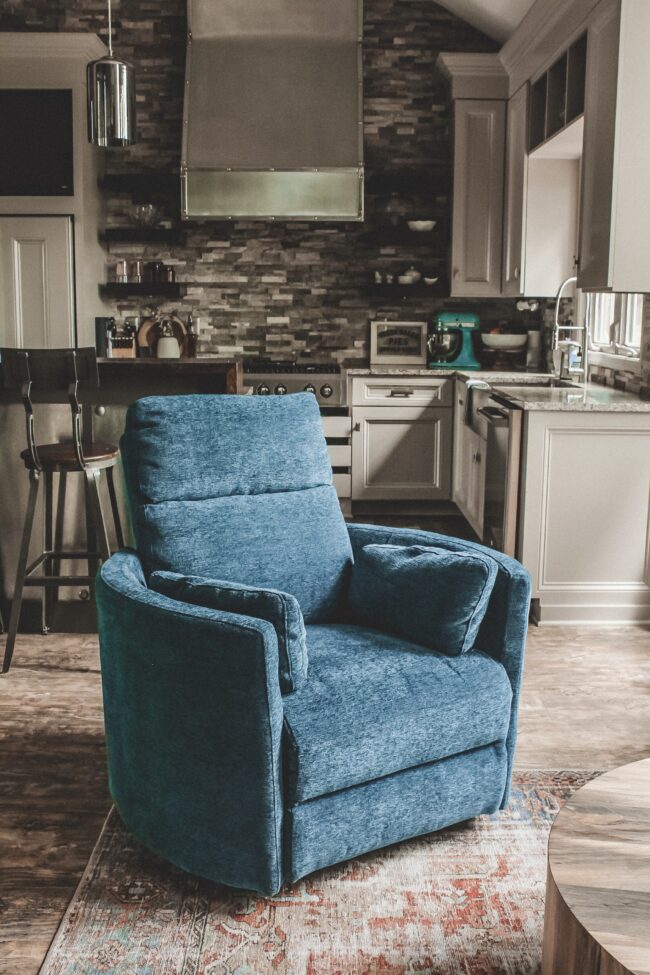 They come in two color options, operate with power (as opposed to a push back recliner or one that you pull a little lever or bar to recline), and SWIVEL AND GLIDE!! I shared a sneak peek of them over on Instagram, and I got so many messages asking about these chairs. They were a dang good find, if I do say so myself. They have it all, truly. Good looks AND they're really comfortable. Plus, they were the perfect pop of color that I wanted.
Buy power swivel glider recliner here
Next, the crazy pretty area rug that I picked out. I have actually had my eye on this rug for quite a while – I've seen it all over Pinterest and Instagram and it looks perfect in every room its in. It's colorful without being TOO bold because it has the perfect amount of distressing to make it look like a well loved antique turkish rug. But it's a fraction of the price. Genius! This rug is popular for good reason.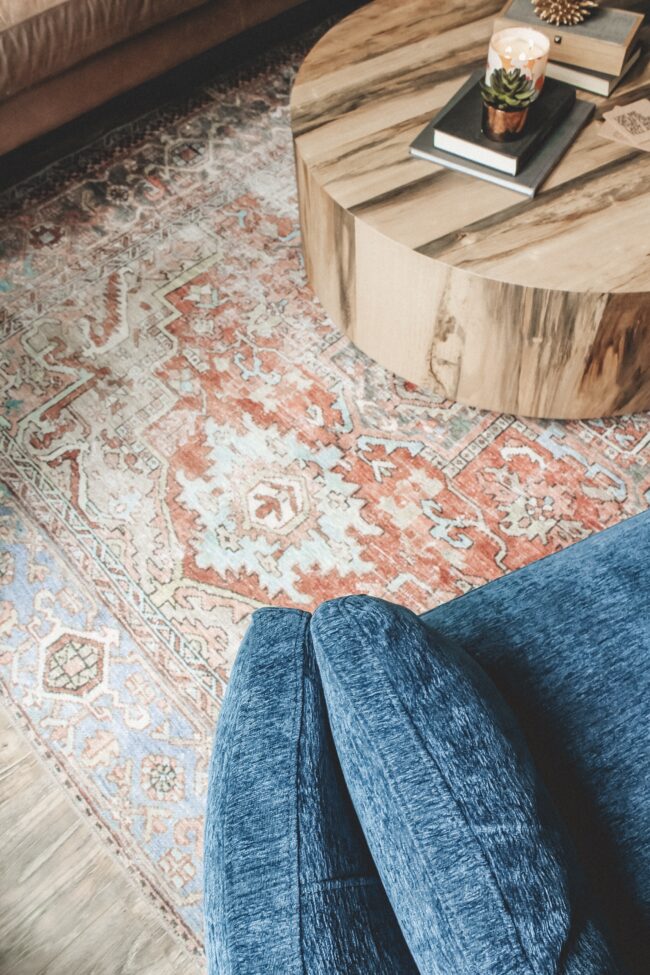 I honestly went back and forth between a couple of different rugs, though, because I was trying to pick two area rugs that coordinated. One for our dining area (more on that later), and one for this space. They're in close proximity, so I really wanted them to vibe well together. Plus, I was picking everything out online (because of Covid, remember?) – it can be tricky to get a feel for what the TRUE colors of a piece are when you're viewing them online, ya know what I mean? It's especially tricky when it's for an entire living room makeover! No pressure!
But in the end, I went with my gut. And let me just say this when it comes to making decorating decisions for your home…or any decision, for that matter: always, ALWAYS go with your gut!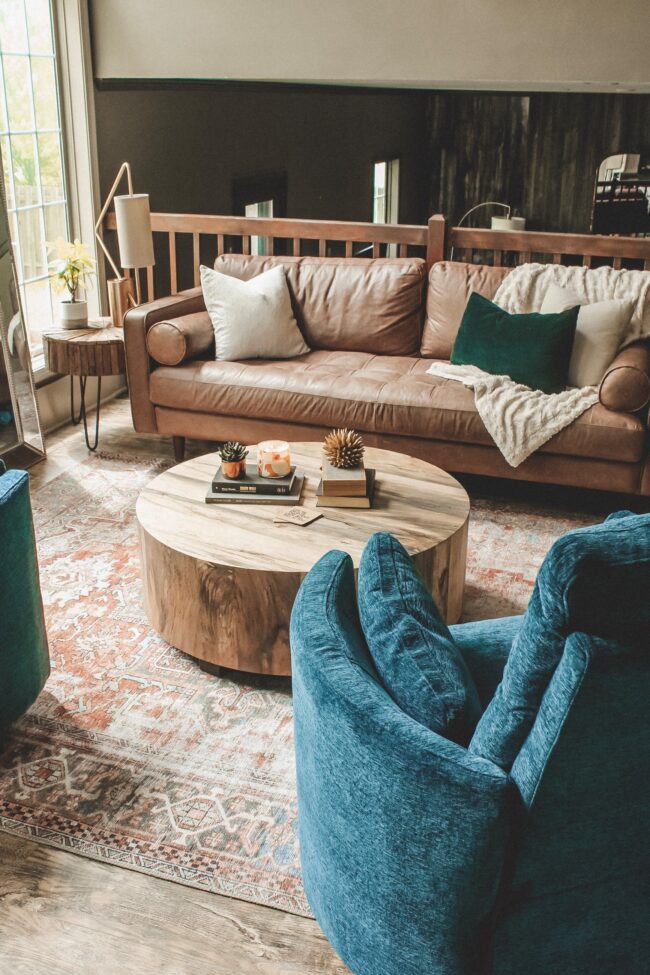 Quick sidenote: I recently conditioned our leather couch to make it more moisturized! You can read all about how I did that right [here].
I'm extremely indecisive when given a lot of options (NFM has an insane amount of products, it's amazing), but ultimately I went with my gut and I am so happy I did. This area rug is so, so pretty and fun.
Next up: we desperately needed a coffee table, and I knew I wanted something round. Safer for kids running around (no sharp corners to hit their heads on), and I wanted something that wouldn't take up a ton of room + would be easy to walk around. I found this coffee table and instantly fell in love!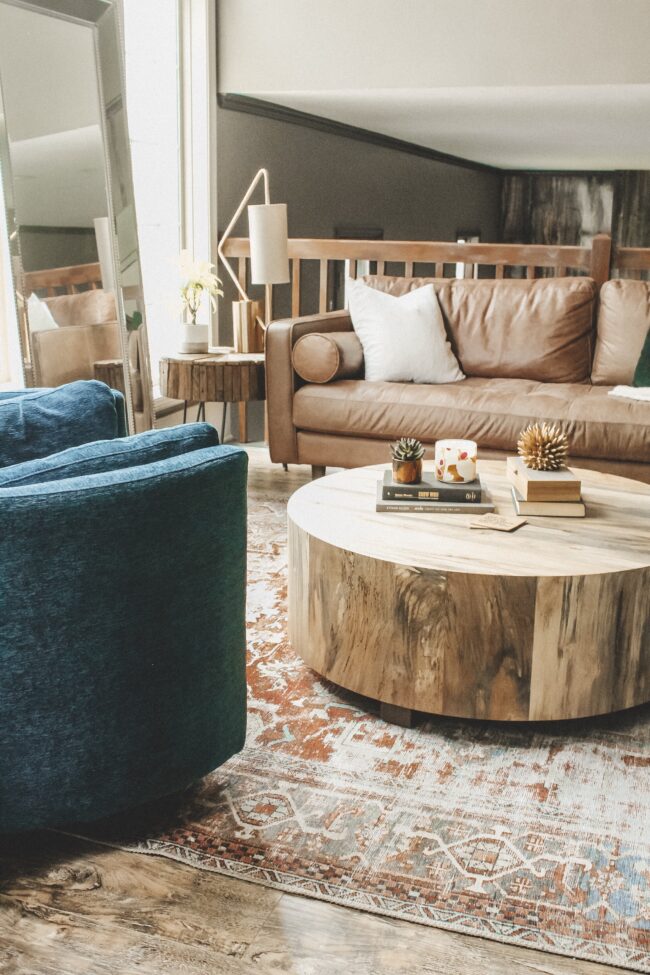 I hate, hate, hate clutter…so I knew that I didn't want a double tiered coffee table. They're so pretty, but I just knew ours would end up piled with junk because this room is used so often. I wanted something simple, round, and big enough for several people to sit around, throw their feet up, put a couple of drinks on – just something both practical and pretty (kind of like those recliners!). This sleek coffee table instantly caught my eye and I love that it ties in all of the wood elements in our house!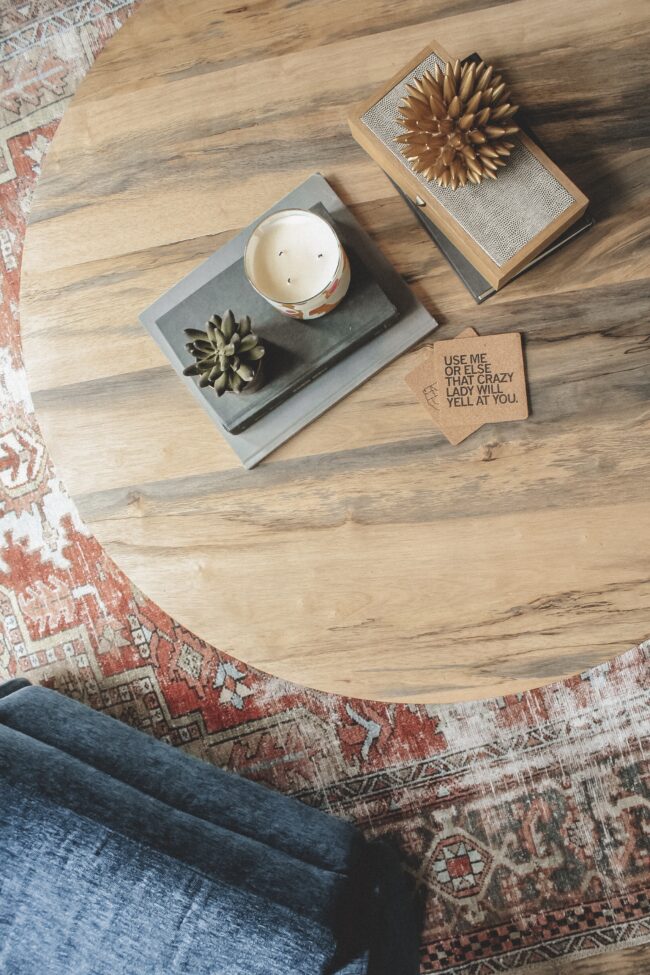 Once I had the "essentials" figured out, I wanted to add in a little side table and lamp to add a little extra something to the room. A lamp makes a room feel so cozy, and that's something our living room was missing before. Plus, I wanted a little table to set near the window that I could put one of my plants on! Every room should have a plant – I'm a firm believer in this! If a room in your home just feels "off" or lifeless, try adding a plant. It will instantly zhuzh up a room, I promise.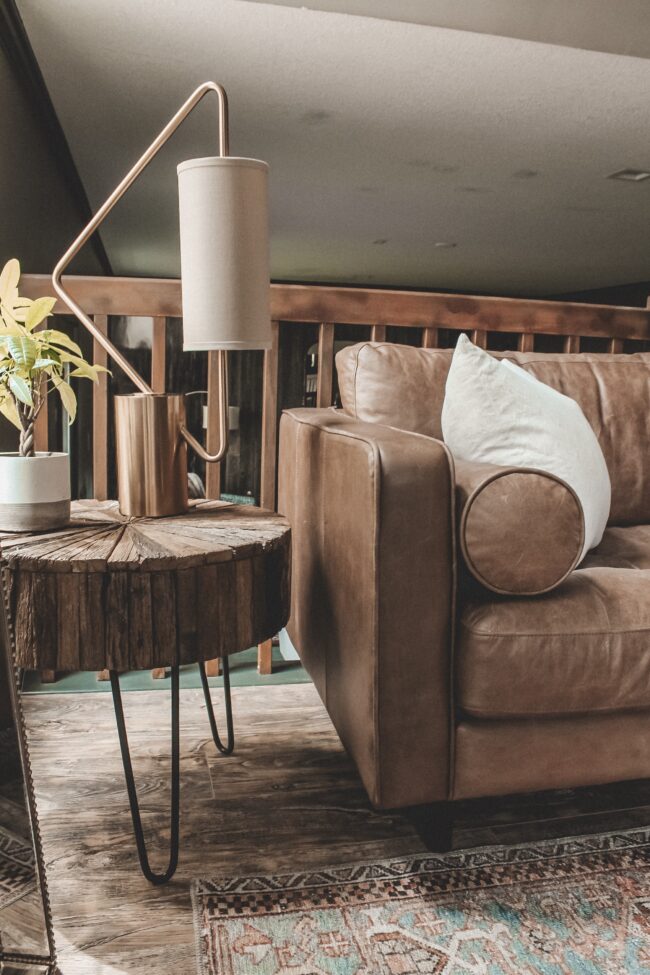 I'm going to be honest here: I didn't pay ANY attention to the dimensions when I chose this lamp. I just knew I loved it. In my mind, it was smaller…but I am SO GLAD it's not. It's seriously stunning and makes such a fun statement. I love, love, love, a piece like this that adds some personality to your space. All the heart eyes for this cool lamp.
The side table is FULL of personality, too. It feels really substantial, and I love the distressed wood. It fits in perfectly in this house – feels like it was just meant to be here.
And again, see how I balanced things out with the mix of shiny metal + distressed wood here? That's my jam. Balance, Balance, Balance!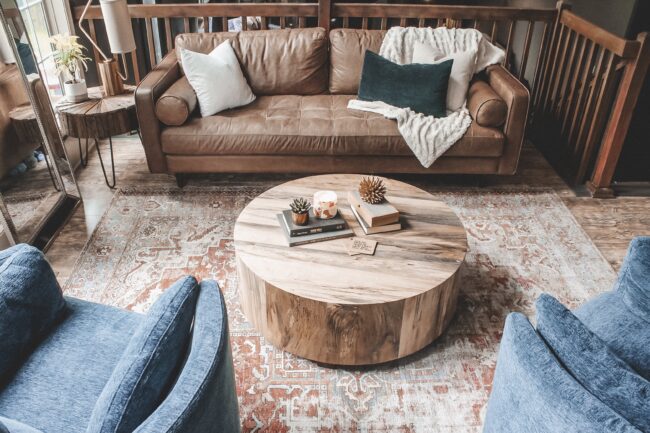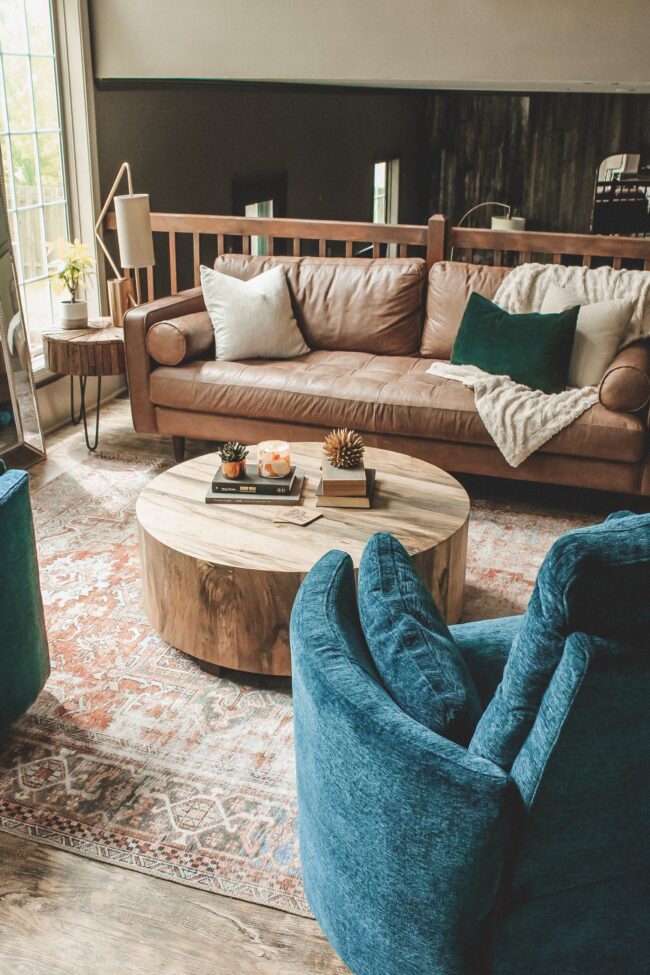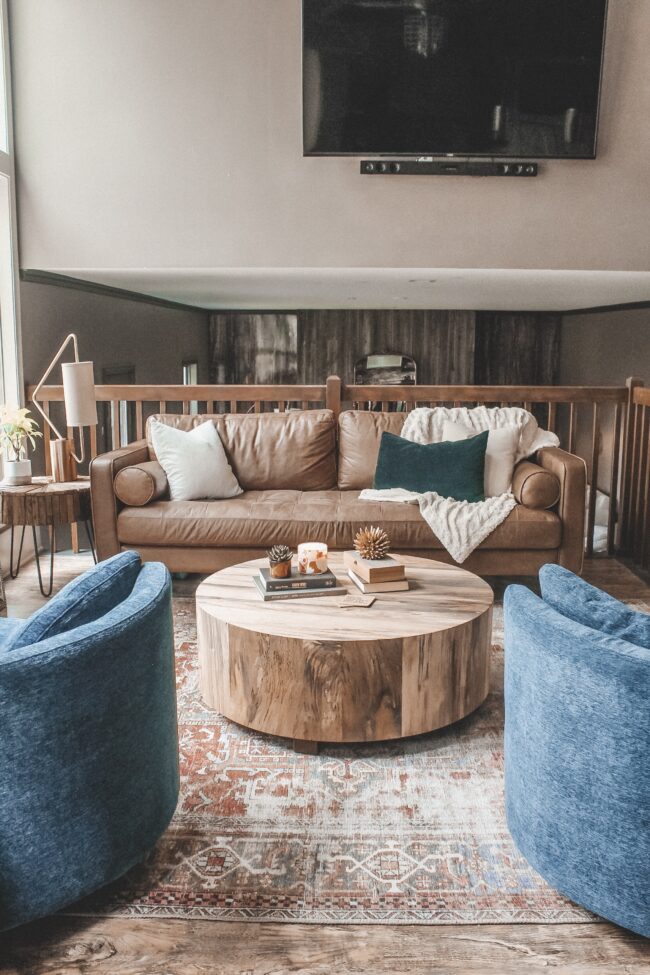 And there you have it! I am so in love with how this room turned out. It feels fun and colorful, comfy, cozy, kid-friendly…all of the things I wanted our living room makeover to be! Now let's see how long the kids let me leave a candle and spiky little decoration on the table (without regretting that decision). Anyone have a guess? ;)
I'm going to try and make this a series and do a whole home tour – sooo….which room would you like to see next?!
————–
I hope you'll check out some of my other posts while you're here, too!
See my DIY projects and inspiration [here]
Check out a home tour [here]
Check out some fashion posts [here]
Hope you enjoyed this living room makeover post!