The ultimate holiday gift guide: for her – make your shopping easy this year!
This post may contain affiliate links
It's that time of year again! The holiday season is upon us, and if you're anything like me…you're trying to PREVENT scrambling around at the last minute to find the perfect gift for everyone on your list. I'll be putting together a couple of different holiday gift guides to make shopping easy. Every item on my holiday gift guide: for her is something I already own (so I can personally vouch for it!) or is something that is on my wish list. So…it's all GREAT stuff (you can't go wrong!).
Each item is linked below the image for simple shopping.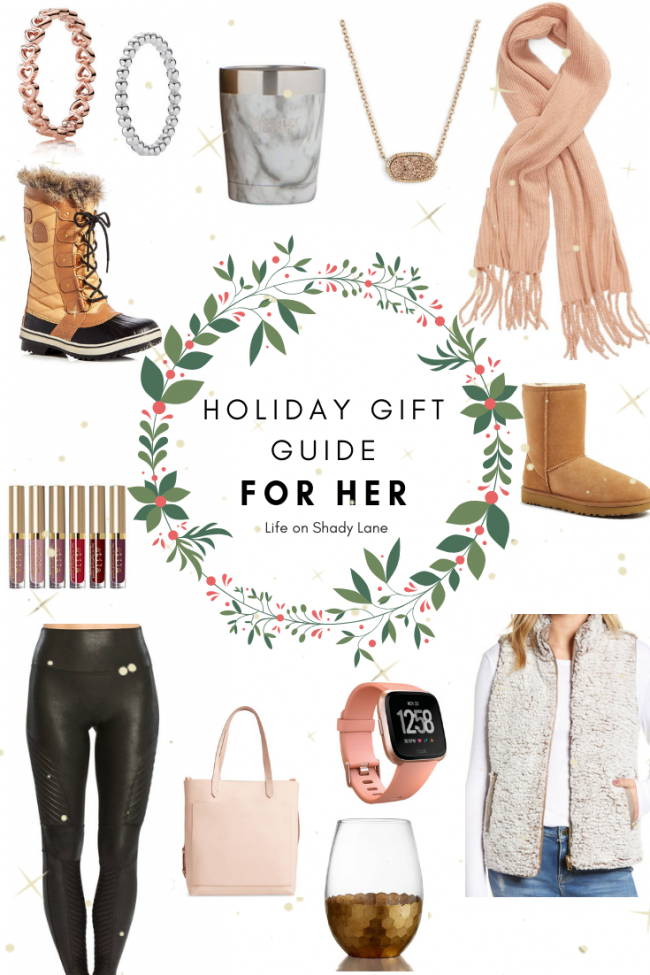 Sorel boots |Faux leather leggings | UGG boots | Rose gold stacking Ring | Silver stacking ring | Liquid lipstick | Reversible vest | 12 oz thermos | Leather tote | Blanket scarf | Set of 4 glasses | Necklace | Fitbit
1|| Sorel boots – I have these faux fur lined snow boots, and they're so cute and warm! They're a little on the pricey side, but for great WARM boots, they are totally worth it!
2||Faux leather leggings – I wear these moto leggings no less than 3 times/week. They're ULTRA flattering (they're by Spanx!), super comfy, and elevate every outfit (no more "boring" plain leggings!)
3|| UGG boots – these are on my wish list this year! I love that you can just throw them on as you're running out the door but they still look cute with almost every outfit. SO comfortable too! Like wearing slippers…but socially acceptable to wear in public. ;)
4||Rose gold stacking ring + silver stacking ring – I wear these on my right hand and get compliments on them all of the time. They're dainty, perfect for stacking, and great quality! I almost never take them off.
5|| Stila liquid lipstick – I am obsessed with this liquid lipstick. It lasts on your lips FOREVER (even with eating and drinking!). I have it in the color Baci, but this gift set is so perfect for gifting because it allows you to try a bunch of colors (they're ALL super pretty too!).
6||Reversible vest – I have this sherpa/quilted reversible vest and it's so cute…and the fact that it's reversible basically doubles its wear possibilities. I love that it's thin and not bulky, so it's perfect for layering and can even fit comfortably under a coat.
7|| 12 oz thermos – I can NEVER drink my coffee fast enough in the mornings to keep it hot, so I love this cute thermos. It's perfect for using at home (or in the car!) – it'll even fit under your coffee brewer so you can just brew straight into it.
8|| Leather tote – This tote comes in a bunch of colors, is well made, and is just pretty and classic/no frills. It would make a great diaper bag that can also be used strictly as a purse after babies are older…or would be great for transporting a laptop, etc.
9||Blanket scarf – This blanket scarf comes in several colors and is so pretty and stylish. You can never go wrong with a great scarf.
10||Set of 4 wine glasses – I love the gold detailing on these glasses that makes them feel special
11||Necklace – Another one that's on my wishlist this year….this necklace goes with everything, is a great length, and is just all around pretty.
12||Fitbit – A fitbit in a pretty color, perfect for anyone who loves being active