Now that it's warm, Henry is obsessed with playing outside.
He loves running around in the grass, collecting mulch in my watering can, picking my freshly planted flowers, and waving at cars. We have a swing and a little slide in our backyard for him that he loves, but I've found myself trying to think of additional things we can do to keep him busy.
I've put together a list of fun things to do with your toddler during the Summer, because even though it's finally warm outside and you've probably been planning activities and looking forward to getting outdoors for months, it's still helpful to have suggestions so your little one doesn't get bored!
((A big, huge THANK YOU to RoseArt for sponsoring this post!))
PS There's a GIVEAWAY at the bottom of this post, so don't forget to enter to win! [GIVEAWAY CLOSED]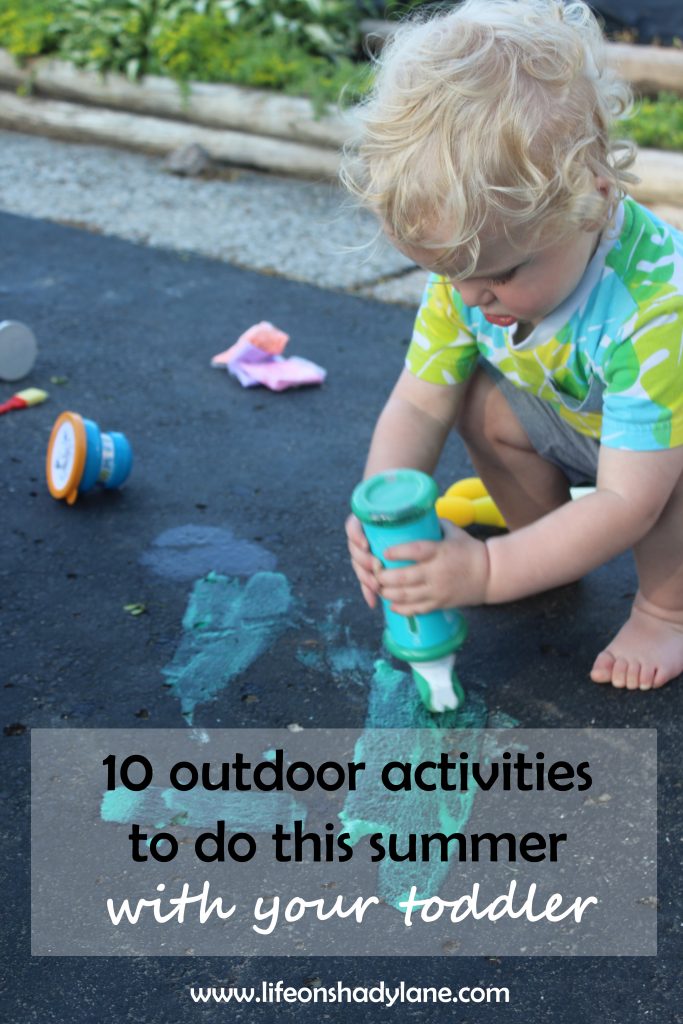 Have them help with watering plants and flowers. I use the term "help" loosely because it's more likely that a toddler will want to play in the water, but that's OK!
Let them play in a baby pool of water when it gets really hot.
Have any cardboard boxes laying around? Cut along the edges and lay flat for toddlers to finger paint (with washable, non-toxic paints!)
If you don't feel like dealing with the mess of paint, just let your toddler play with paintbrushes and WATER! They can "paint" the sidewalk or cardboard boxes. Less cleanup!
Find a nearby park and go for a walk or let your toddler play on the swings and slides.
Give your toddler spoons, cups, and little plastic shovels and let them dig in the dirt or in a sandbox. Seriously – a little dirt won't hurt them! ;)
Take popsicles out in the backyard, strip your toddler down to their diaper, and let them enjoy without fear of getting clothes sticky and messy! Just be prepared for a little cleanup afterward. ;)
Get out the bubbles, and let them chase and pop as you blow the bubbles, or let them blow if they're old enough.
If you want to take bubbles to the next level, fill up several buckets/containers with cool water and soap. Let your toddler stir, stick their hands and feet in, or spill on the driveway.
Chalk! RoseArt offered to send some fun new items from their Spring line, and since they arrived, Henry has been carrying them around the house just waiting for a day when we could go outside and play with them. For about two weeks straight it seemed like it was always raining, or we were doing something else that was keeping us busy (like breaking ground on the first SLH home!). But at the first chance we got, we went outside to play with some chalk!And this is no ordinary chalk, guys. I mean RoseArt still has the traditional stuff, but the things they sent us were more like a chalk paint – you mix the chalk dust with water, and the result is super vibrant drawings!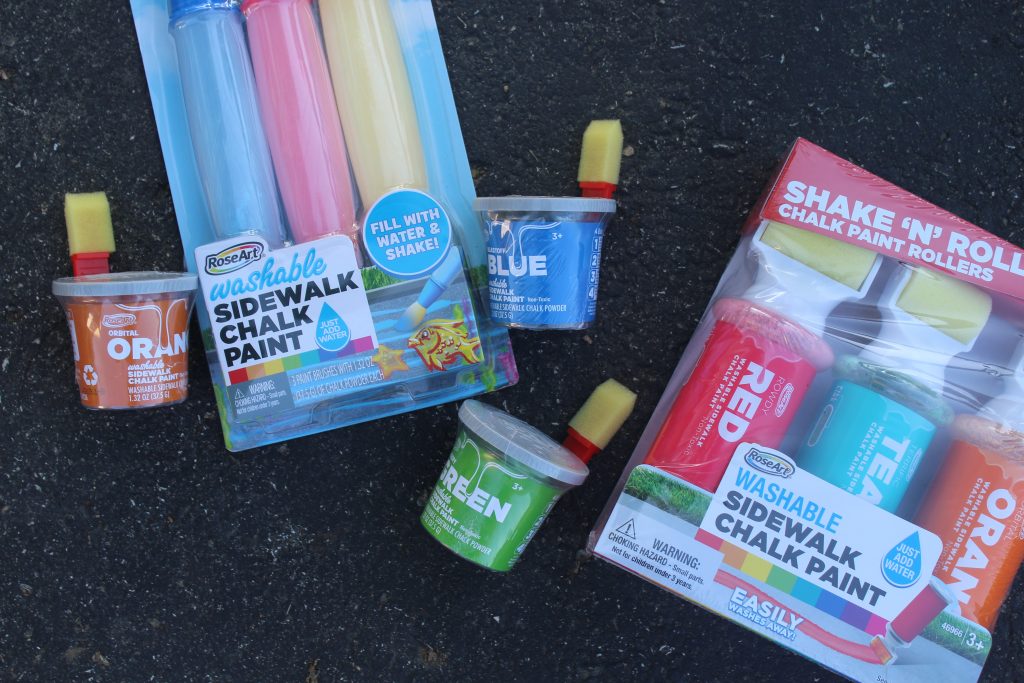 Items pictured: Jumbo Paint Brushes, Buckets of Sidewalk Chalk Paint, and Shake 'n Roll Chalk Rollers. I didn't get a photo of the Sidewalk Chalk Stamp and Stencil set before we ripped open the package, but Henry loved them just as much!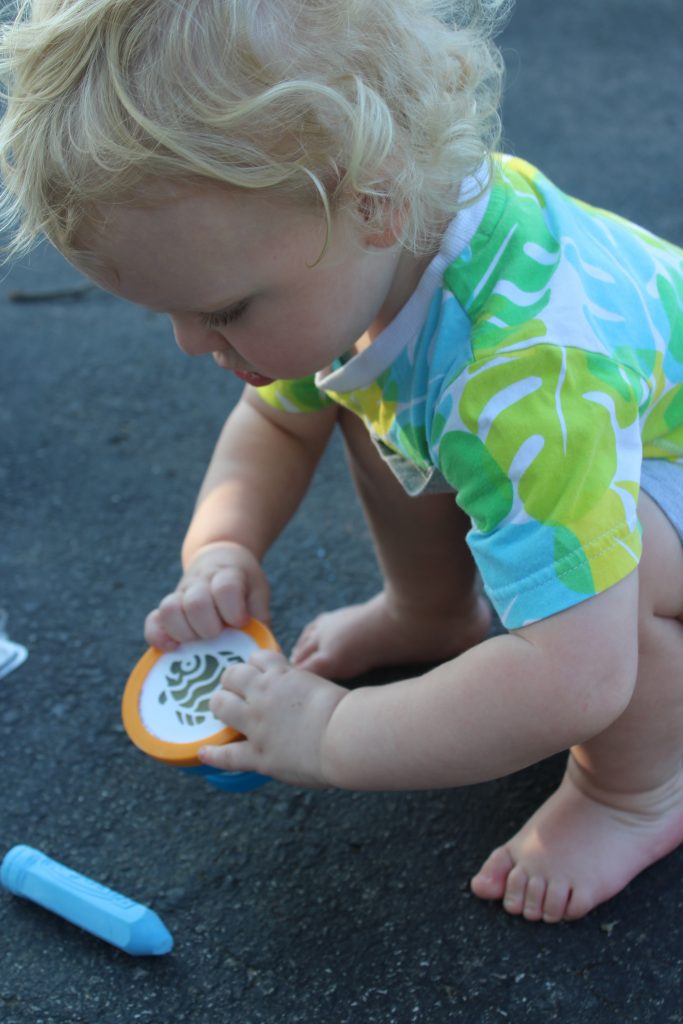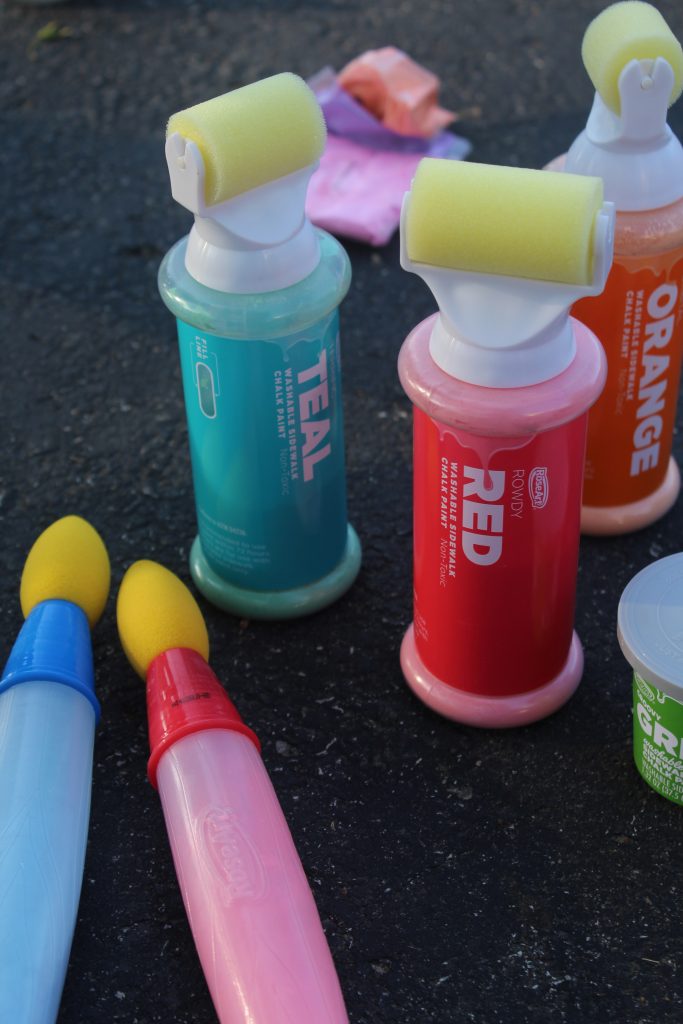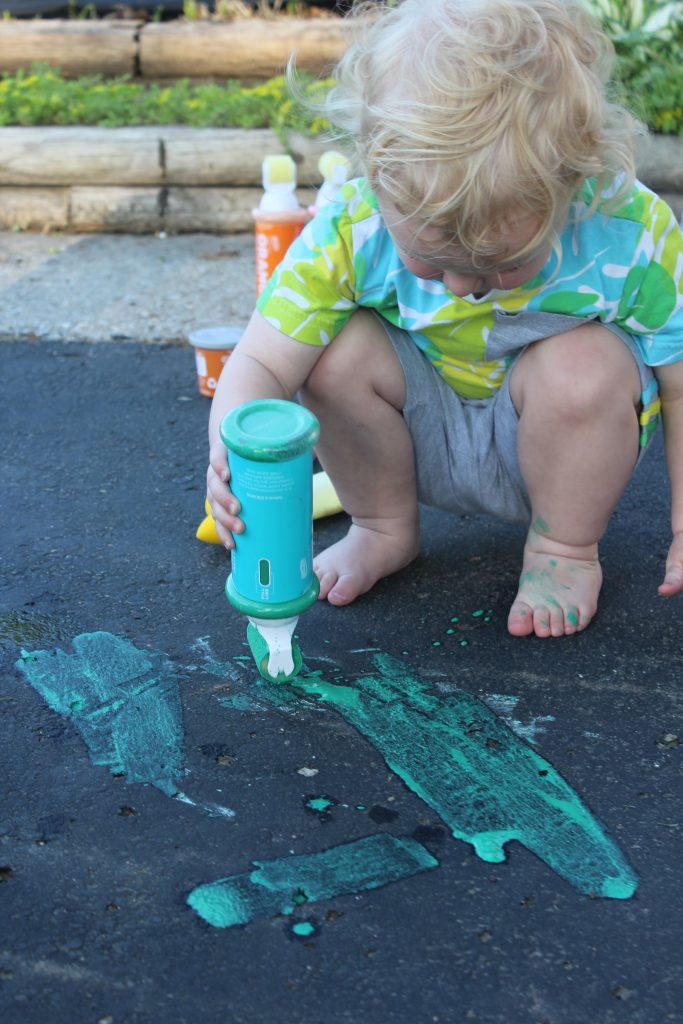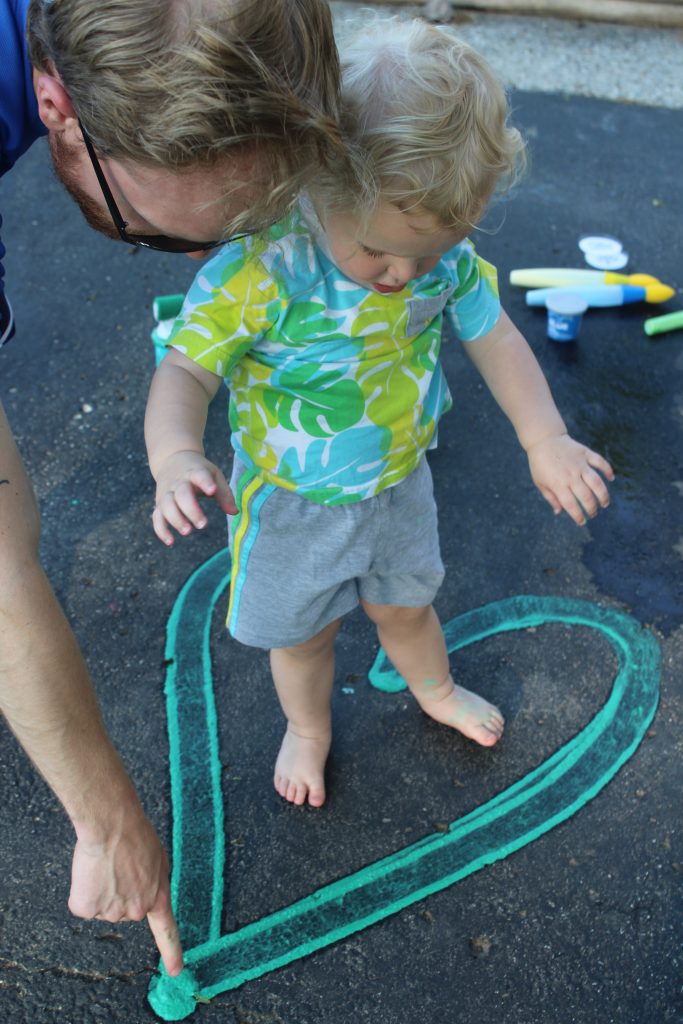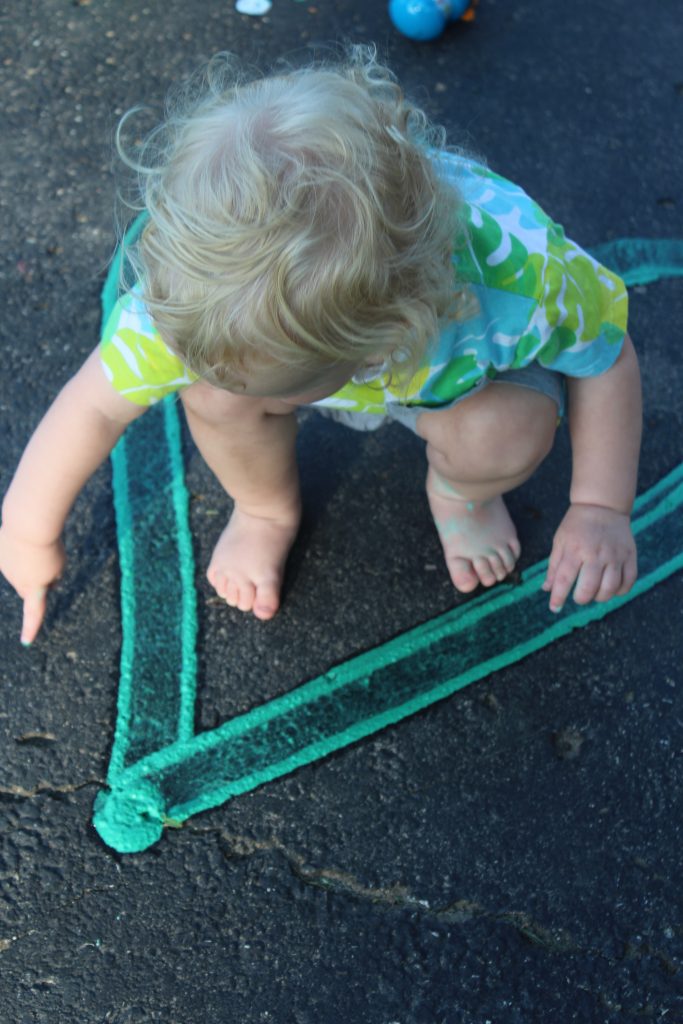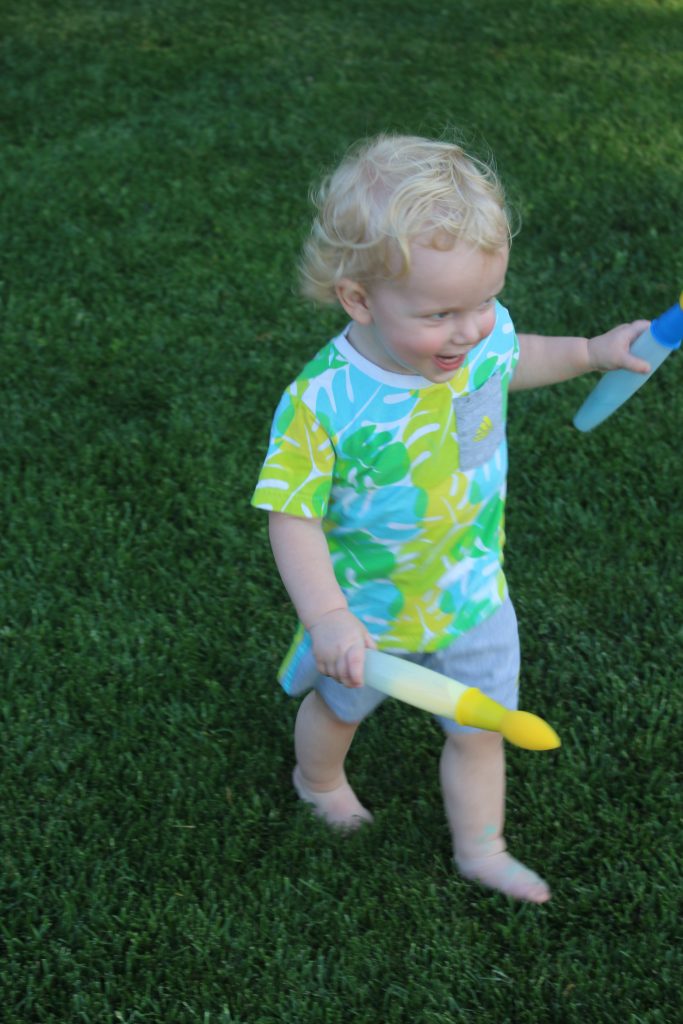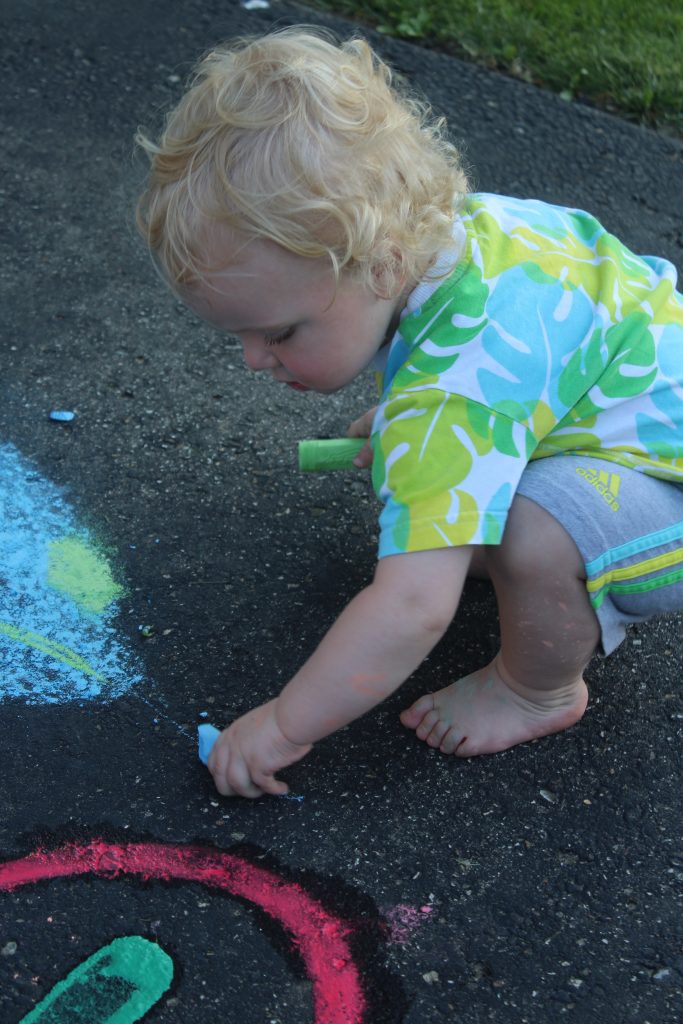 Giveaway time!! [GIVEAWAY CLOSED]
One of you will win a RoseArt Jumbo Paint Brush set and a Summer Stamper. For a chance to win: leave a comment below and tell me one FUN thing you have planned for this Summer!!
FYI: I'll be running the contest on my Instagram account, as well, so for double entries head over and enter there as well! (Click here to visit me on Instagram)