Easter basket ideas for your kids that they'll love!
This post may contain affiliate links
I'm always scrambling to find things to put in my kids Easter baskets, but luckily there's a ton of fun things you can put in them! I prefer to include things that they'll actually use (I love summer things like new swim suits, bubbles, chalk, sandals, etc.) and not a ton of candy…although you can't NOT include some candy! ;)
————–
I hope you'll check out some of my other posts while you're here, too!
See my DIY projects and inspiration [here]
Check out a home tour [here]
Check out some fashion posts [here]
I have shared links to all of the easter basket ideas under the image for easy shopping!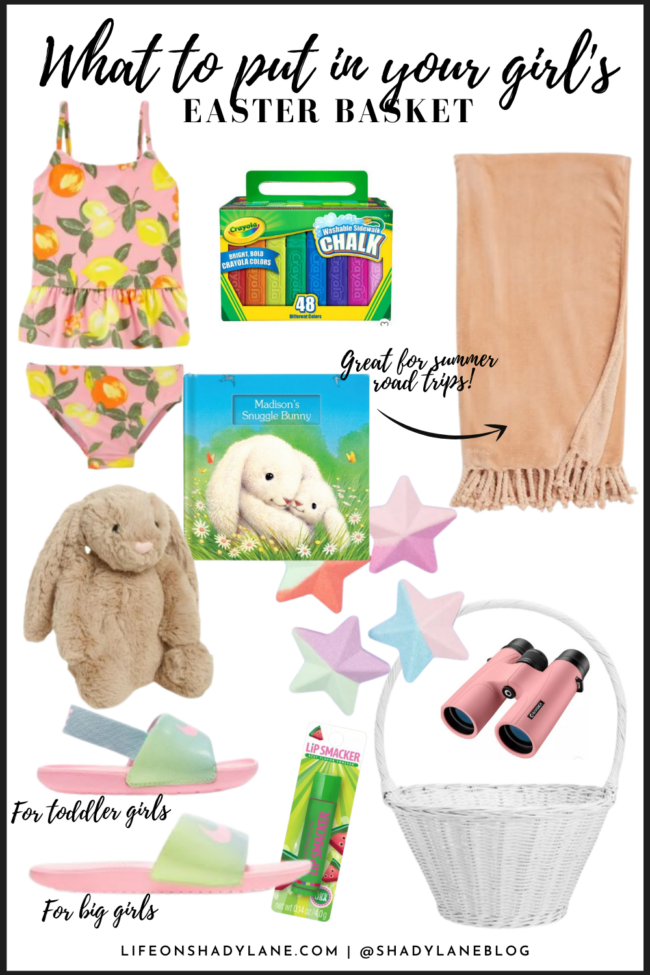 Shop Easter basket ideas for girls
Citrus tankini – Love that this can be pulled down easily to go to the bathroom – nothing worse than wrestling a wet swimsuit! It's SO cute, too! Easter is the perfect time to grab a new suit. Buy citrus tankini here
Sidewalk chalk – Who doesn't love sidewalk chalk in the spring and summer?! Buy sidewalk chalk here
Plush throw blanket – We have two of these blankets, and I'm probably going to buy two more…one for each of the kids. They always end up stealing them from the living room and sleeping with them, they're SO soft and comfy. These would be perfect for taking on summer road trips, too. Buy plush throw blanket here
Personalized book – I love that this book can be personalized. So sweet! Buy personalized book here
Stuffed bunny – So cute! Buy stuffed bunny here
Star shaped bath bombs – My daughter LOVES bath bombs, and the shape of these is fun! Buy star shaped bath bombs here
Toddler girls sandals – Always grab my kids a new pair of sandals for summer at Easter time. Buy toddler girl sandals here
Big girls sandals – The big girl version of these cute sandals. Buy big girls sandals here
Watermelon lip smackers – So nostalgic for me…Lip Smackers are so fun for little girls. Buy watermelon lip smackers here
Pink binoculars – These are on the pricier side but I know that we would use them a ton at the zoo, on trips, etc. Love the color, too. Buy pink binoculars here
White Easter basket – In case you need a new basket, this one is darling! Buy white Easter basket here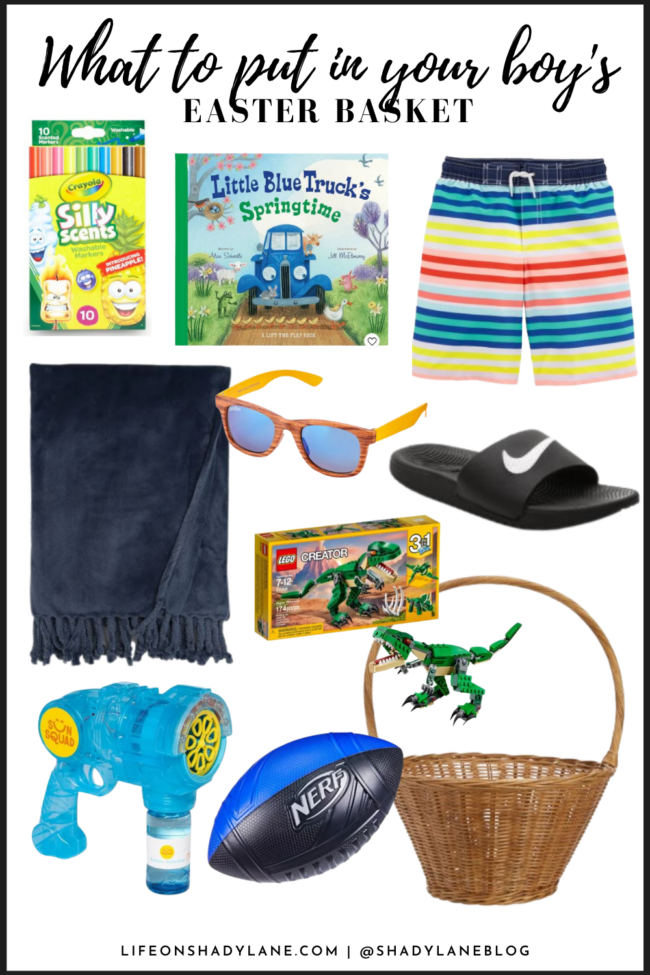 Shop Easter basket ideas for boys
Silly scents markers – My 5 year old LOVES all things crafting, art, drawing, etc. And these come in fun scents (and are washable!). Buy silly scents markers here
Little Blue Truck's Springtime book – We have the original Little Blue Truck book, and it has always been a favorite. Love this spring-themed one! Buy Little Blue Truck's Springtime book here
Striped swim trunks – Like I mentioned above, I always grab my kids a new swimsuit on Easter. It's the perfect time to do it, and gets everyone excited for summer! Buy striped swim trunks here
Plush throw blanket – These blankets are incredibly soft and comfy. We have two of them, and my kids are always stealing to use in their bedrooms. I may buy them each their own so they quit taking mine! ;) Great for summer road trips, too. Buy plush throw blanket here
Sunglasses – A spring and summer staple! Buy sunglasses here
Nike slides – These are perfect for sliding on in the summer at the pool. Buy Nike slides here
Bubble gun – I mean, who doesn't love bubbles?! Buy bubble gun here
LEGO dinosaur – Two things my 5 year old son loves – dinosaurs, and legos. Combined! Perfect for his creative mind. Buy LEGO dinosaur here
NERF football – Great for summertime in the backyard or at the pool. Buy NERF football here
Brown Easter basket – If you need a basket for your little one, this is really cute and I hear great things about this brand! Buy brown Easter basket here