My early Fall home tour – a fresh and simply styled home with neutrals, cool tones, and touches of traditional Fall colors
Happy Monday, friends! I'm so excited to kick this week off with my early Fall home tour. I'm the last blogger on today's tour, so if you're here from The Welch House, you've reached the end of your tour! At the end of this post you'll find links to the other bloggers on the tour. Be sure and stop by those as well!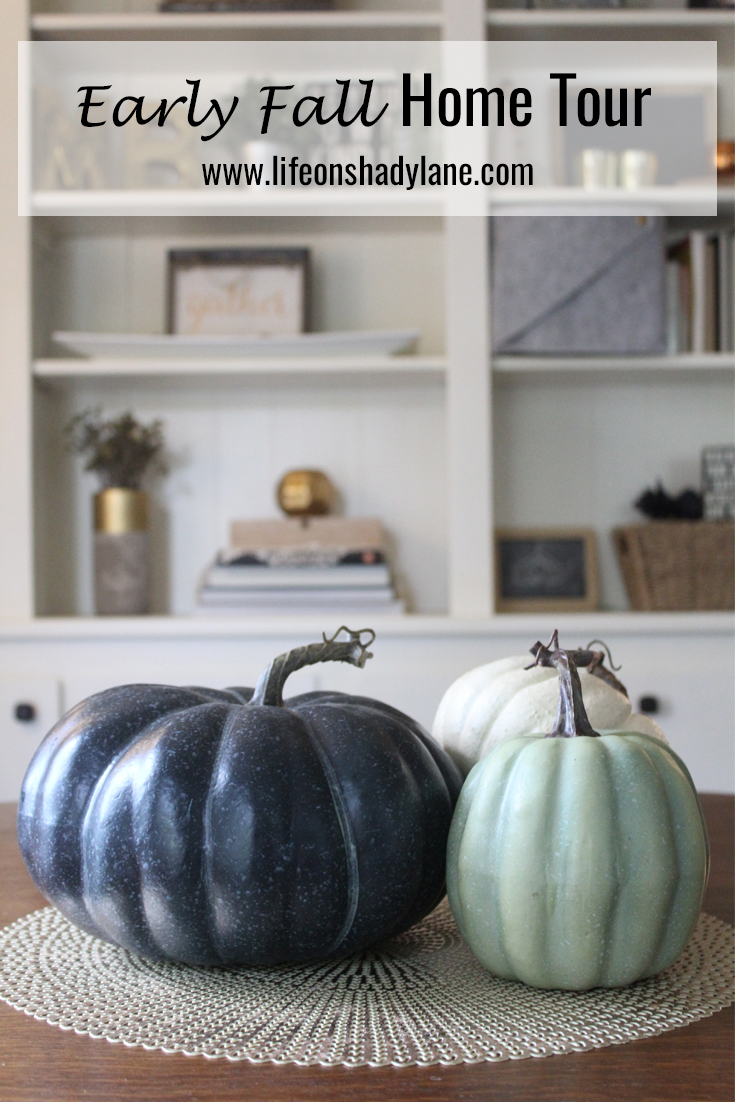 Fall is hands down my most favorite season. The weather cools off and fashion is cuter (boots and sweaters!), home décor gets cozier, and things like pumpkin bread and apple cider pop up on menus everywhere. Plus there are all kinds of fun things to do in the Fall like hayrides and apple and pumpkin picking.
Henry was born on Halloween (almost two years ago!) and baby #2 will be joining us very shortly – I am due in about a week. I started decorating our home pretty early for Fall and I'm not sure if that was a result of "nesting" or if it was just because of my love for Fall. Either way, I'm excited to welcome baby into a home that is cozy and festive for early Fall.
I decided to keep our Fall décor relatively simple this year and use neutrals and cool tones with small touches of traditional oranges and reds…because they just warm everything up!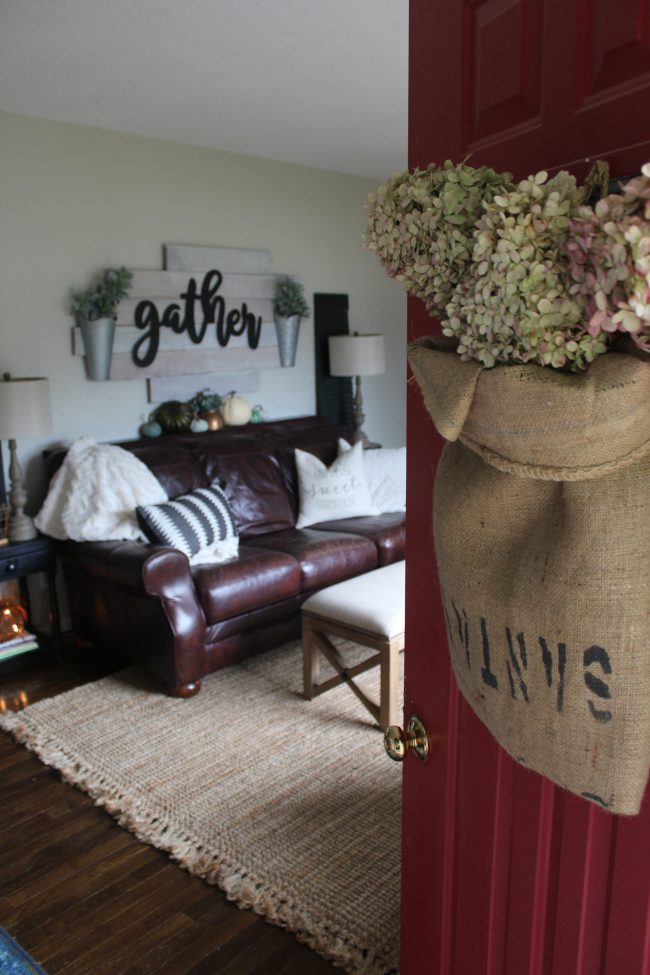 I wanted something different than a wreath on our front door to kick off Fall. This simple coffee bag decoration was completely FREE (the best kind!) because I used a coffee bag we already had, pinned it up into a smaller "basket" and then stuck some of my dried hydrangeas in it. You can see how I dry hydrangeas [here].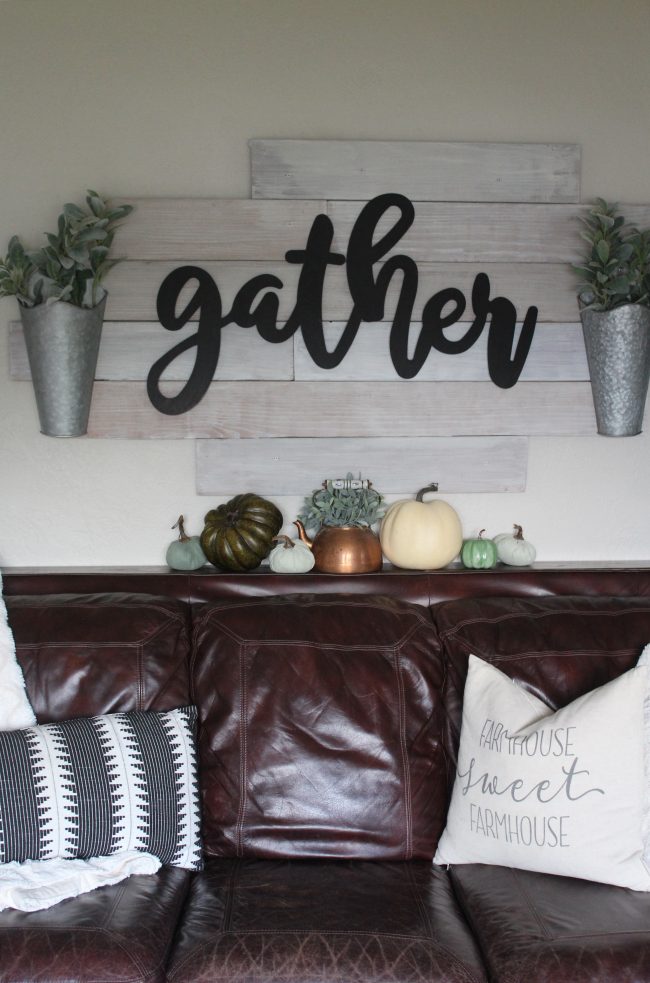 Our living room got a little bit of a refresh for Fall. We hung those planks up at Christmas time to hang a wreath on, but then after that I wasn't quite sure what to do with the wall. So the planks sat empty for almost an entire year. And then this Fall, I finally decided to whitewash them! I love how it lightened the whole look up.
Then, I found this metal gather sign and galvanized buckets (and filled them up with some faux lambs ear!) to finish it off. I absolutely love the gather sign, although when I showed my husband he told me he could have probably made it himself (he's pretty good at metal fabrication). That would have saved me a few dollars, but oh well.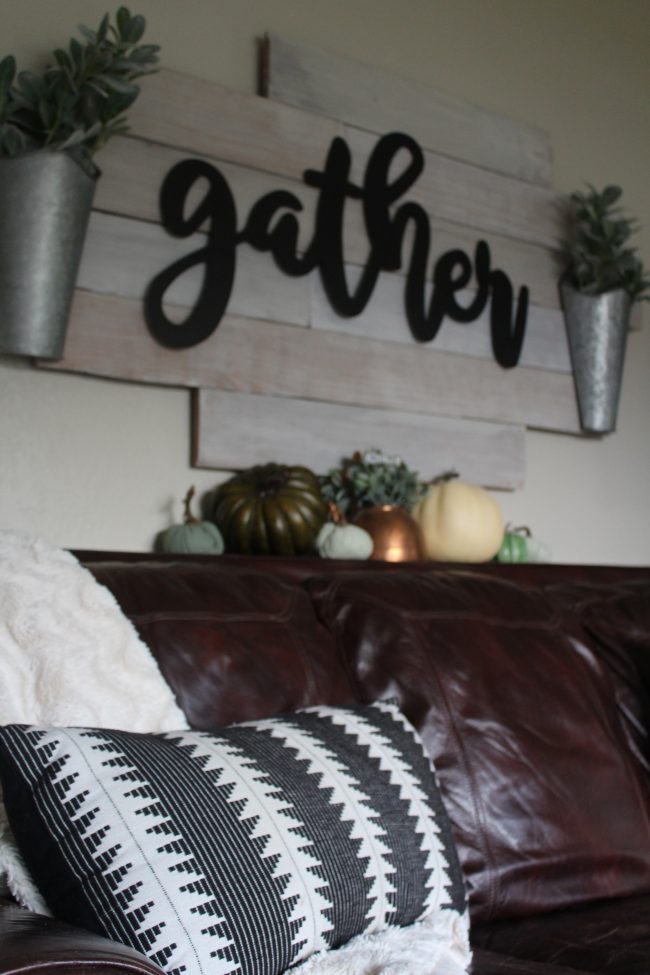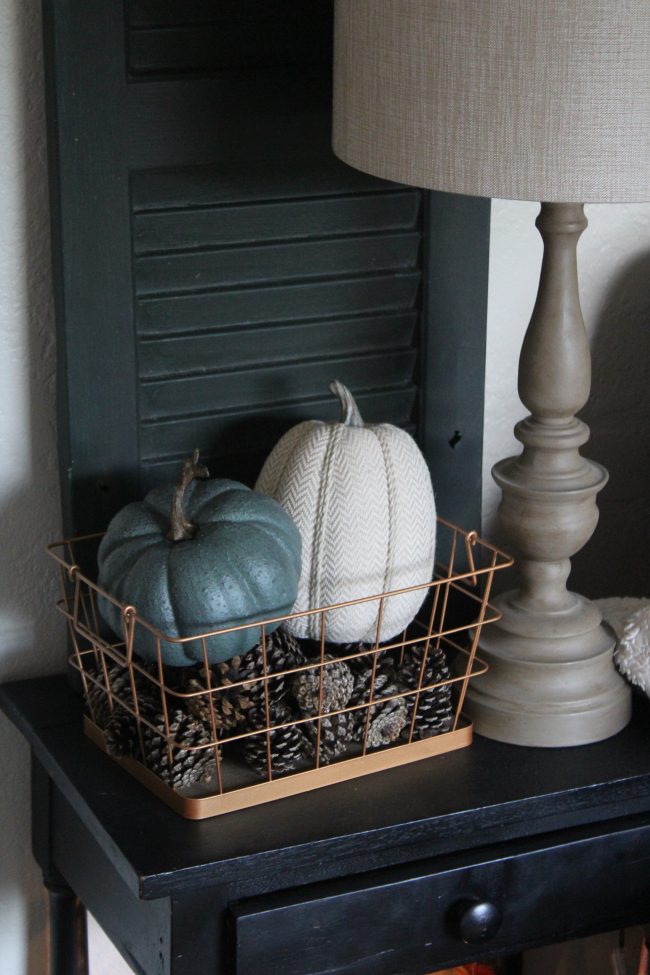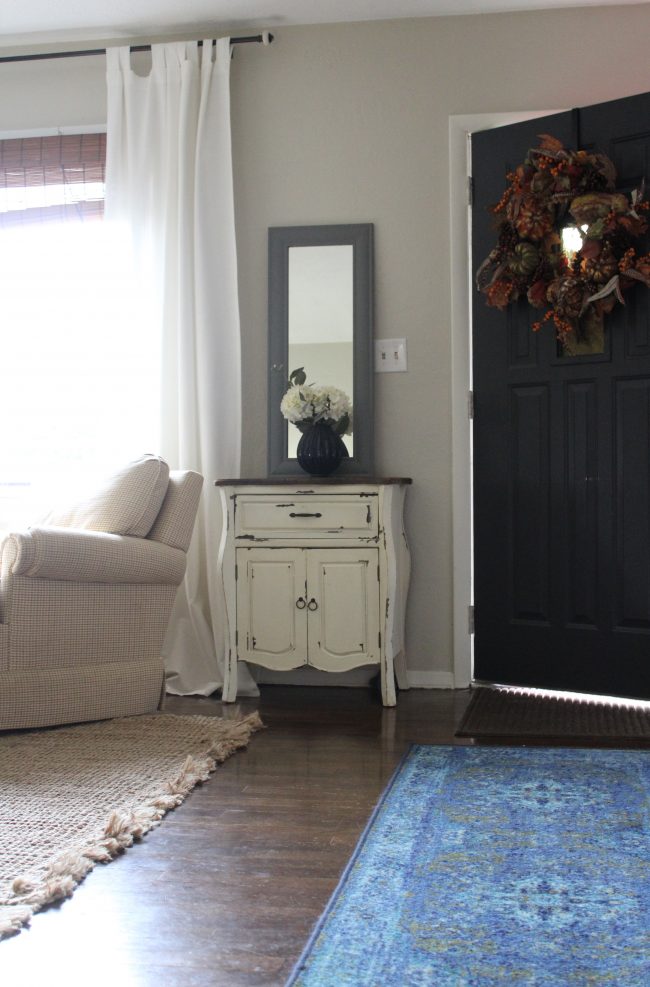 I hung our wreath from last year on the inside of our front door and I love how it helps to cozy up the space!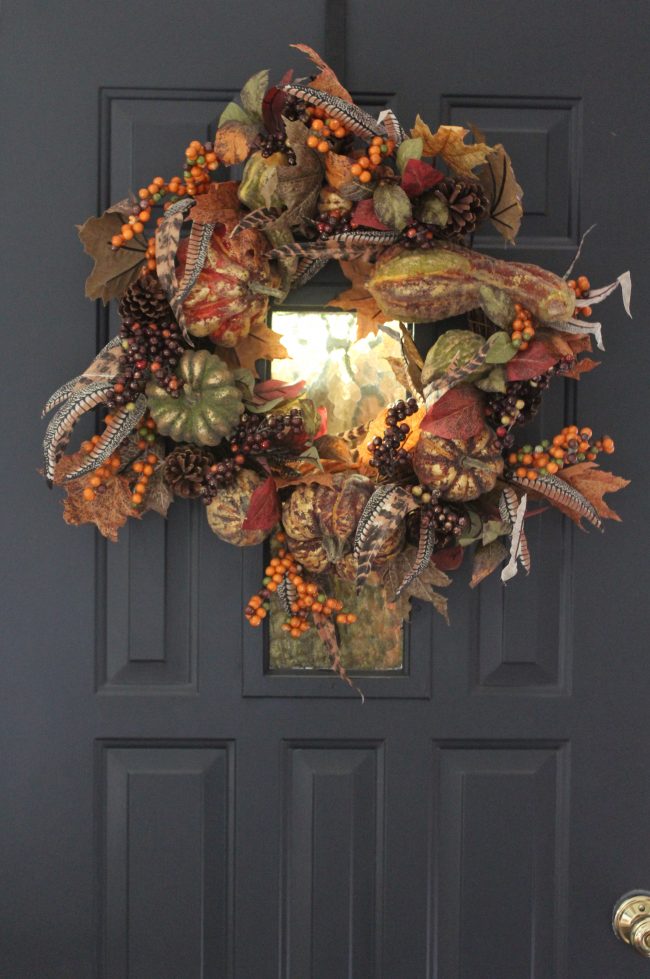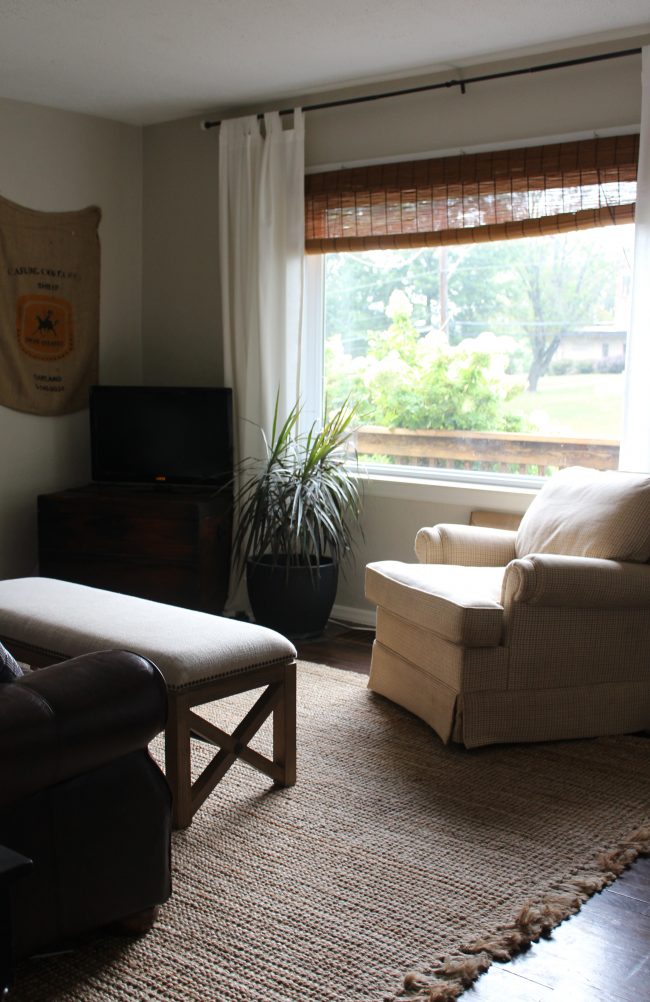 I kept the couch wall the "focal point" in our living room since it's the first thing you see when you walk into our home. Then, I just left everything else in the room simple, fresh, and clean.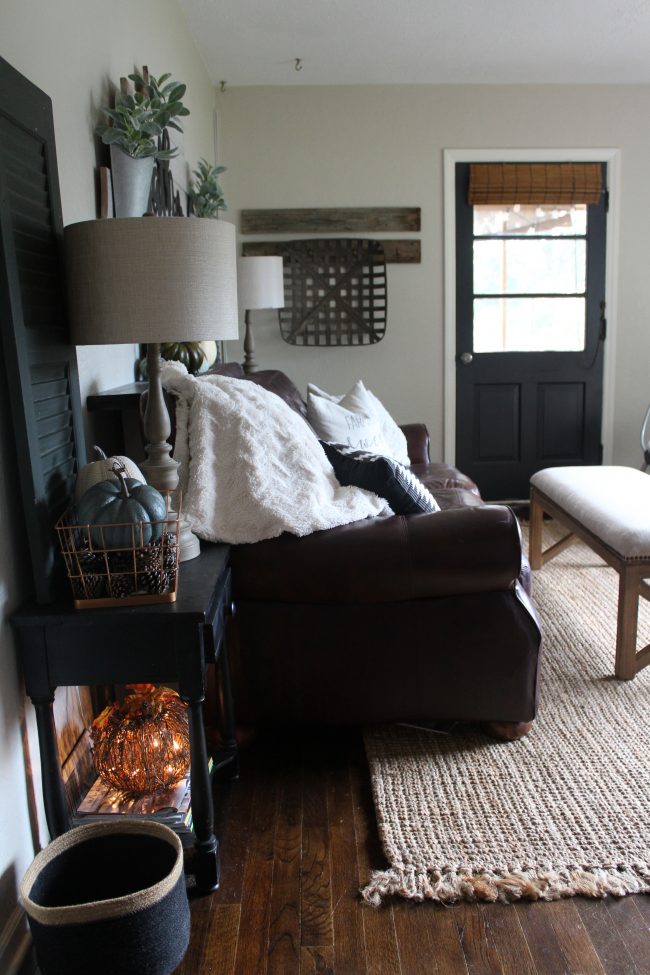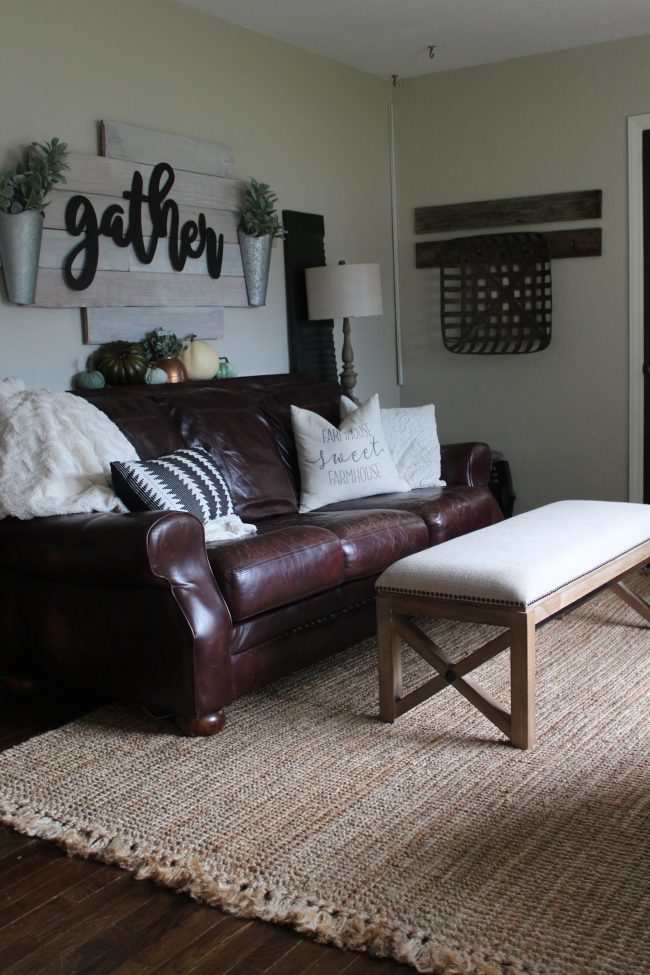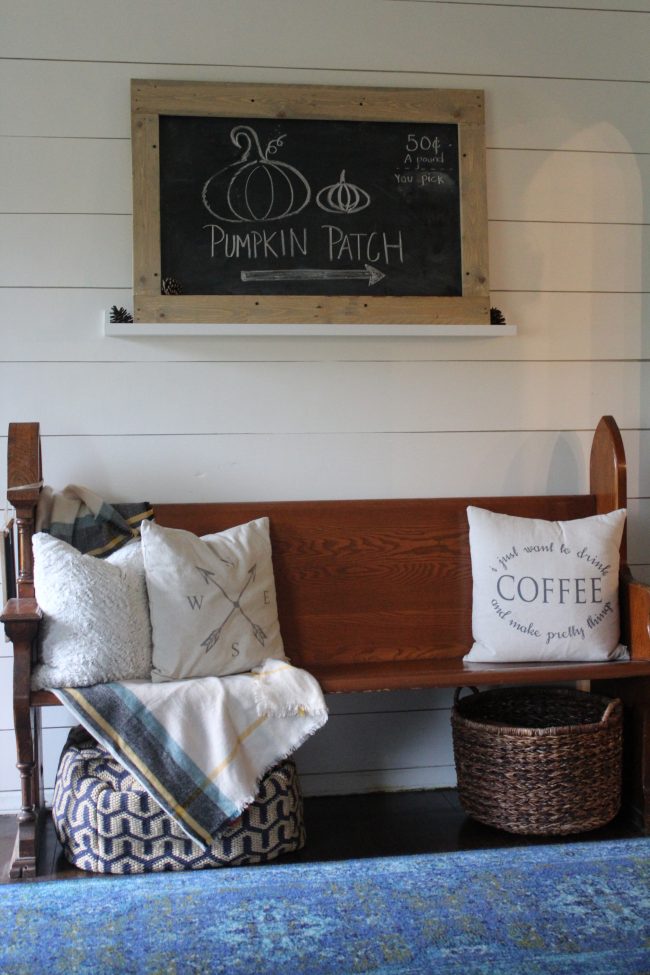 I kept our entryway's antique church pew simple as well. Read more about my pallet wood framed chalkboard [here].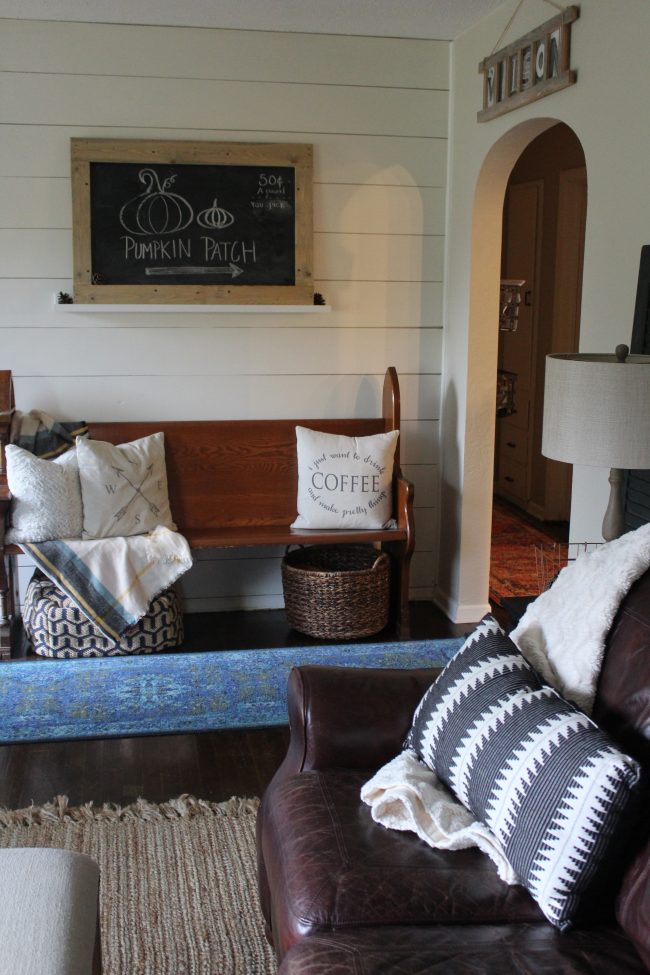 You can see how I styled the pew for Spring [here], for winter [here], and for Christmas [here]. We didn't have the pew last Fall so I was excited to dress it up a little this year! I'm sure I will add more/change things up as the season goes on but wanted to keep things pretty simple since it's still September!
Next up is our brand new chalkboard wall! I posted about this project [here] and love how it has turned a boring old blank wall into one that is a lot more fun to look at (and write fun things on!)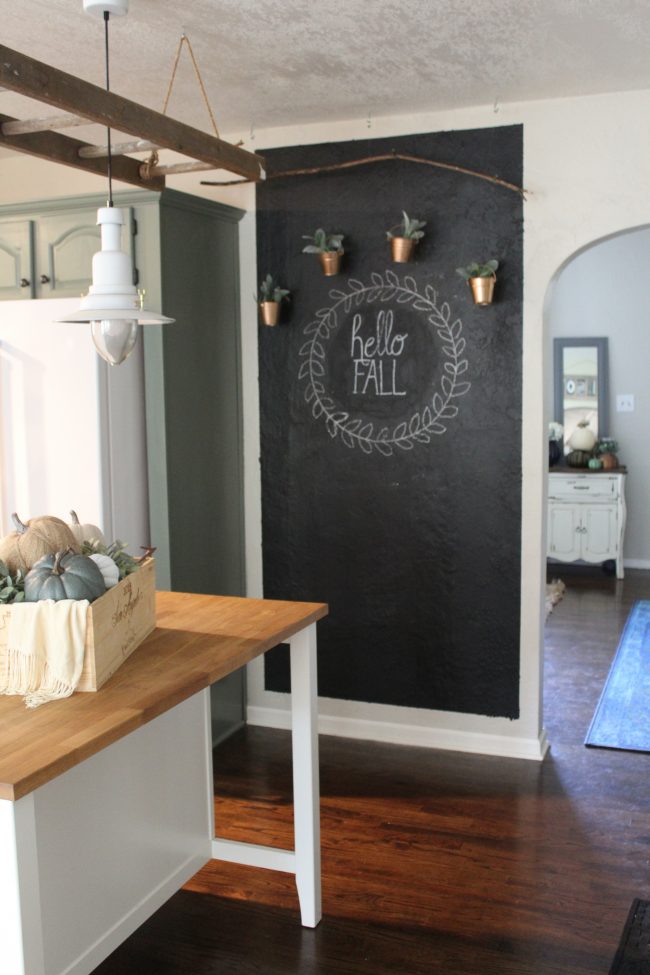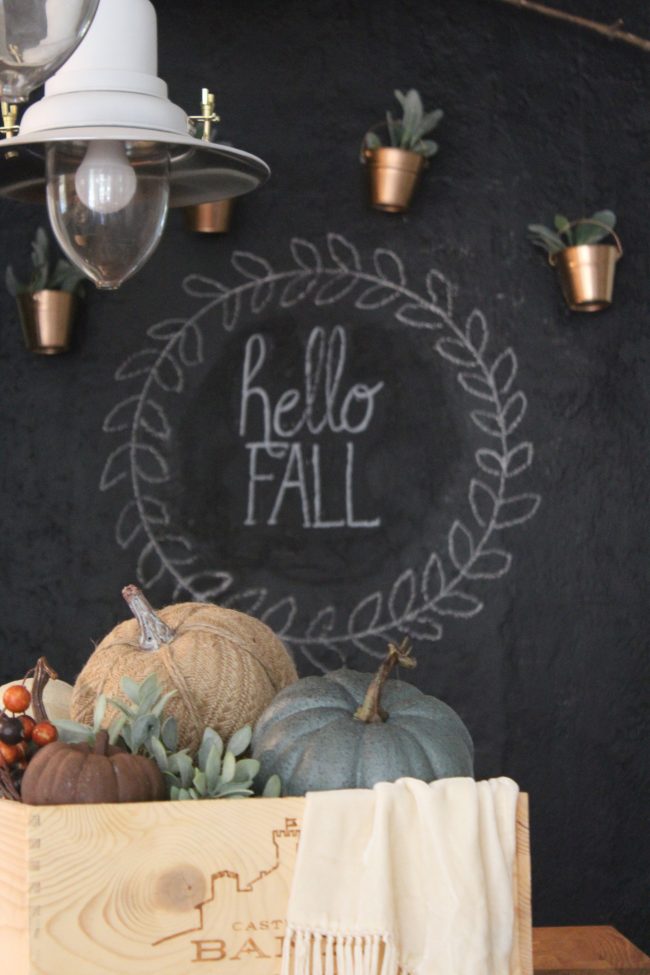 See more about this DIY chalkboard wall with hanging copper planters [here].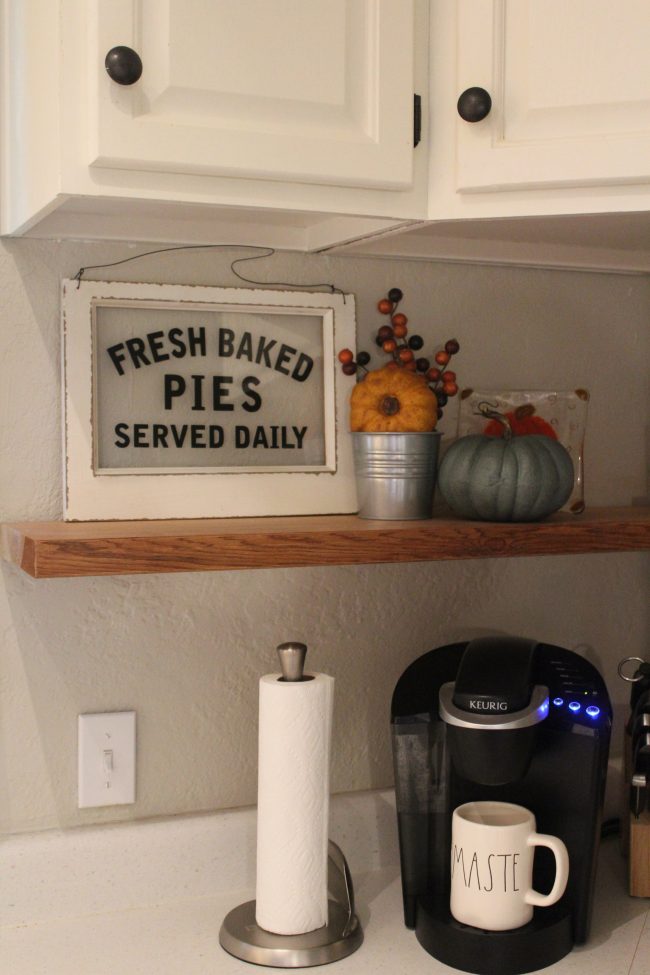 I kept the kitchen super simple. We don't have a ton of counter space, so I like to keep it pretty uncluttered!
Our china cabinet is one of my most favorite things in our home, so it was fun to add in some Fall décor. I really am loving the neutrals and blue tones that are trending this Fall because they really fit in with our home's existing décor. Also, you can see that I have more dried hydrangeas tucked into a few places here. ;)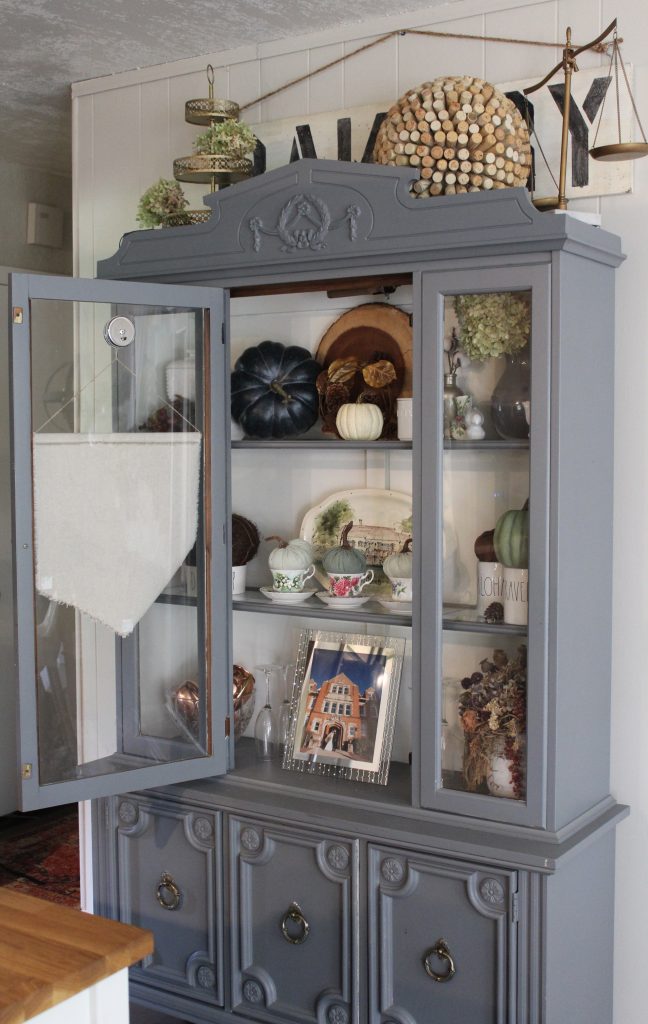 Our hearth room is just off of the kitchen and makes the whole space feel so cozy. I added in a faux fur rug to cozy it up even more.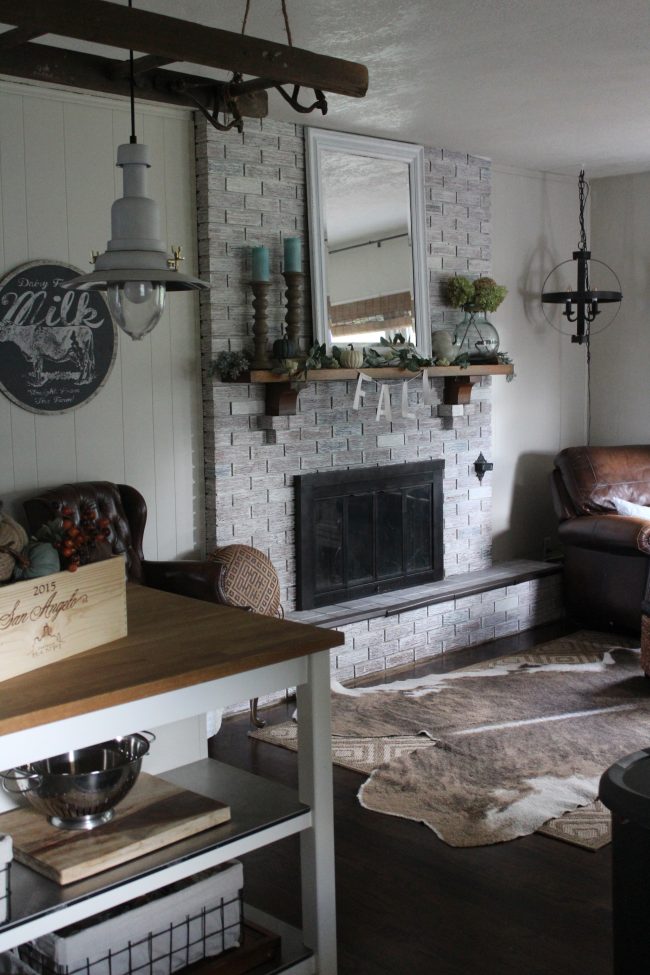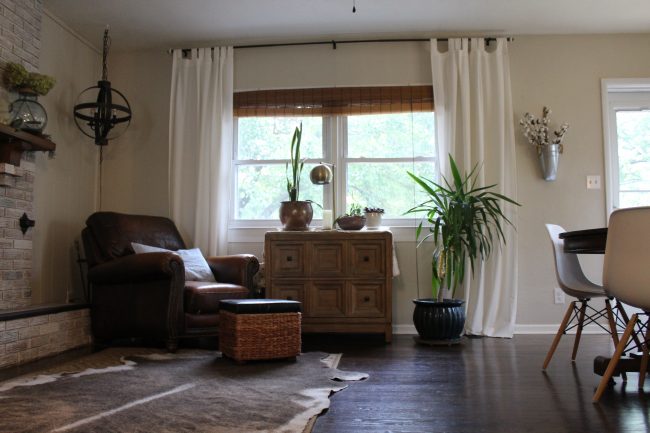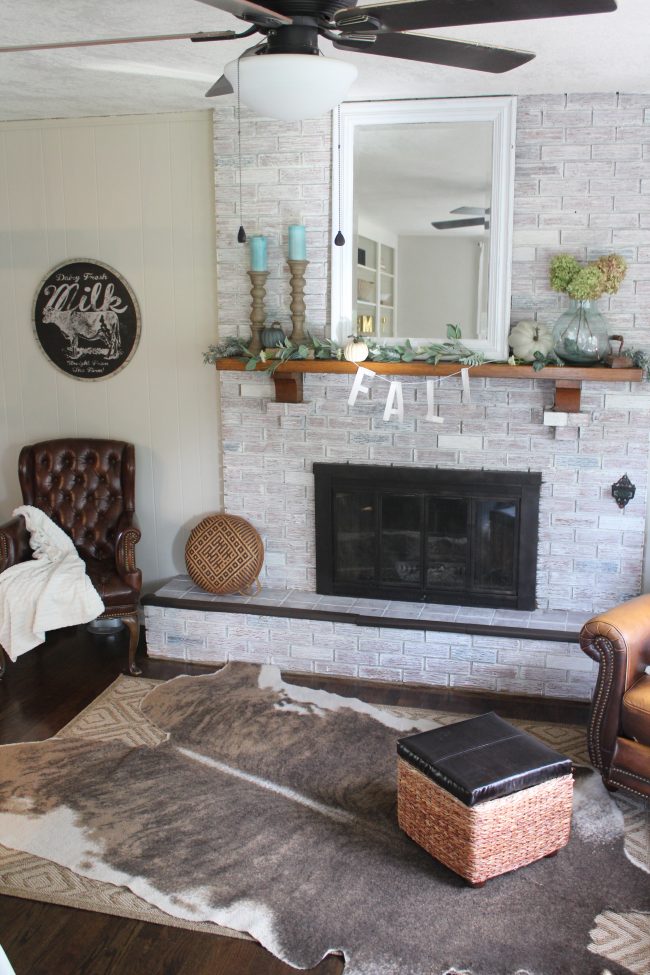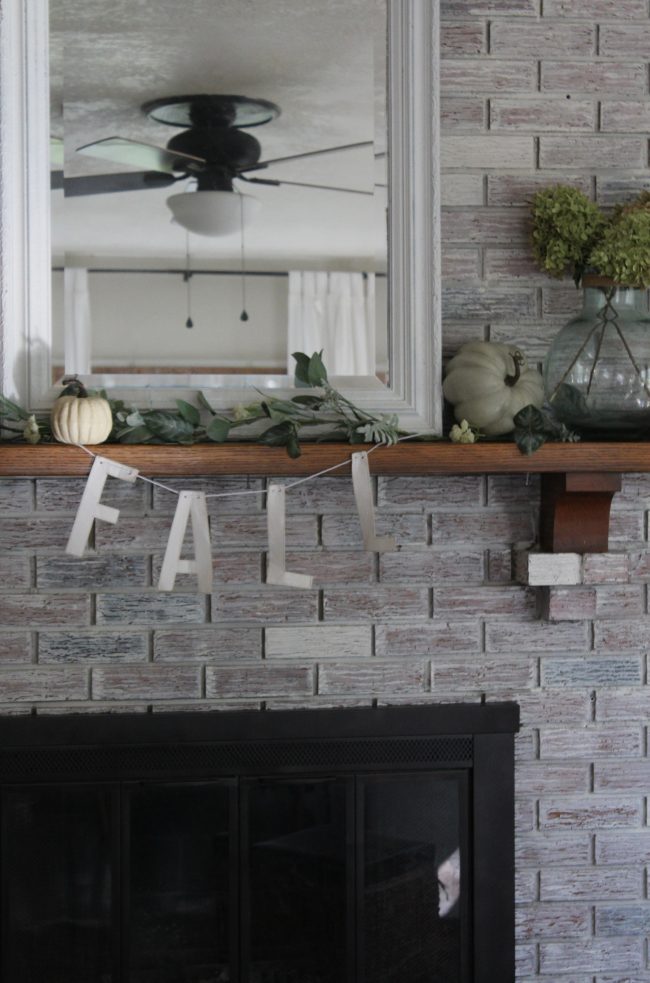 A hanging "Fall" banner from the Target dollar spot (gets me every time!) really helped to finish off the mantle.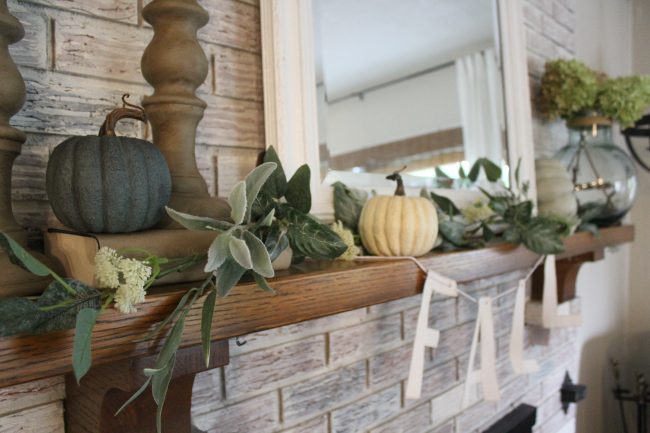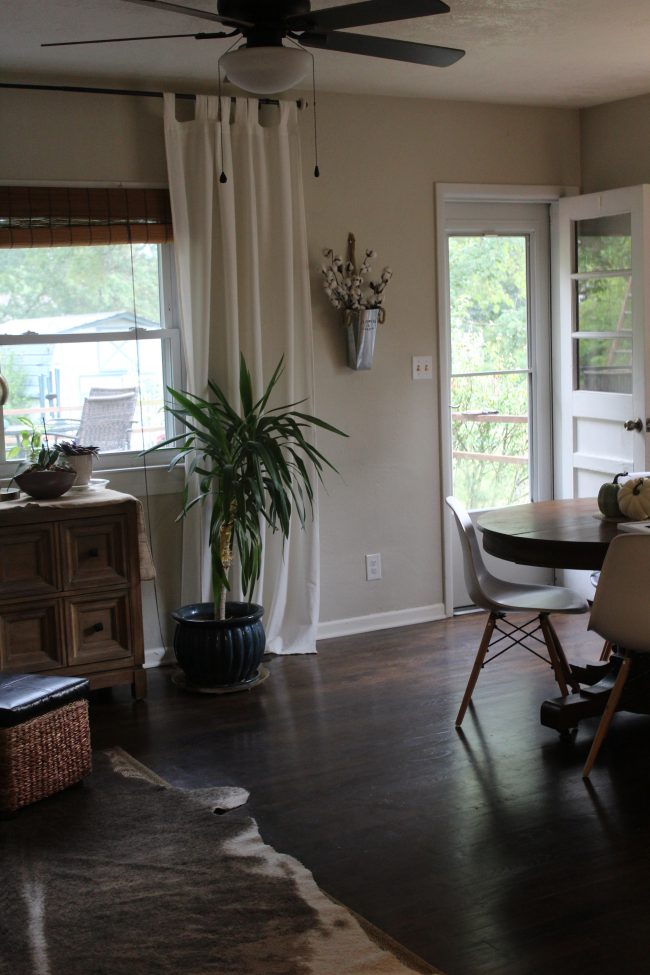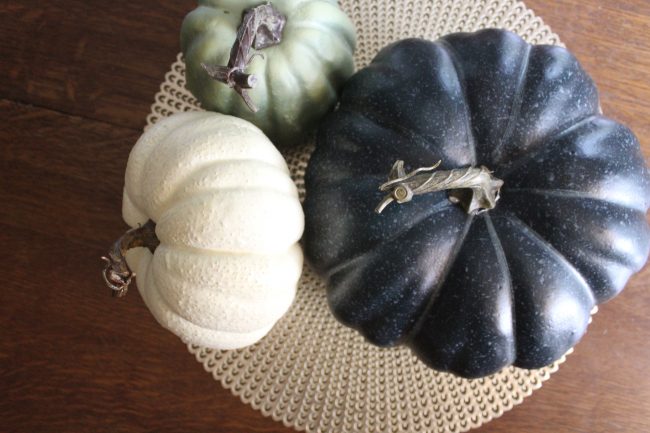 Our kitchen table's centerpiece is super simple right now. I like to keep it simple here because, well, we eat at this table every single day and there's a toddler in the house! If I did something elaborate, he'd just pull it down or wipe pb&j on it anyway. ;) We have built in bookshelves right next to our dining room table, and I love styling them for the seasons. Again, in keeping with my "fresh and simple" theme for early Fall, I just added in a few tiny touches of Fall here!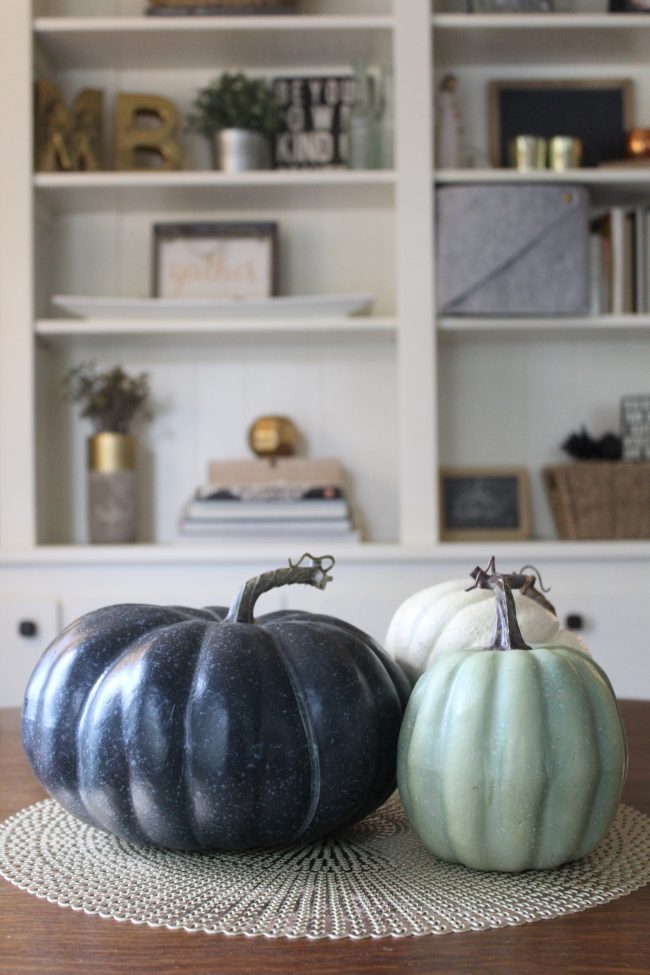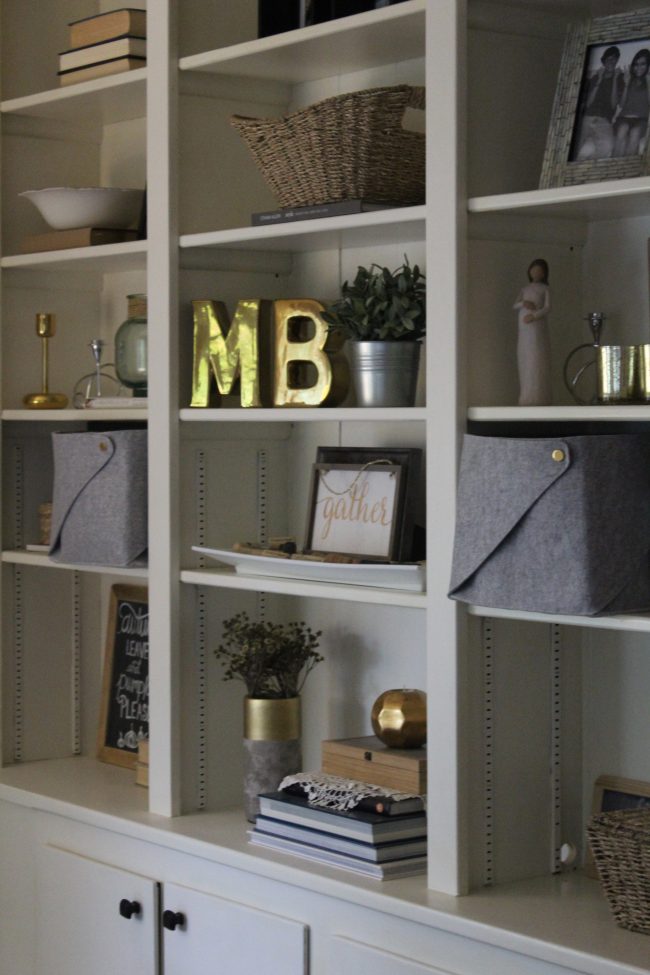 That's it! I hope you enjoyed this early fall home tour.
Have you started decorating your home for Fall yet?
Be sure and stop by these other awesome bloggers' Fall tours today, and then throughout the rest of the week! The schedule is posted below: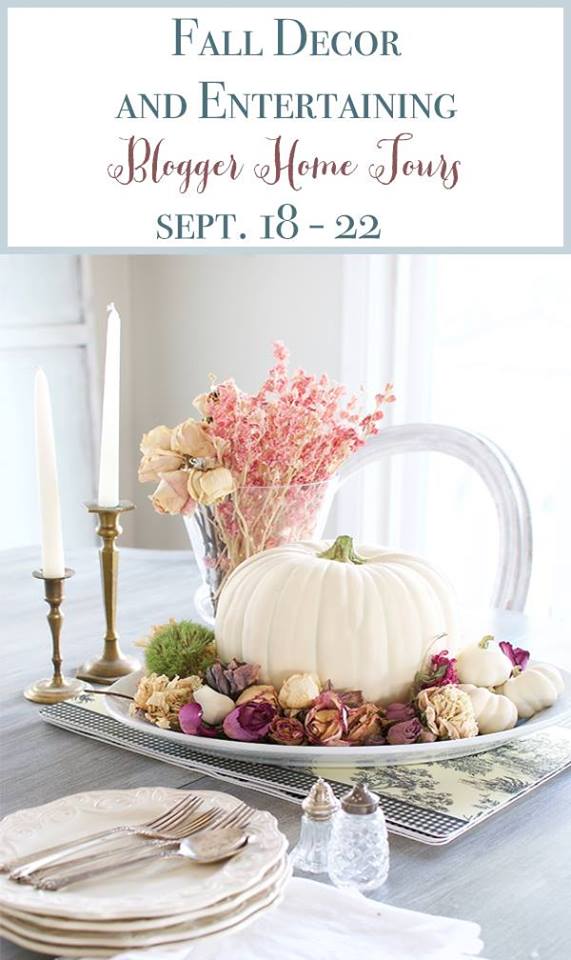 Monday
Tuesday
Wednesday
Thursday
Friday