Drying limelight hydrangeas is a really quick and easy way to extend the life of your hydrangea blooms, and make great Fall décor that is FREE! 
This post may contain affiliate links
This year for Fall, I'm really trying to keep our décor simple. I'm doing that for three reasons:  I don't want our home to feel cluttered, I don't want to spend a ton of money, and also…we have a baby due in two and a half weeks (OMG!) so I don't have a ton of time to spend decorating.
————–
I hope you'll check out some of my other posts while you're here, too!
See my DIY projects and inspiration [here]
Check out a home tour [here] 
Check out some fashion posts [here]
I have been in love with our massive limelight hydrangea bush since we moved in. It's enormous and some would say it's out of control…but I love that it's basically a small tree. I mean it's so PRETTY! So in the Fall when the blooms start to fade, I'm inevitably a little sad. But this year, I decided to bring some cut and dried hydrangeas into the house to use in our Fall décor. They dry really well, which will allow me to enjoy them for a lot longer this year. Plus it's easy and FREE décor – and you can't beat that!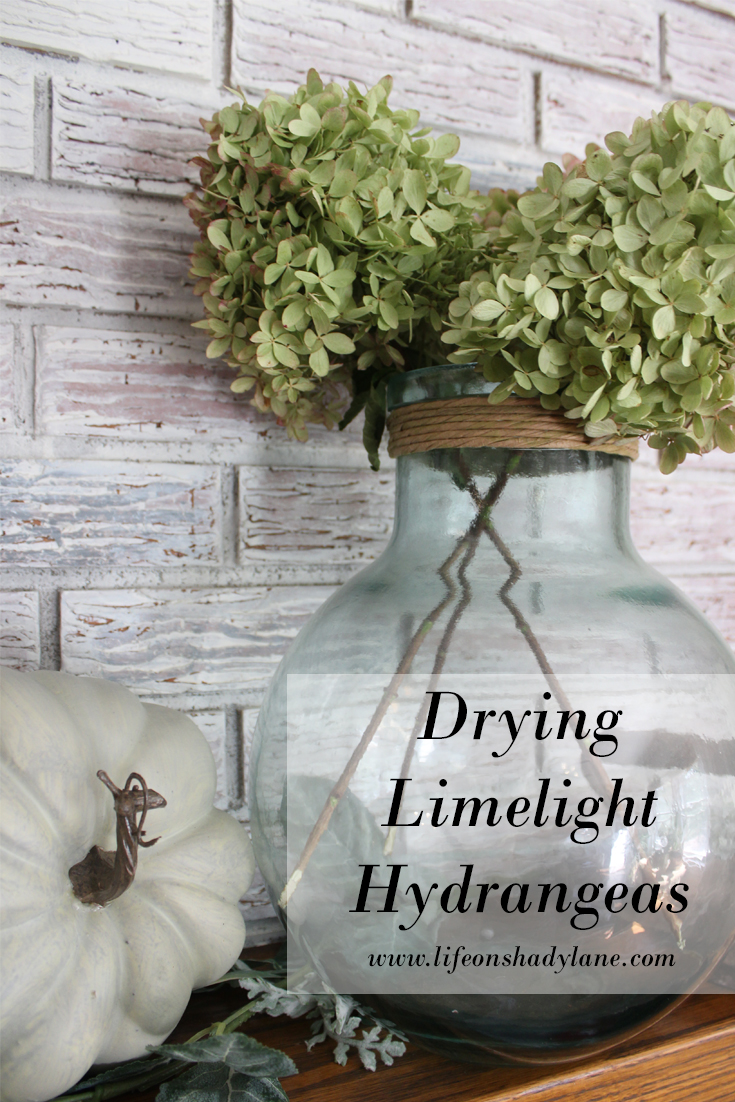 This post will be short and sweet because really there are no special instructions for drying hydrangeas. It's as simple as cutting them off the plant and allowing them to dry upright!
I waited until September to cut the blooms. You don't want to cut them from the plant too early, when they're still white, or they will droop when you dry them. The ideal time to cut them is when the blooms turn greenish.
I just used my hands to snap the woody stems (no scissors needed, unless the stem is really thick). I then let them dry in an empty planter outside for a few days before bringing them into the house. Be sure to make sure there are no bugs lurking in the flowers! ;)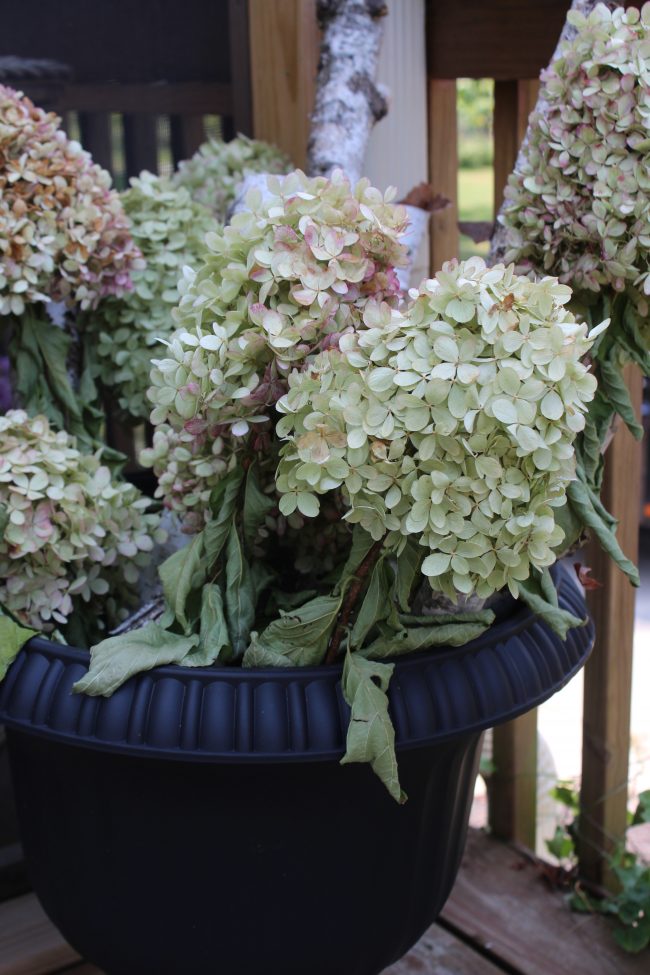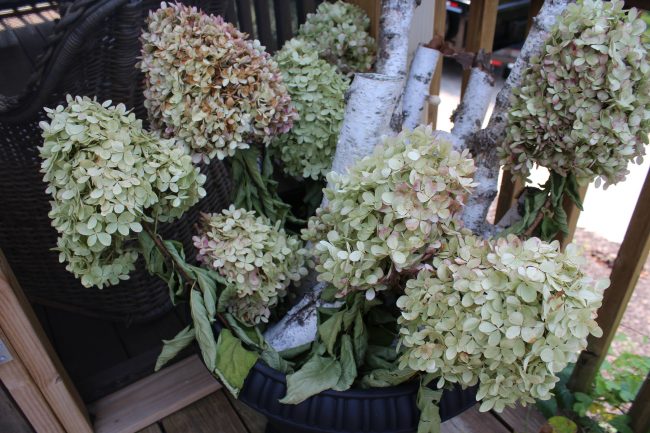 I have some birch logs in the planter drying out as well, and I really like how the hydrangeas look with them.
This would make an awesome Fall decoration for your front porch!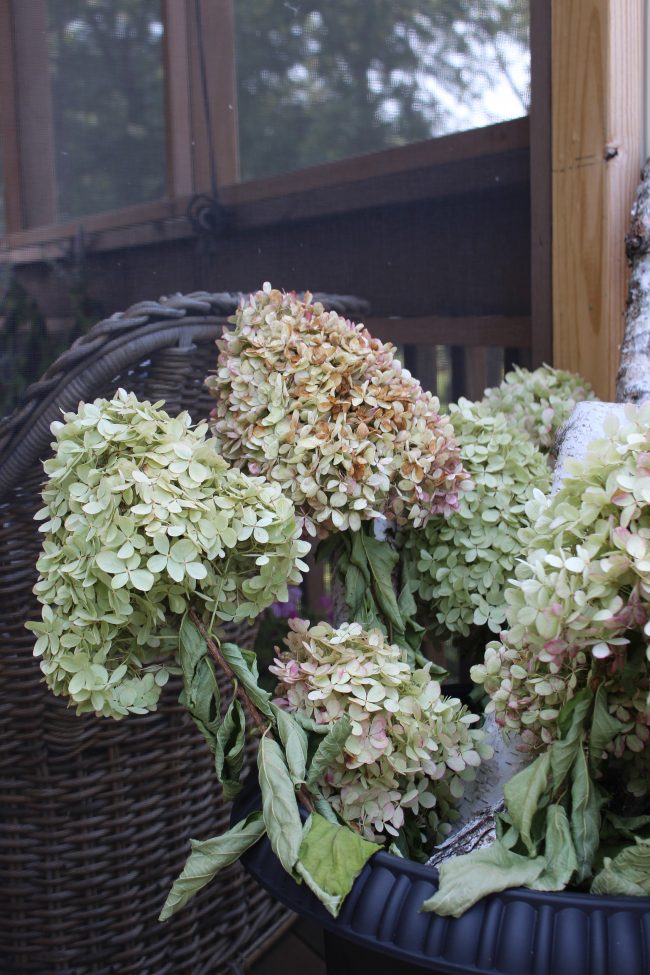 Anyway…I brought the hydrangea blooms into the house and put them in a vase on our mantel as well as in some glass bottles on the island. There are a ton more blooms so I'm sure I'll use them in more places throughout the house…plus I'm planning on creating a hydrangea wreath for our front door. Stay tuned for that!
FYI: I did not spray my hydrangeas once they were dry, but if you really want to extend their life, you could use a spray like this one
. Spraying them would help to prevent blooms from shattering and the colors from fading. Just a tip!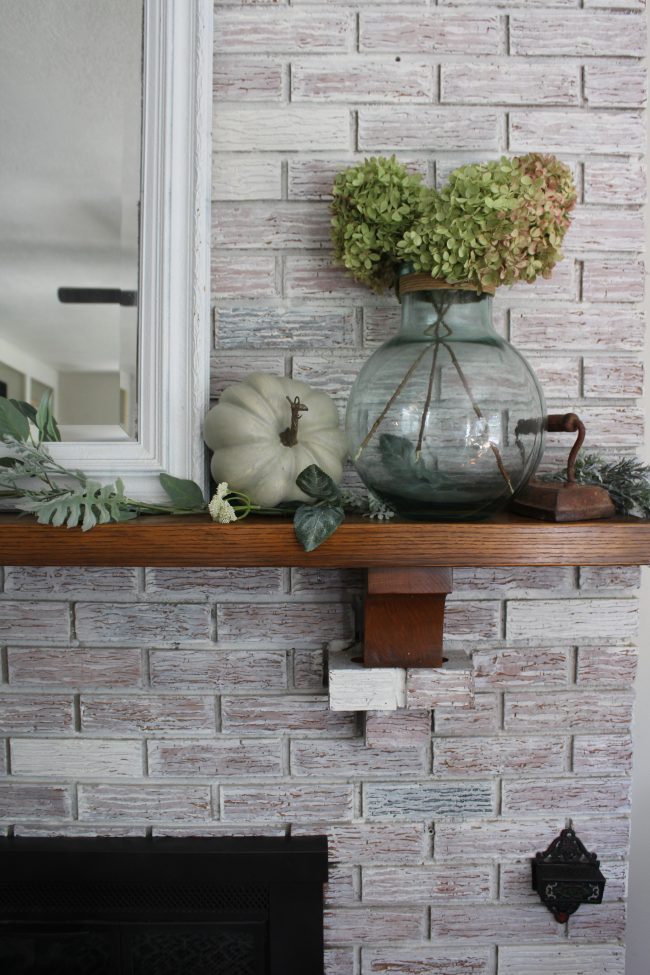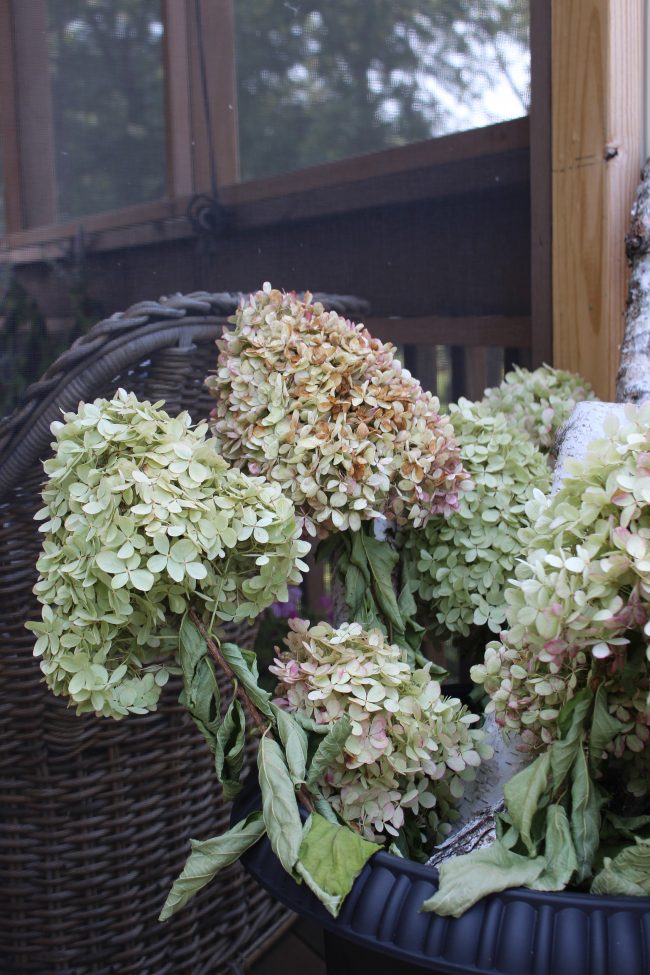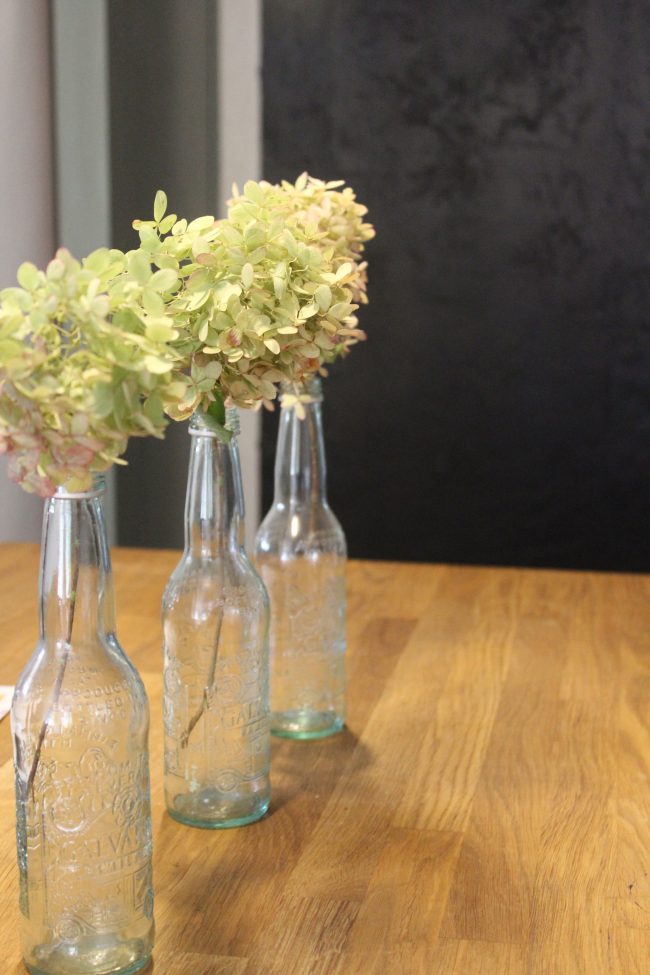 Would you try drying limelight hydrangeas in your own home? Let me know if you have any awesome ways to display them – I feel like the possibilities are endless!