Our home is finally getting to the point that little cosmetic projects seem do-able. When we first moved in, there was SO much that needed to be done that it was difficult to ever imagine being at this point…but here we are!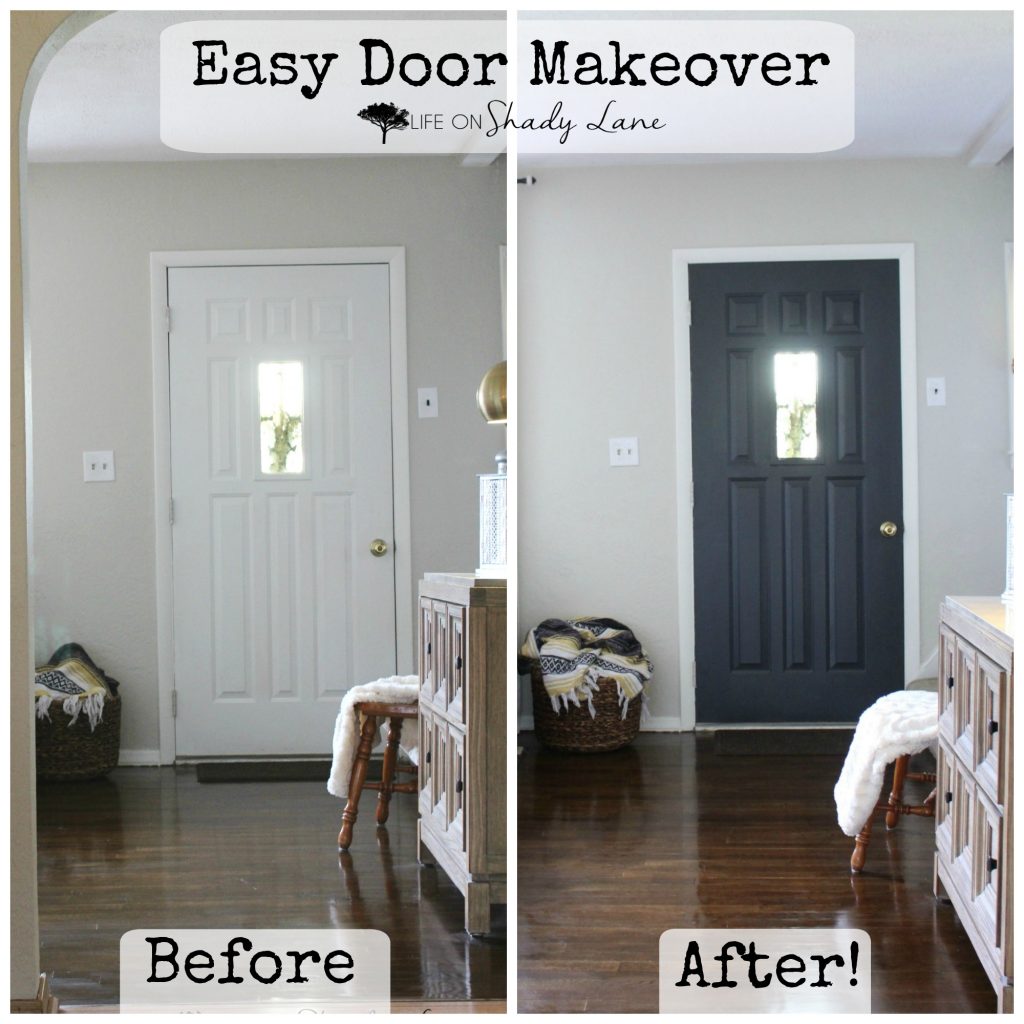 I had been considering painting our doors for quite a while, but projects like that seemed, at one point, reserved for some day in "the future" when things calmed down a little. I guess Henry's long nap that day was enough of a "calm down" period and as soon as he woke up, we made a trip to Home Depot to pick up some paint.
I was a little nervous to make such a big change, but I'm not one to shy away from a risk when it comes to our home. It's a good thing too…since some of the "riskiest" choices turn out the best!
By the way: you know how I know I've married the right man? This is the phone conversation we had shortly before I left to get paint:
Me: Hey, I have an idea for a little project at home. I want to surprise you…are you going to be mad if I just do it?
Brandon: No, go for it.
Me: Are you nervous?
Brandon: No.
Me: I am.
Brandon: Well now I'm a little nervous! Hey I have to go – good luck! Have fun!
LOL. That guy sure trusts me – even when I'm "surprising" him with a project I'm nervous about.
I started with the inside of the front door, but as soon as that was finished I moved on to another door…and another. Just a warning: this is addicting. I stopped myself at just our doors that lead to the outside, but dark painted doors would look so pretty on all of your interior doors too.
Here is the "before" – just a plain white door. It didn't look terrible, but I wanted to spice things up a bit.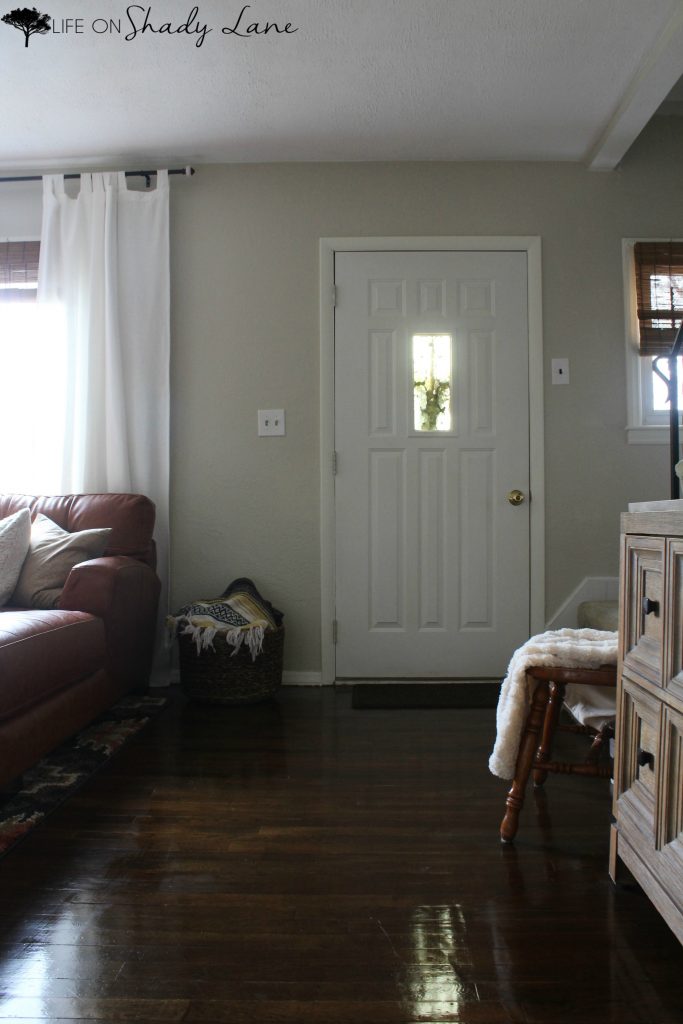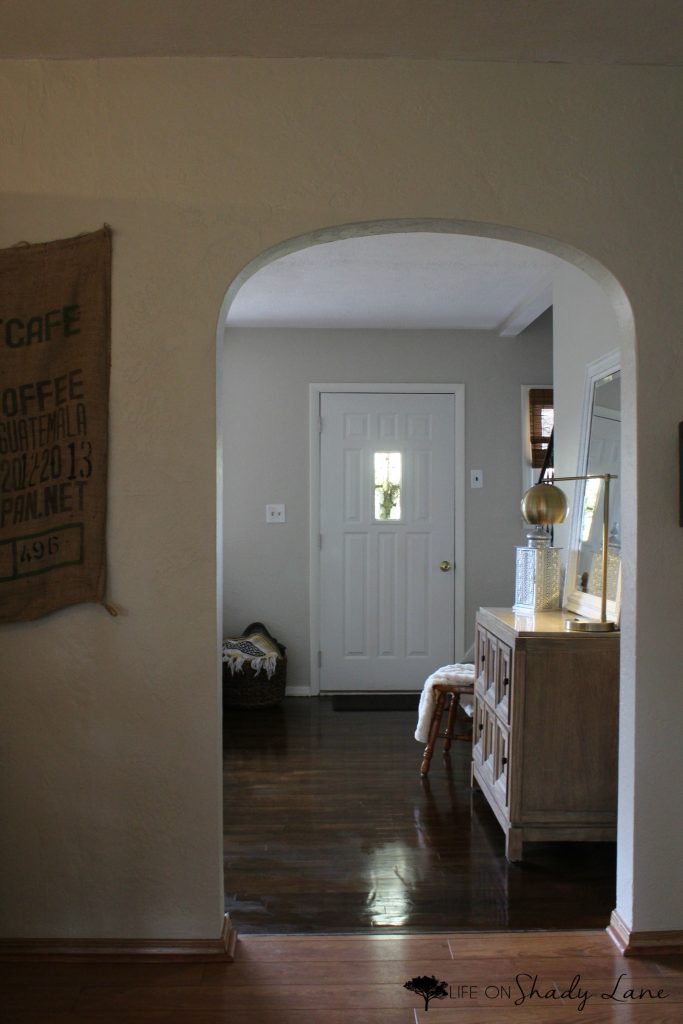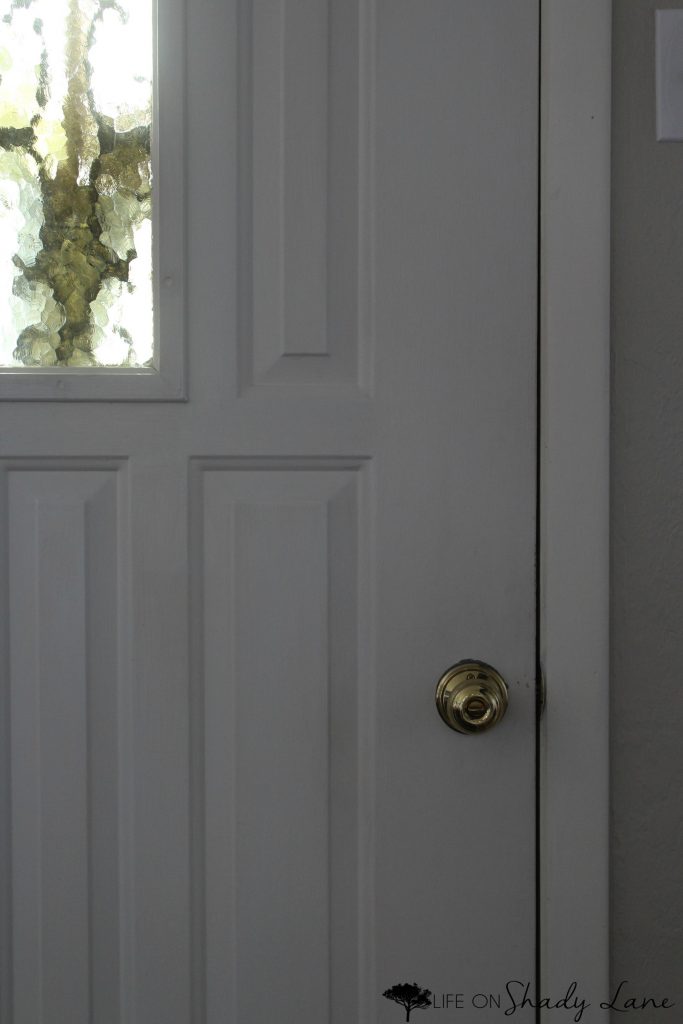 Paint tip: No matter what color I choose, I always use my favorite type of paint: Home Depot's Behr Paint + Primer.* I chose the color "wrought iron" by Benjamin Moore, so I just took the paint color's number in to the Home Depot paint counter and had them match it. This is a great way to get the exact color you want in the exact type of paint you like!
*Not sponsored…I just really like that paint! :)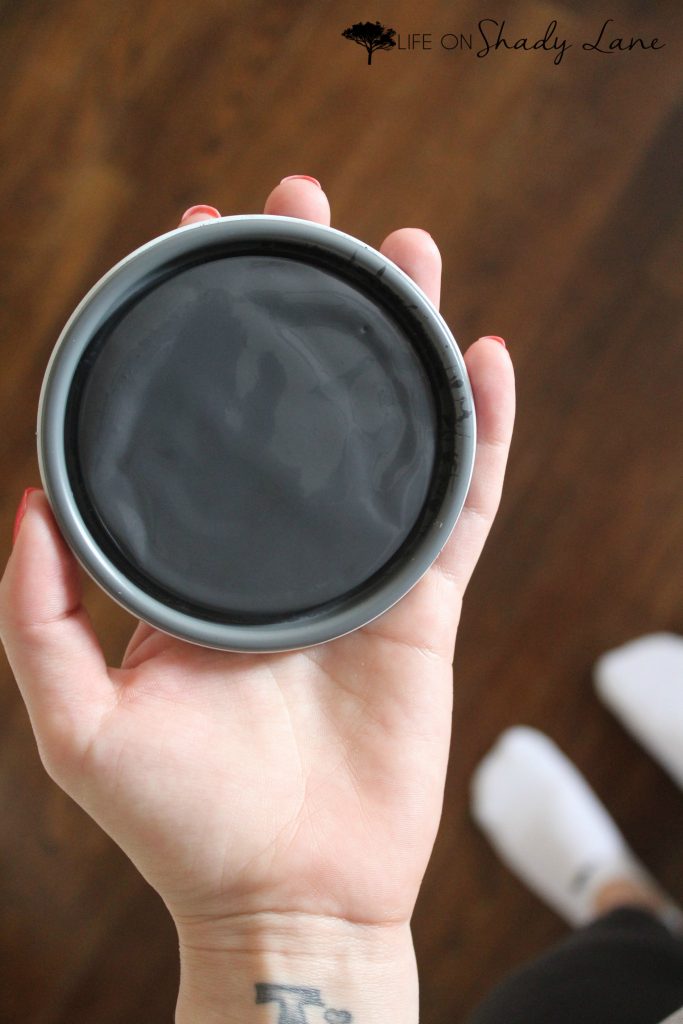 Another tip: start with any grooves/panels in your door using a paint brush. Then go over all of the flat parts with a roller. The roller is a lot faster, covers up your brush strokes, and rolls on a lot more smoothly than a brush alone.
Also: plastic grocery bags don't make the best drop cloth but you do what ya gotta do. ;)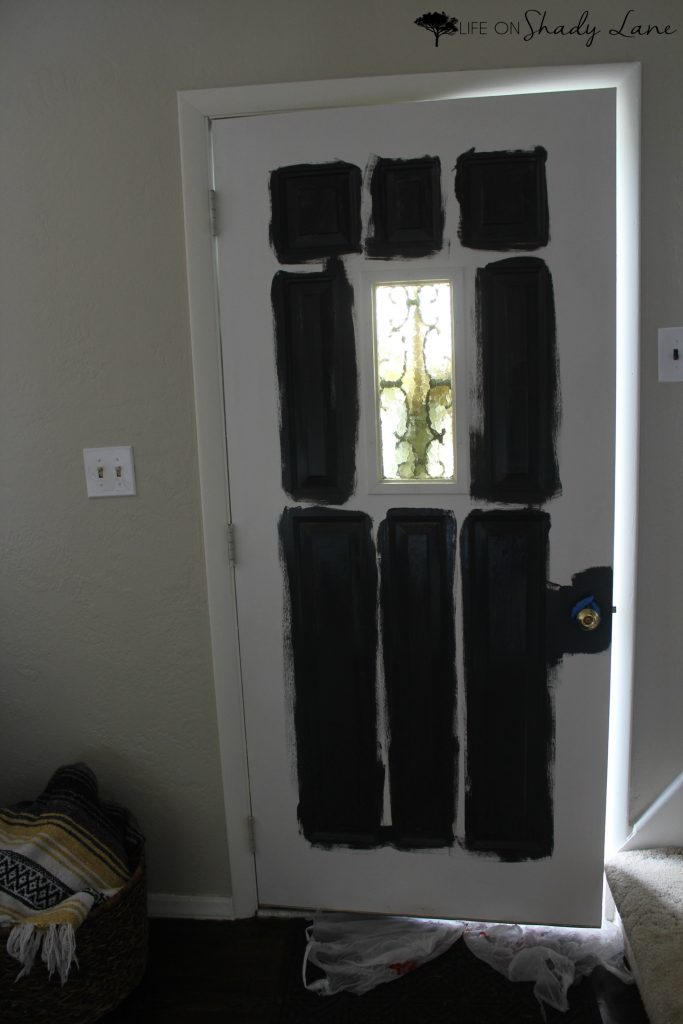 After: Ta-da!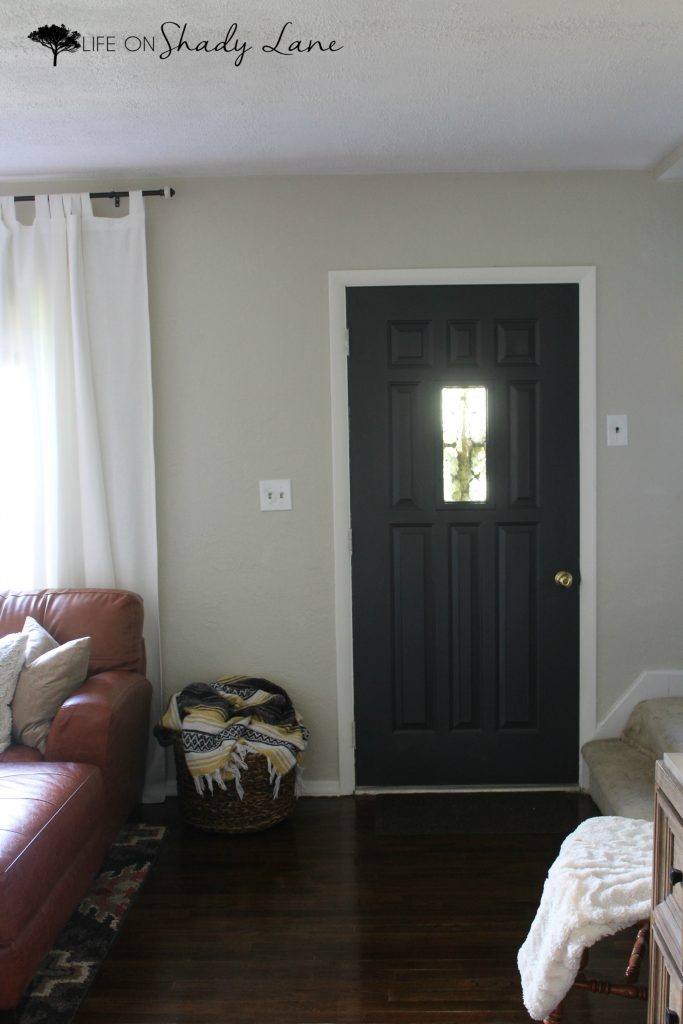 I'm so happy with the way it turned out – it gives the space some personality, don't you think?

Oh and like I mentioned, I also painted two additional doors. The first was the door in the back of our home. It's paint was looking pretty awful so this was a big improvement.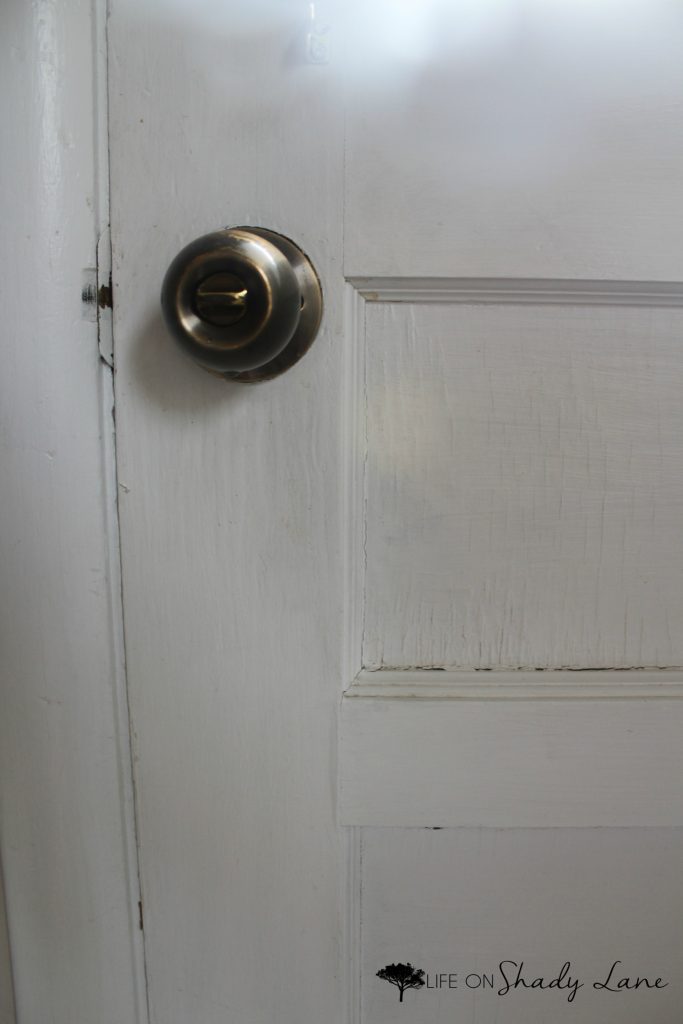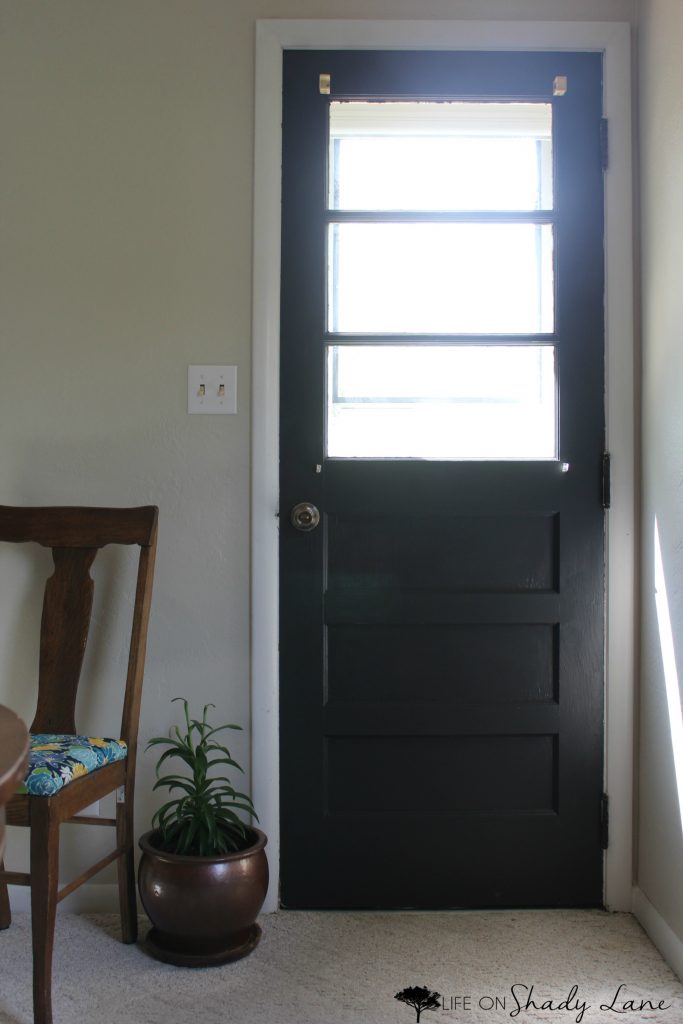 What are your thoughts: love it or hate it? Would you ever paint your doors?
————–
I hope you'll check out some of my other posts while you're here, too!
See my DIY projects and inspiration [here]
Check out a home tour [here] 
Check out some fashion posts [here]