A simple and pretty DIY floral hoop wall – perfect Spring decor that can transition well into Summer.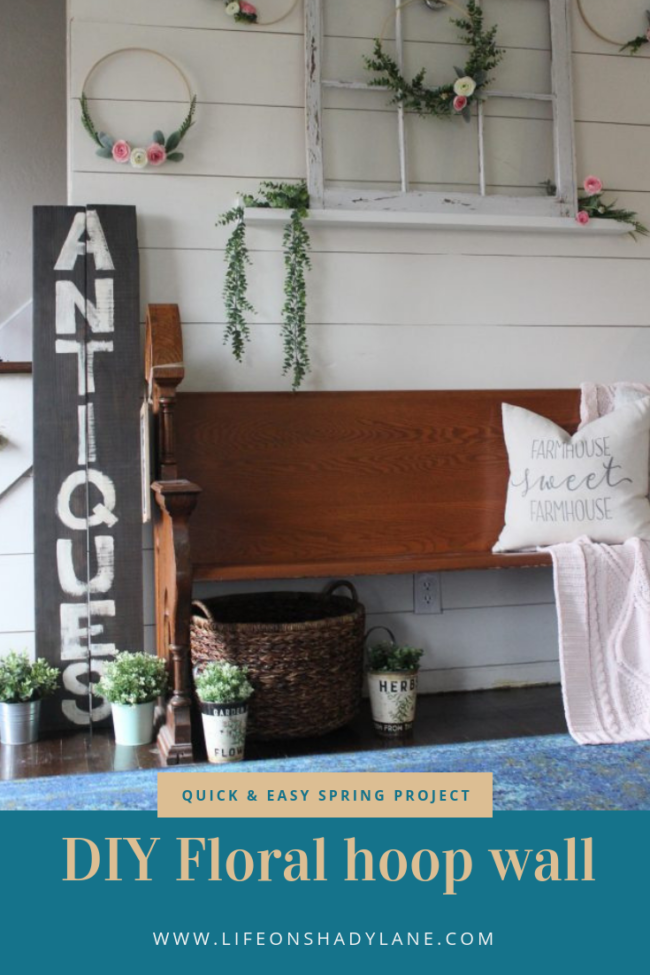 I hope you'll check out some of my other posts while you're here, too!
See my DIY projects and inspiration [here]
Check out a home tour [here]
Check out some fashion posts [here]
Is anyone else dealing with chilly Spring weather?! It's rainy and cloudy here today and, while typically I don't mind the rain…I am SO ready for warmer temps already. It is APRIL…and I'm still cold!
PS: I'm guest posting over on Sinkology's blog today, as well!
Despite the chill in the air, I have been doing some Spring decorating around our house. Our front entry was looking a little sad, though, and needed a refresh. I hadn't really done anything with it since taking down our CHRISTMAS decor! I wanted something simple and easy that could last through Summer – and these DIY floral hoops totally fit the bill.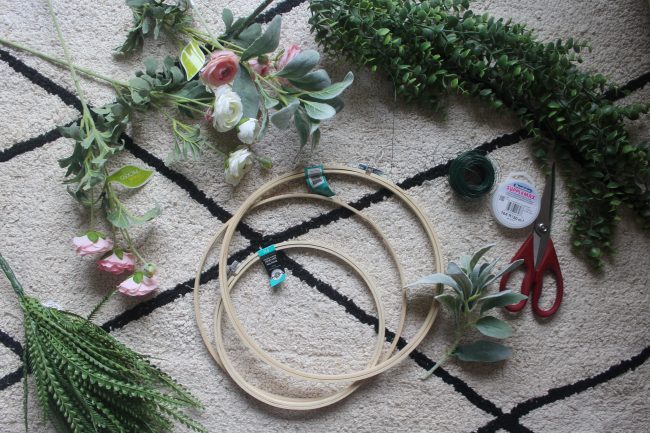 This was a pretty inexpensive DIY, too – I already had the green floral wire and clear "invisible" string. I picked up some embroidery hoops and greenery/flowers (I always wait until florals are 50% off!), and that was all I needed!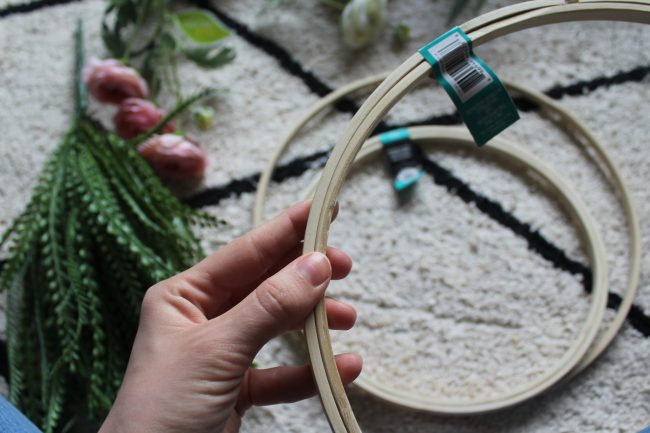 The embroidery hoops are really a two-for-one deal for this project, because you can separate them into two separate hoops.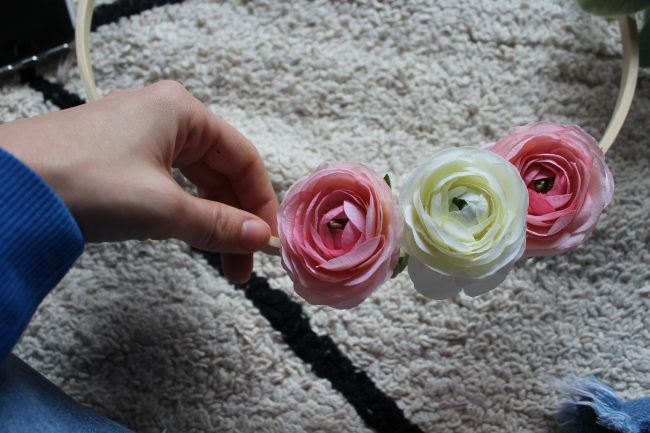 I found that the easiest way to go about starting was to decide what I wanted the "middle" to look like, and then build out from there. I also found I liked the look of keeping thing pretty symmetrical. So, for example, in the one pictured below, I picked a white flower for the middle, and began to build out from there.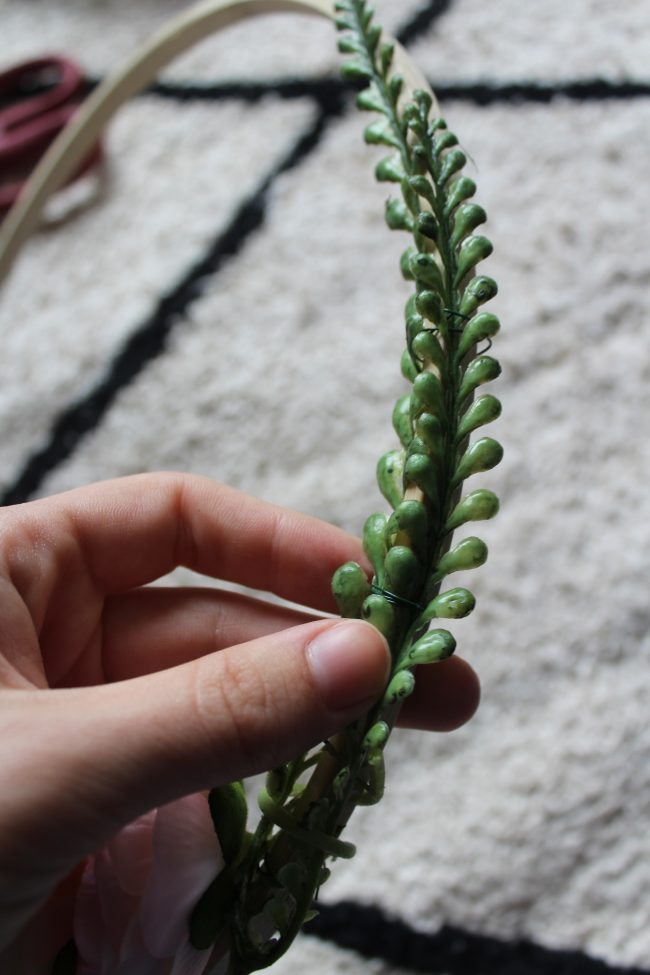 The green floral wire worked really well to secure everything to the hoop. I just held the greenery in place and wrapped the wire around it and the hoop. Once I started adding more greenery and flowers, it was even more secured (because it was wrapped in more places).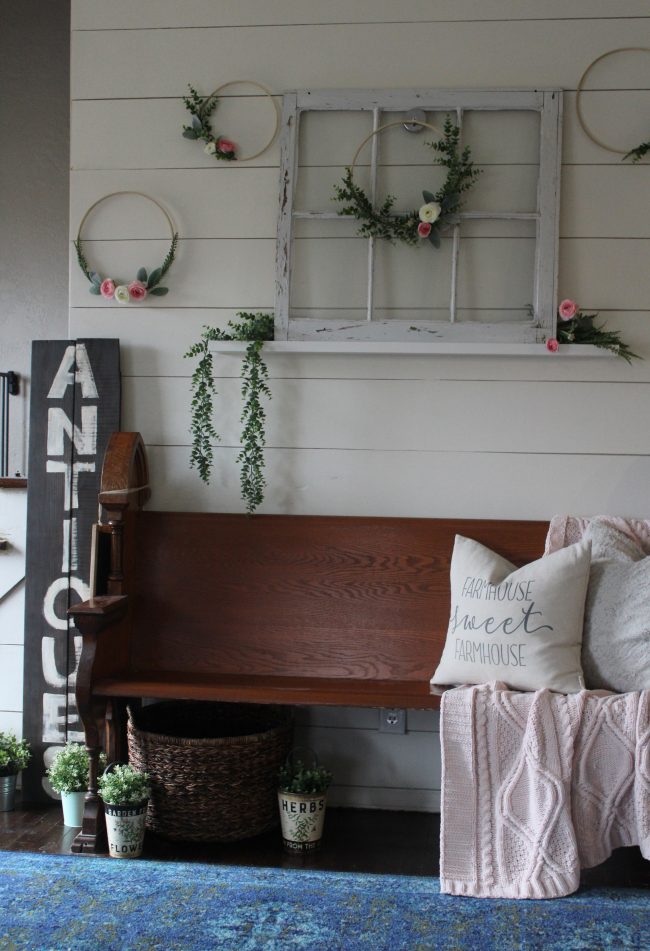 I secured 3M hooks to the wall near the ceiling, and then hung the hoops with my clear string.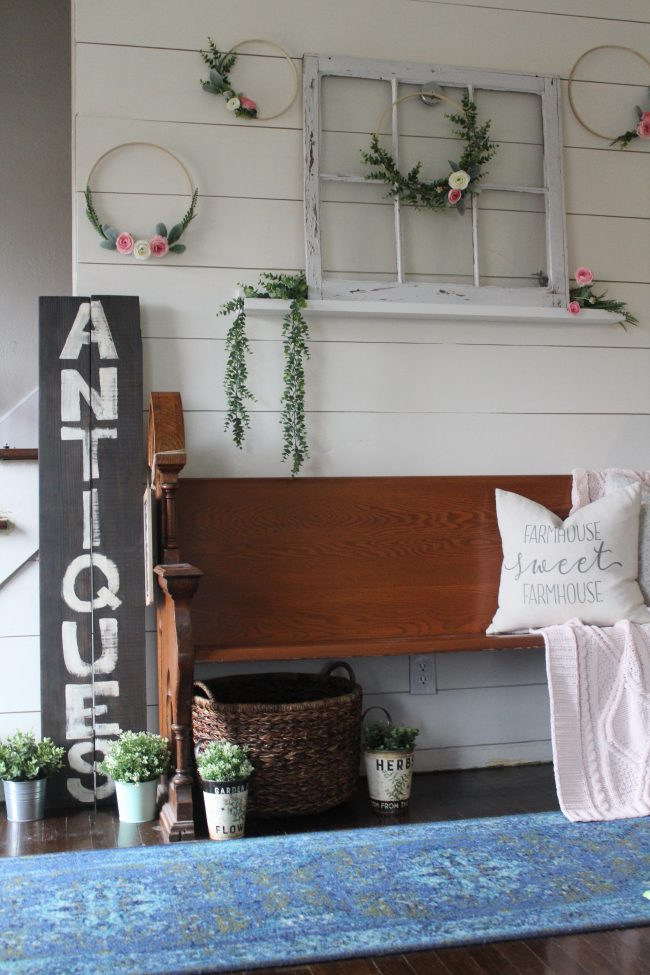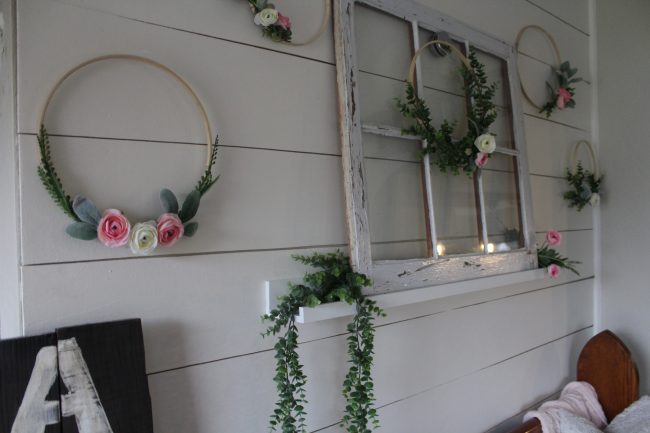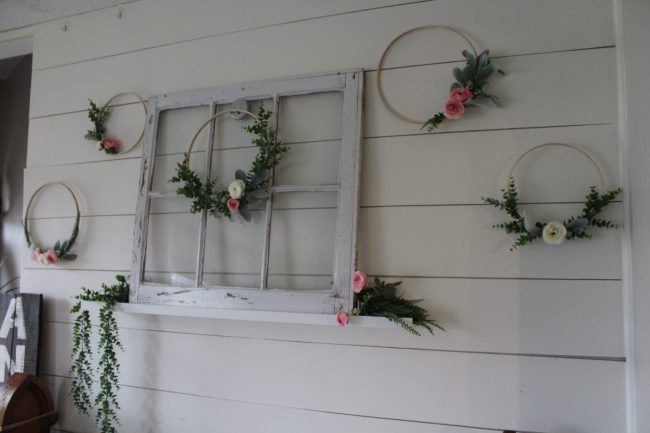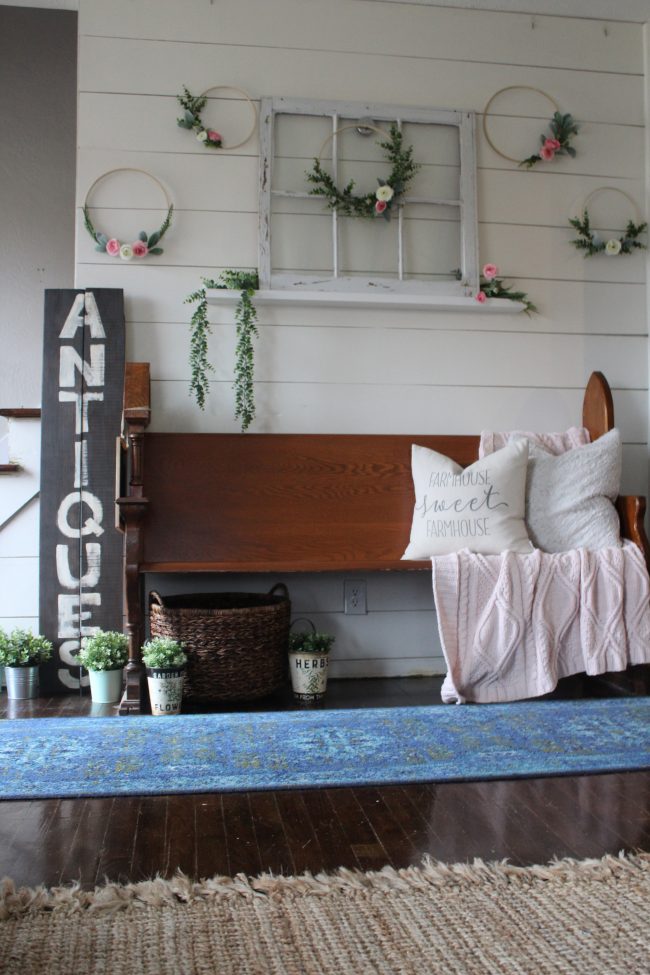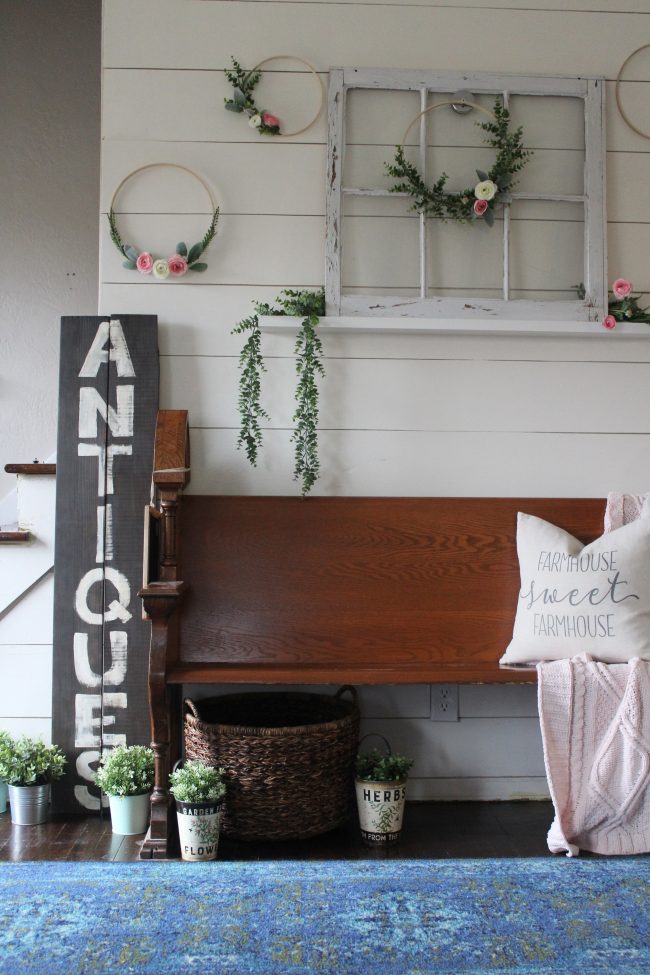 I wasn't quite sure what to do with my extra greenery, so I tucked it behind the vintage window on my IKEA picture ledge…and I think it finished things off perfectly!
You can kind of see the 3M hooks in the pictures below – they're really close to the ceiling!
You can see a few more ways I have decorated this space [here] and [here].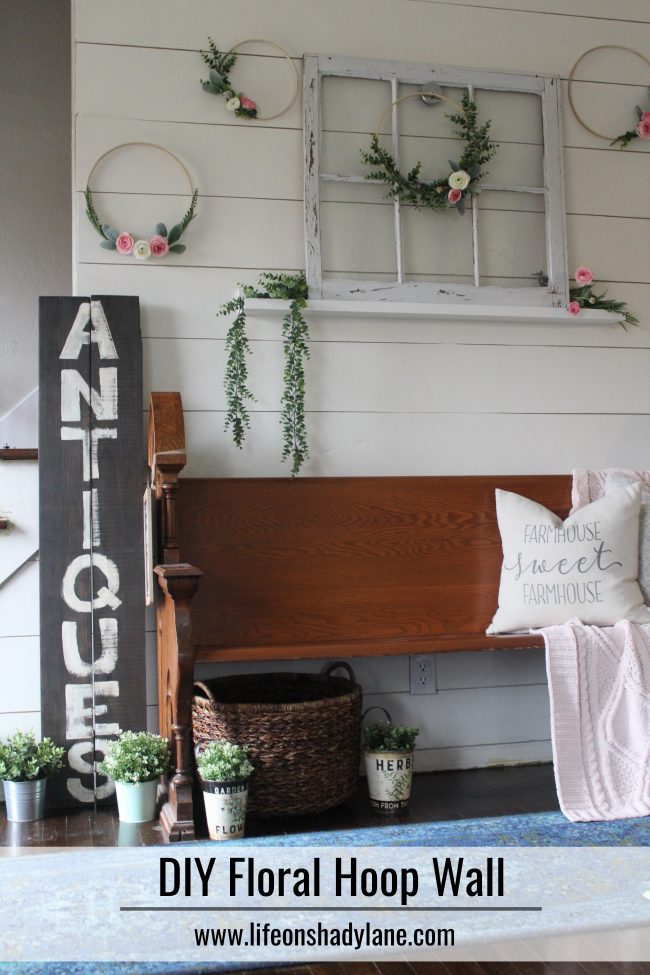 What do you think about this DIY floral hoop wall? Do you have a wall in your house where it would work? As always, I love to see pictures of the projects you do in your own homes! Send them my way!
I hope the weather is warmer where you are! If it is, send some of that sunshine my way! ;)
I hope you enjoyed this DIY floral hoop wall blog post!