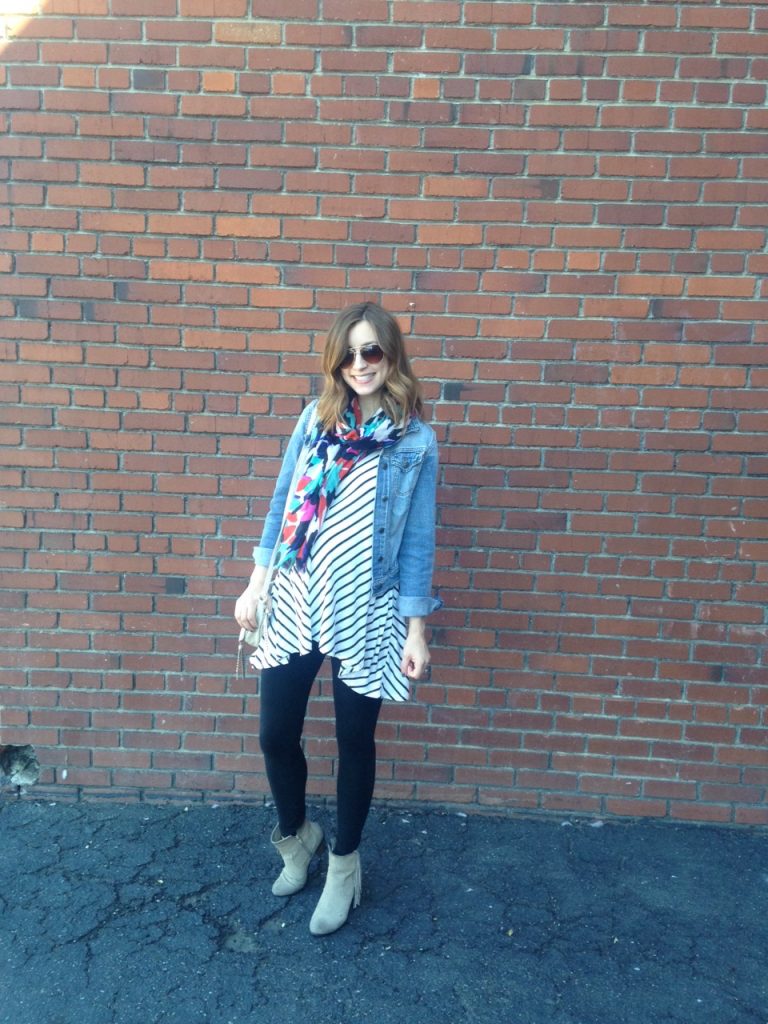 Well apparently I have not done a "bumpdate" post in 3 weeks, and I didn't even realize it. I think it's safe to say life has been a little bit hectic!
How Far Along: 35 weeks
Gender: Baby boy
Total Weight Gain: About 28 lbs
Maternity Clothes: Definitely. I have been wearing this striped black and white top a LOT (#sorrynotsorry) – I wore it with white jeans for my baby shower, but mornings here in Reno are a little chilly, so I wore some warmer layers with it for brunch and antique shopping on Sunday morning.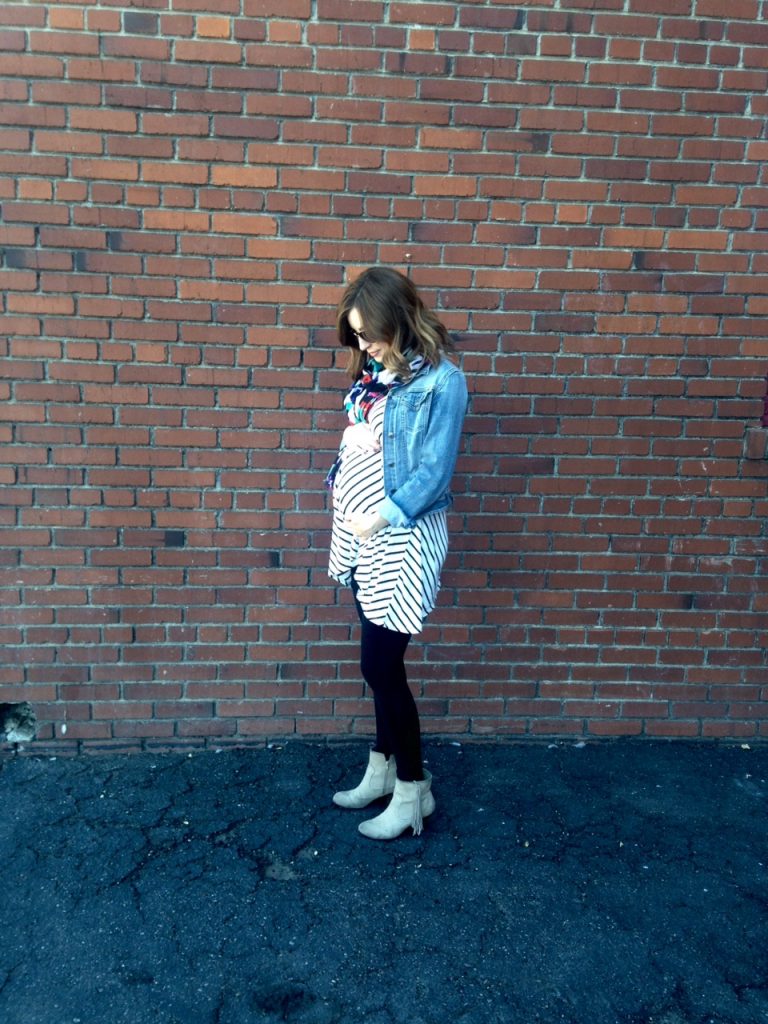 Sleep: Still pretty much the same, although now I'm getting up once a night to go to the bathroom (just like in the beginning of this pregnancy). It's hard to get comfortable, too, but I think I'm just so tired that my body doesn't care anymore and I'm actually getting a little sleep.
Miss Anything: Regular jeans, having more than 5 things to wear, and cocktails (like always).
Cravings: Still drinking a lot of water and mixing it up a little with Crystal Light and strawberry-infused water. I know, I know…I'm so crazy. I don't think I'm really having any cravings other than that, although I was looking forward to french toast ALL week (the french toast from Brasserie St. James in Reno is ah.may.zing and I may or may not have asked for the recipe on Sunday).
Symptoms: Lower back pain last week and feeling uncomfortable at night before bed. Nothing too major.
Belly Button/Body Changes: My belly button is driving me absolutely nuts (something I never thought I'd say – haha!). I think it must be stretching out a little more, because the skin around it is SO itchy. TMI?
Mood: Good! It's frustrating to feel uncomfortable, but I just try to relax and not think about it.
Best Moment This Week: We had a great weekend. It was our last in Reno (we're moving into our new home in our hometown next weekend!) so we did some fun things and relaxed a lot.
Looking Forward to: Driving across the country back to Missouri. Just kidding, I'm not really looking forward to the drive…just so looking forward to getting settled (finally) into our home.
Exercise: Down to just taking the dog for walks now.
On My Mind: We're not getting a U-Haul to drive back home, just packing everything in our two cars. So, we are trying to figure out how, exactly, we're going to do that. We'll probably need to get rid of some things, but we have gotten pretty good at cutting it down to only the things we love since we have moved around so much!
Don't forget that you can sign up to receive my emails – I send one out every time I publish a new post, so you'll never miss out on anything that's happening on Shady Lane! There's a sign up form at the very top of the page. Let me know if you need any help!
Also, be sure and check me out on Instagram, Twitter, and follow me on Bloglovin'