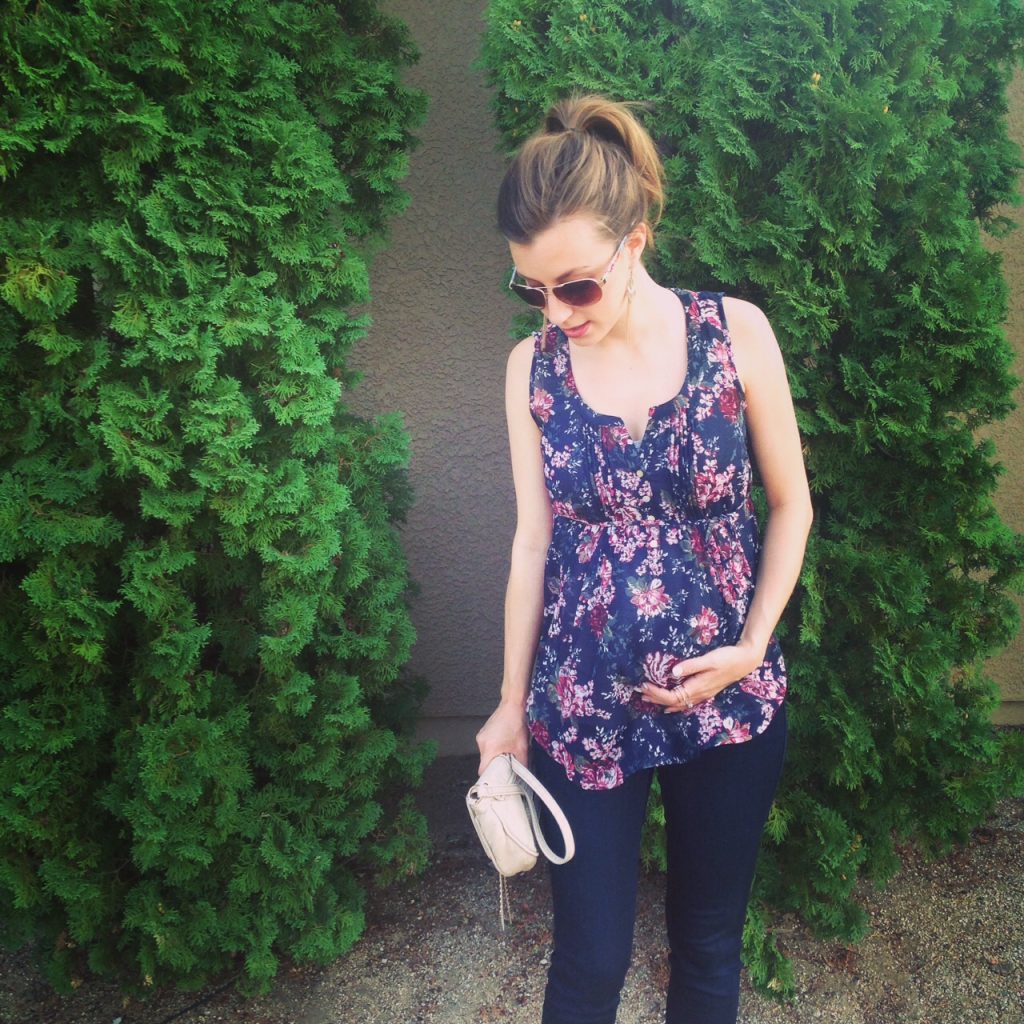 How Far Along: 32 weeks
Gender: Baby boy
Total Weight Gain: About 25 lbs
Maternity Clothes: YES definitely – almost everything I'm wearing these days is maternity, unless it's a jacket, yoga pants, or Brandon's t-shirt. The shirt I'm wearing in this post is from Motherhood Maternity, and the jeans are Fade to Blue (I got both at Macy's!).
Sleep: I had the worst night's sleep I've had this entire pregnancy on Sunday night. I think I slept for about five minutes total – awful!
Miss Anything: Sleep and wine. :)
Cravings: Water and cold fruit. I've been trying to mix it up with sparkling water, crystal light, and hot tea (at night) – I just feel so thirsty all of the time!
Symptoms: Exhaustion and being hungry a lot (still the same as last week!). Plus, I have a sore back and shoulders, which do not help the sleeping situation.
Belly Button/Body Changes: Belly button is sticking out, and I am almost positive that on Sunday I woke up and my belly was bigger than the day before. Also, baby feels slightly lower than before. I can't do squats anymore, so that's definitely a change.
Mood: For the most part, I've been in a good mood!
Best Moment This Week: I was feeling super energetic after brunch on Sunday (probably a result of that latte I had…) so I went to the gym for about an hour – major success!
Looking Forward to: My baby shower this weekend!
Exercise: No more squats, so basically just walking and doing some low-weight arm exercises/leg lifts on the floor.
On My Mind: I'm looking forward to once a week appointments (starting at 35 weeks), because that means we'll be getting close to meeting this baby! Also, we haven't decided which hospital I'll be delivering at, but we have a tour + class set up at one pretty close by so perhaps that will be the winner.
PS: Have you subscribed to receive my emails? You can do so up at the very top of the page – I'll let you know when I publish a new post, so you'll never miss out on a thing. Let me know if you have any questions! :)
Follow Life on Shady Lane with Bloglovin'