I put together some outdoor furniture from Target to create the perfect outdoor entertaining space. I am all about some laid back and comfortable summer backyard patio designs!
This post may contain affiliate links
I've shared links underneath the collage for easy shopping!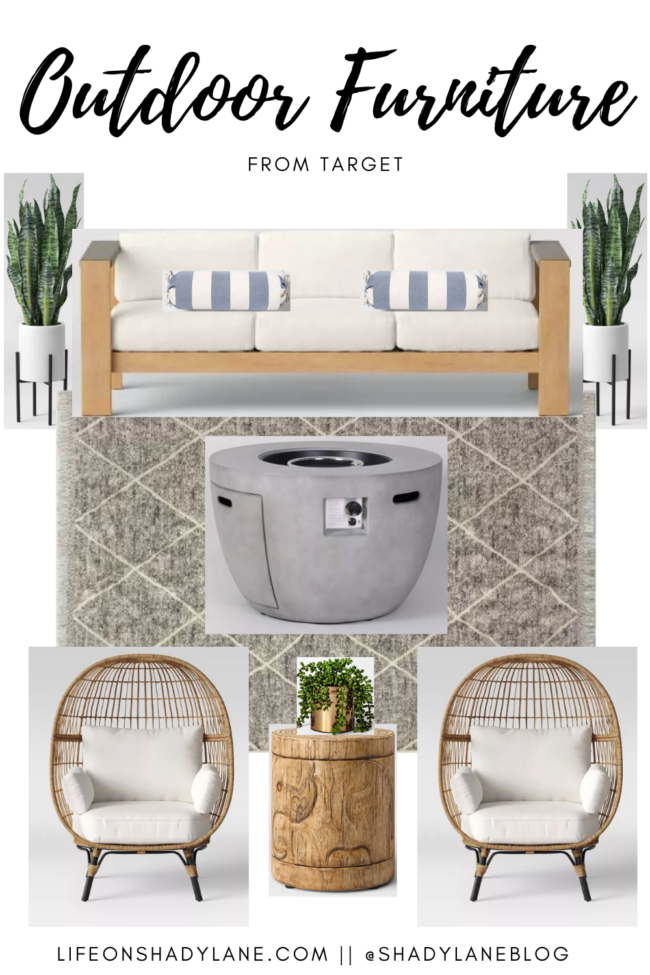 I am all about backyard patio designs that feel both stylish and functional. I love when an outdoor space feels like it could just as easily be inside the home, too – it makes hanging outdoors feel so comfortable!
This space that I've put together uses pieces entirely from Target, and I LOVE that its neutral but has some personality. You could easily mix in different throw pillows or plants to change the look of the space if you want to later, too!
*PS can we talk about that side table?! It looks like it could be from Anthropologie, but it's so much more affordable and from Target! I LOVE it!
The furniture is all specifically made to be used outdoors (which means the fabric is made to withstand outdoor elements). I do recommend using an outdoor furniture cover when you're not using the furniture/during storms to prolong it's life, though!
You can also store pillows and cushions in a deck box for a quick and easy storage solution!
For cleaning your outdoor furniture, I highly recommend this spray cleaner as well as a good pressure washer.
————–
I hope you'll check out some of my other posts while you're here, too!
See my DIY projects and inspiration [here]
Check out a home tour [here]
Check out some fashion posts [here]
I hope you enjoyed this outdoor patio furniture from Target blog post! Should I put together more backyard patio designs?