An update on our stenciled bathroom floor: How it's holding up + why I wouldn't recommend doing this project in your own home (without reading this post first)
This post may contain affiliate links
Alright guys, several of you have asked for an update on our stenciled bathroom floor and how it is holding up, so you're getting one today! I know it hasn't even been that long since I finished the project, but when people ask "would you do it again?"….I say no. Or maybe I would do it a little differently.
Let me explain.
About two weeks ago, I noticed a tiny chip in the paint. It was in the corner of one of the tiles, so I thought that maybe it had something to do with being on the edge, or water being splashed from the bathtub into that spot…or something. We planned to fill in a little bit of grout and then go over the area with some more polycrylic, but we didn't get around to it.
*EDIT: This has, by far, been one of my post popular blog posts and one of the most pinned images on Pinterest. Thank you everyone for reading! If you're here from Pinterest, WELCOME and thank you for stopping by! If you don't already follow me on Pinterest, please consider doing so – I pin all kinds of awesome stuff! I'm on Instagram, too!
I hope you'll check out some of my other posts while you're here, too!
See more of my DIY projects and inspiration [here]
Check out a home tour [here]
Check out some fashion posts [here]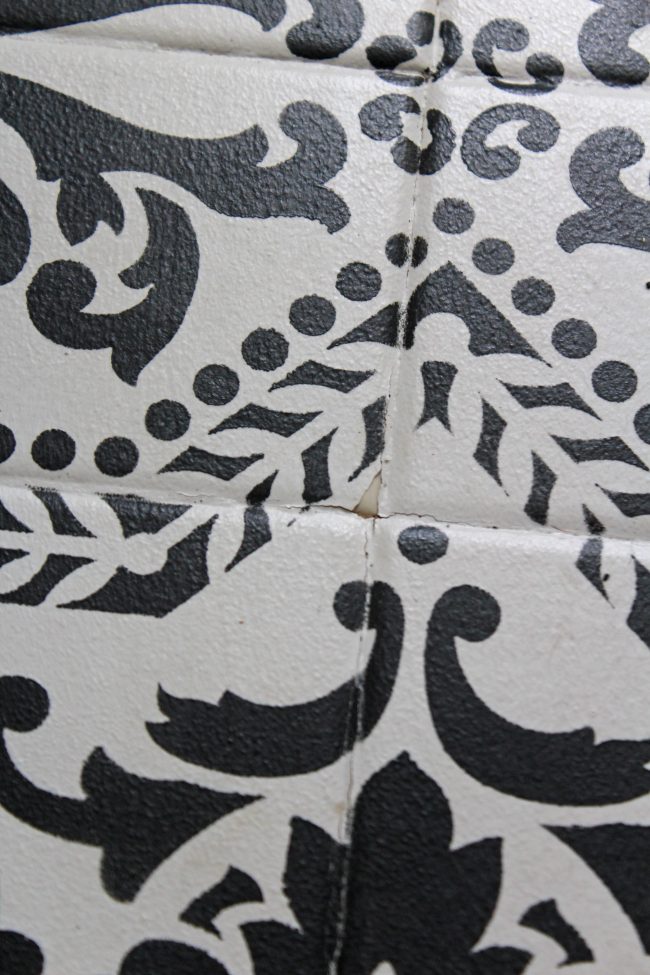 Then, this past weekend I walked into the bathroom after Henry's bathtime and realized that there were two good-sized spots where the paint had peeled off. In separate locations from the spot I mentioned above.
Insert eye-roll emoji here.
Photos of the stenciled bathroom floor and the peeling paint are below – I'm hoping you can see the spots where the paint has peeled. I took the pictures when it was really sunny out so it was hard to get great ones!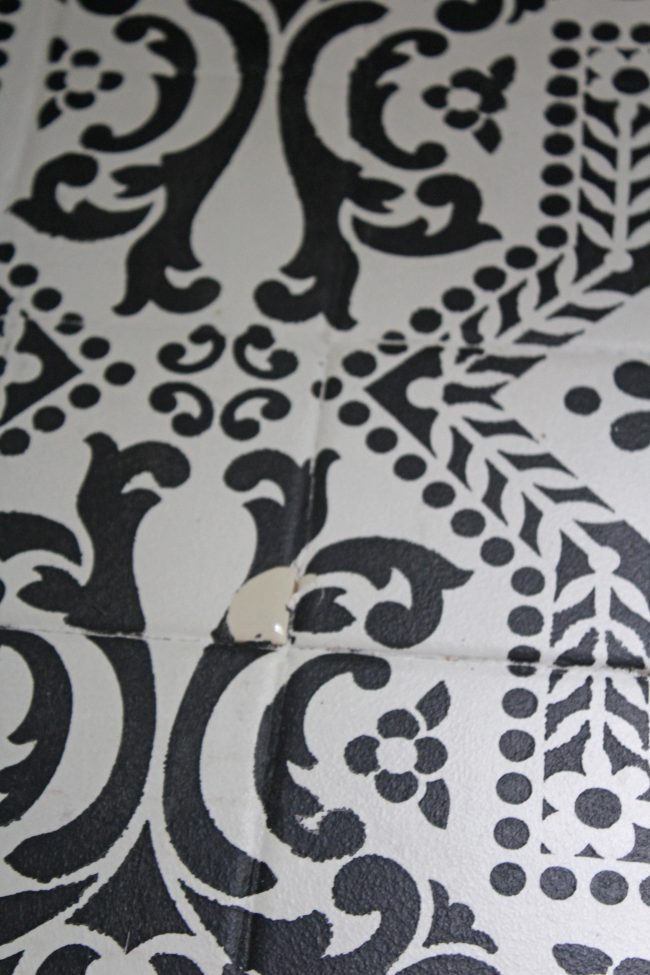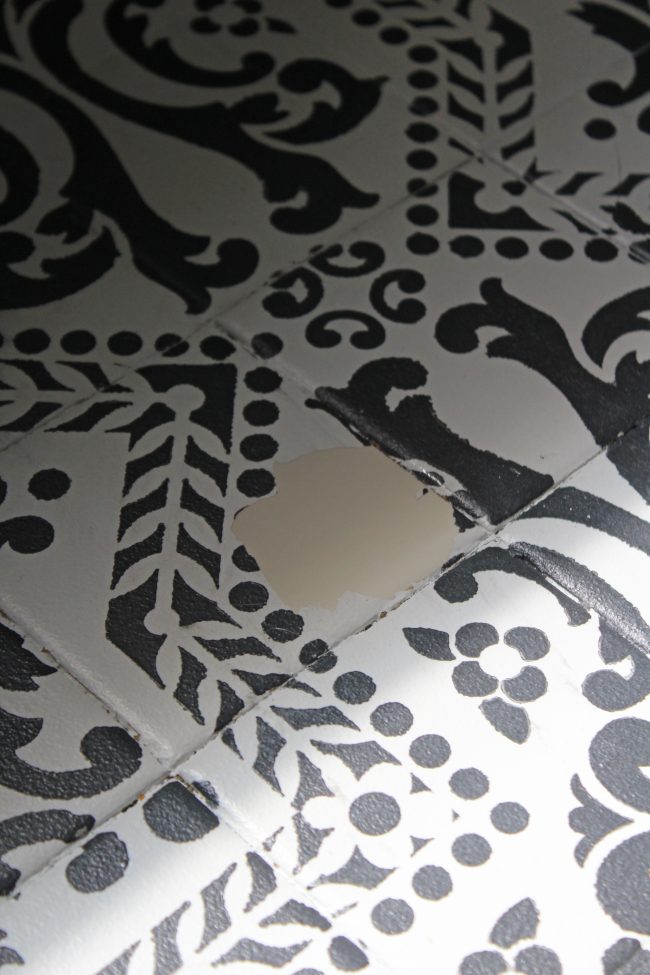 Sigh.
I knew going into this project that it was risky. Painting a slick bathroom floor doesn't exactly scream "low risk" for goodness sake. But I figured that the tile was already ugly – it was worth a shot to give it a makeover! And if it didn't work out, then I promised myself I wouldn't be TOO bummed.
But guys, that small bathroom floor took me a good 3-4 days and it looked so COOL! ALSO we only have a little over 4 weeks until baby gets here. So I'm in super-nesting mode and yes, I'm bummed that the paint is peeling.
We have lived in our home for over two years and have touched just about every single surface when it comes to "fixing up" this fixer upper. I'm talking floors to ceilings. And when I think back over those two years, there really hasn't been anything that has gone majorly wrong with our DIY projects. So, I guess we were due for a project that didn't really work out, right?
I'm sharing an update on our stenciled bathroom floor because I blog a lot about the DIY projects that we do, and I want you to know that you can trust me! If something that I try ends up not working out, then I will let you know because I don't want you to make the same mistakes that I do. It's frustrating to have a project that you worked hard on not turn out the way you had envisioned!
Also, I read a lot of blogs where I find inspiration and get directions on how to do certain projects. I would want those bloggers to let me know if a DIY didn't work out before I go in blindly and make the exact same mistakes. Ya feel me? ;)
I love home-related projects and am happy to be the "guinea pig" who goes first. And there are bound to be some things that just don't work out perfectly.
You win some, you lose some.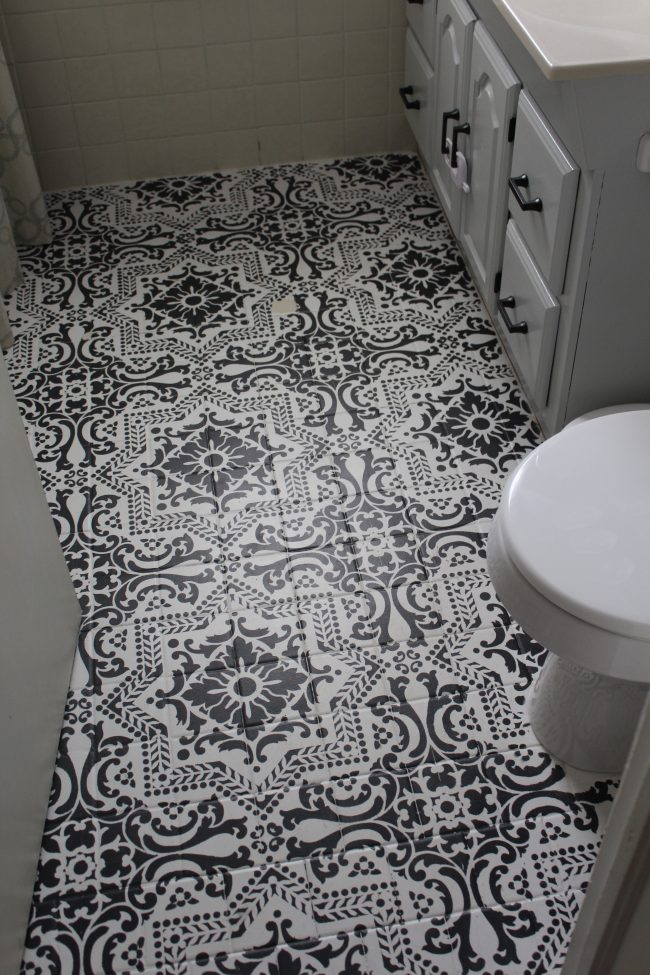 Now, if I were to attempt a stenciled bathroom floor again (or any tile floor for that matter) I would sand the tiles first. Roughing them up might make the paint grab on better and reduce the risk of peeling, but then again…I didn't do it, so I'm not 100% sure if that would prevent it either!
I'm also not sure what exactly caused the paint to peel. It could have been the bathroom rug with its rubber backing that pulled it up, or it could have been the fact that bathrooms gets a lot of moisture. It also could have been the fact that we have a toddler who likes to drive his trucks and tractors everywhere, including the bathroom. I really don't know.
If you still want to go ahead and paint your tiled floor, more power to you! I have seen plenty of people do so and it works out just fine. Seriously! My guess is that those people had tiles that weren't as slick as the ones in our bathroom, so that's why I think that sanding first might be the key.
Also, painting a wood floor would definitely be easier, so if you're thinking about a project like that (inside or on a porch or something), I'd say go for it. Just be sure to use a primer and seal it afterwards! But if you are thinking about painting your bathroom tile, I would say "do as I say, not as I do." OR I'd tell you to at least sand your tile before attempting!
FYI: I am going to update my DIY post with a little "warning" so that if someone lands on that post first, they can read this post as well before attempting to paint their own bathroom floors. If you have successfully painted your bathroom tiles (without peeling!) or if you have come up with a way to prevent the peeling…teach me your ways! Seriously, leave a comment below so I can learn from YOU!
Oh and PS: the vanity that I painted is still holding up perfectly and I am still as in love with the color as before! You can see more of that right [here].
As far as fixing the floor…I haven't yet. I still have the stencil, so I could touch up those peeled spots and then go over the whole floor with another coat or two of polycrylic. Or, we could completely tear out the old tile and put new in. However…like I mentioned, we have a baby coming in a little over a month, and we are working on the upstairs bathroom renovation right now (see more of that here). So new tile in this main floor bath is a ways off. For now…I threw a rug over the peeled spots and am calling it good. I call that preserving my sanity. ;) I'll let you know what we decide!
OK one more thing before I go: I did another stencil project that is holding up beautifully, and you can see that here.
Check out more of our home-related projects [here]!
Follow me on Instagram and Pinterest!
I hope you enjoyed this An Update on Our Stenciled Bathroom Floor blog post! If you did, please consider leaving a comment! OR feel free to ask any questions – I love to hear from you guys!