*This post is sponsored by JORD Watches
Happy FRIDAY!
Does anyone else feel like shopping for men is so much more difficult than shopping for women? I'm not exactly sure why I feel that way – maybe it's because the guys in my life tend to just go out and buy something if they really want it, whereas women don't seem to do the same thing. Or maybe it's just because I'm a girl, so I know what other girls would like? I'm not quite sure.
————–
I hope you'll check out some of my other posts while you're here, too!
See my DIY projects and inspiration [here]
Check out a home tour [here] 
Check out some more fashion posts [here]
So when my husband's birthday was approaching, I (of course) didn't know what to get him. He has still been working on perfecting his basement remodel/man cave (you can see photos here) so it seems like I have been getting him stuff for that room for every other holiday. I wanted to mix it up this time.
When we got married, Brandon and I decided to get each other a gift to celebrate the day. He got me a rose gold pearl necklace, and I got him a watch. He loved it. I remember him telling me how excited he was about the watch and then later on he mentioned that someday he would also really like a watch that showed the mechanical pieces inside. I think he may be a watch collector in training. ;)
A watch seemed like the perfect birthday gift this year because it wasn't one of those things he would just buy for himself. I got him this watch and gave it to him the day before his birthday – mostly because I'm terrible at surprises and couldn't wait to give it to him, but also because I wanted him to be able to wear it to work the next day and then out for his birthday dinner.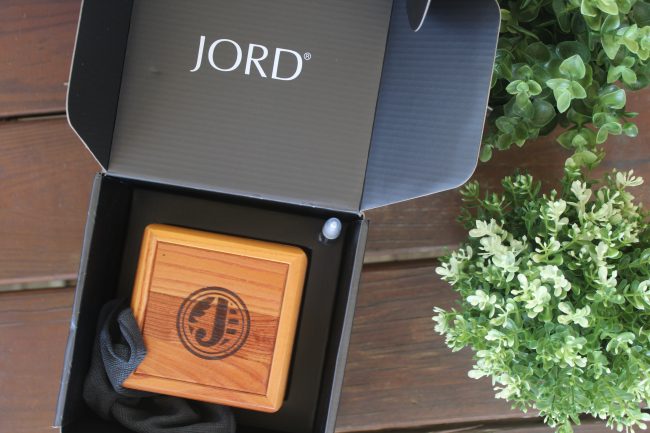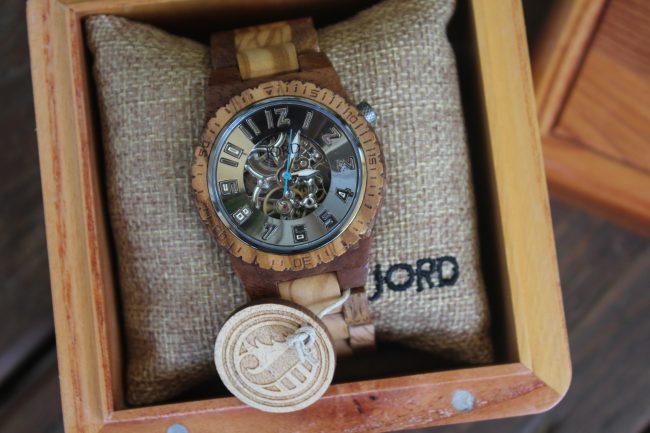 I had a feeling he would love it, and guys…I was so right! I picked the Olive and Acacia wood watch from the Dover Series because the face shows the inner workings of the watch, and because the coloring of the wood is so versatile – you can dress it up or down. He said that as soon as he got to work, a coworker noticed the watch and asked him about it.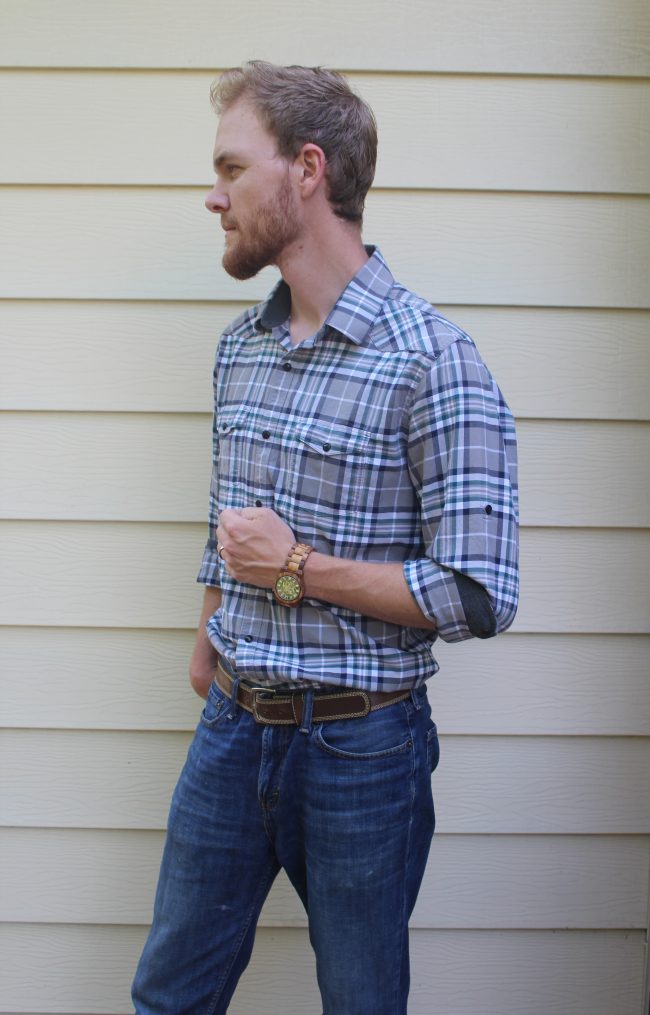 Brandon even agreed to "modeling" for a couple blog photos so you KNOW he loves it!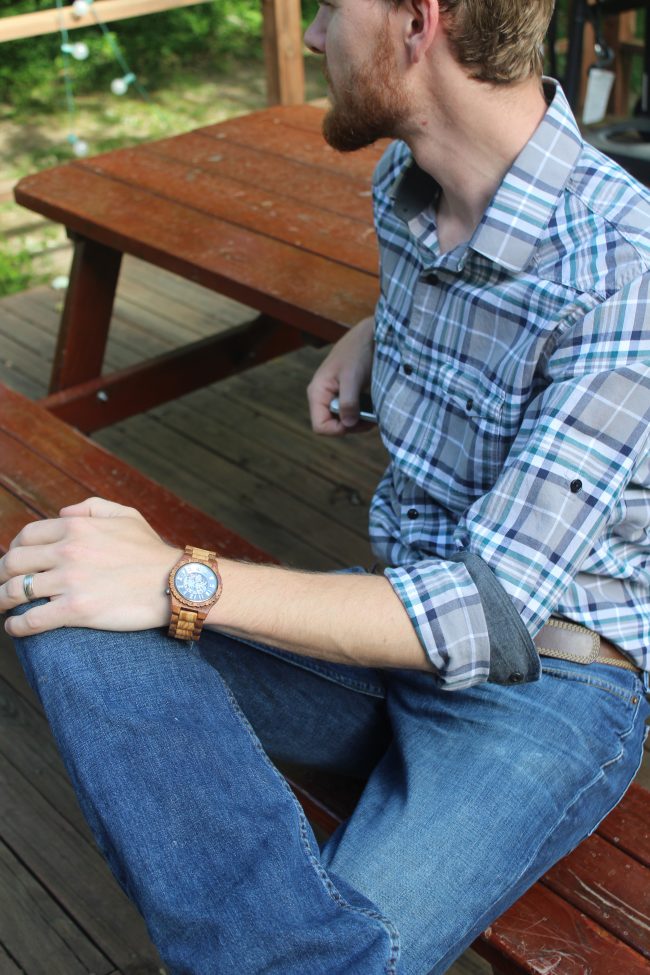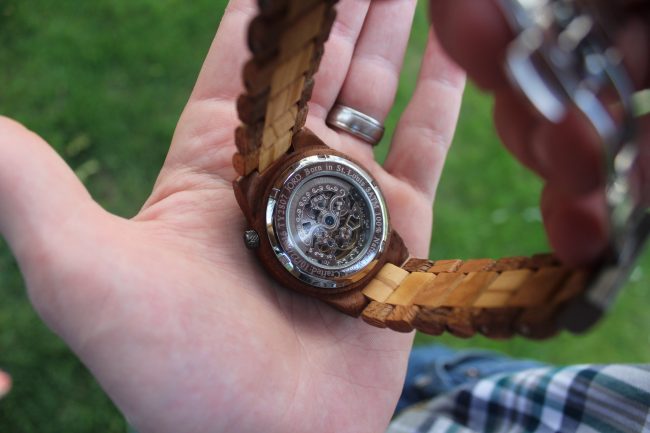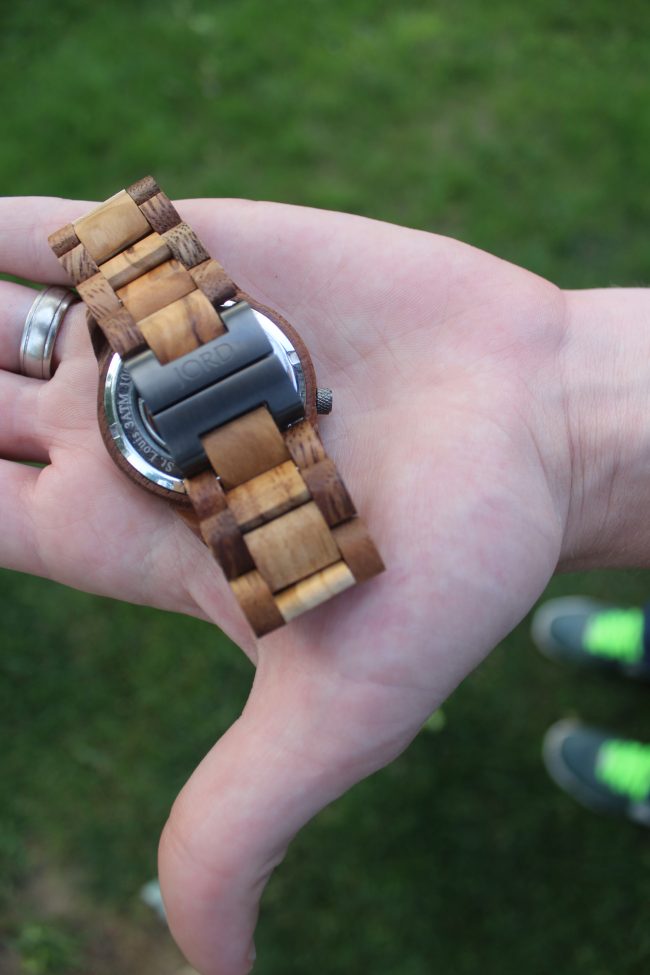 The watch is automatic, which means there's no battery – the movement of your arm keeps the watch going. It has a power reserve of 36 hours, so even if you don't want to wear it for a day, it'll keep the time. If you don't wear it for, say, several days in a row, you'll just need to reset the time when you choose to wear it again OR you can keep it on an automatic watch winder (something like this would be perfect!).
You can check out all other men's styles [here], or if you are looking for a women's watch, you can find those all [here]! JORD has a TON of options so if you're shopping for a watch, I know you'll find one you love.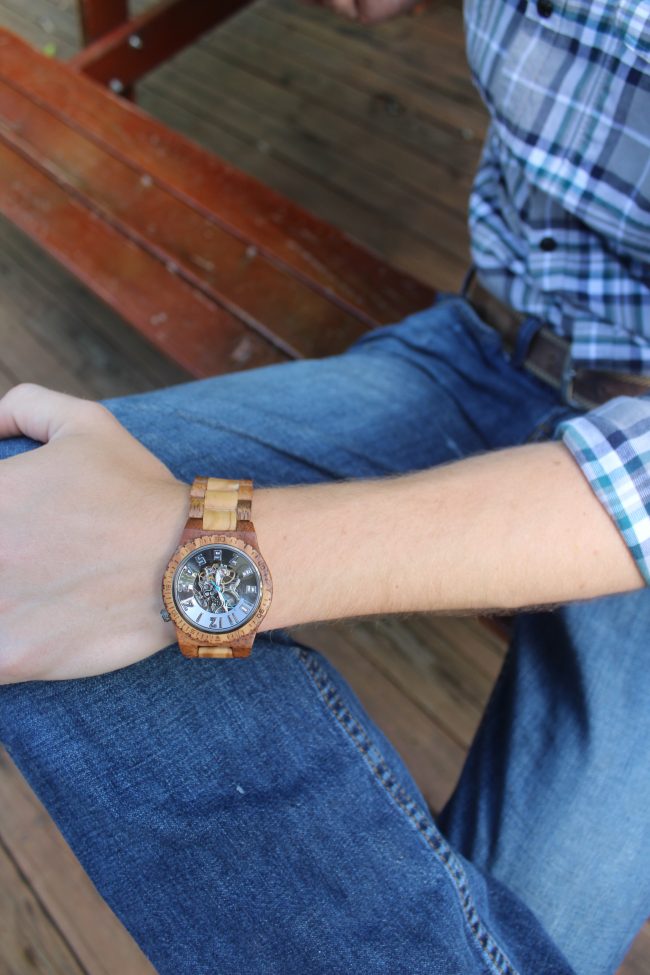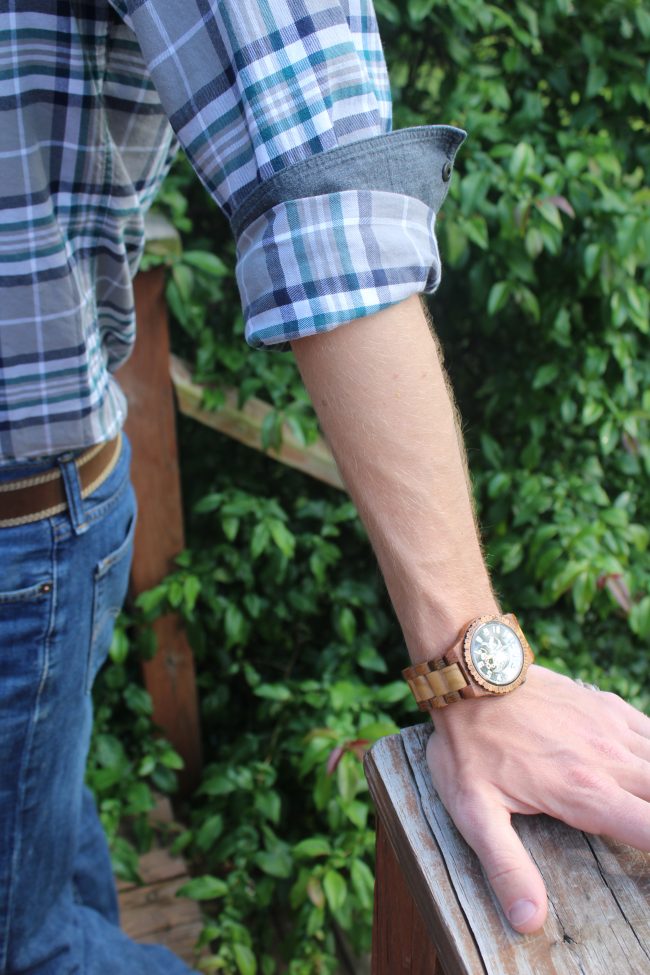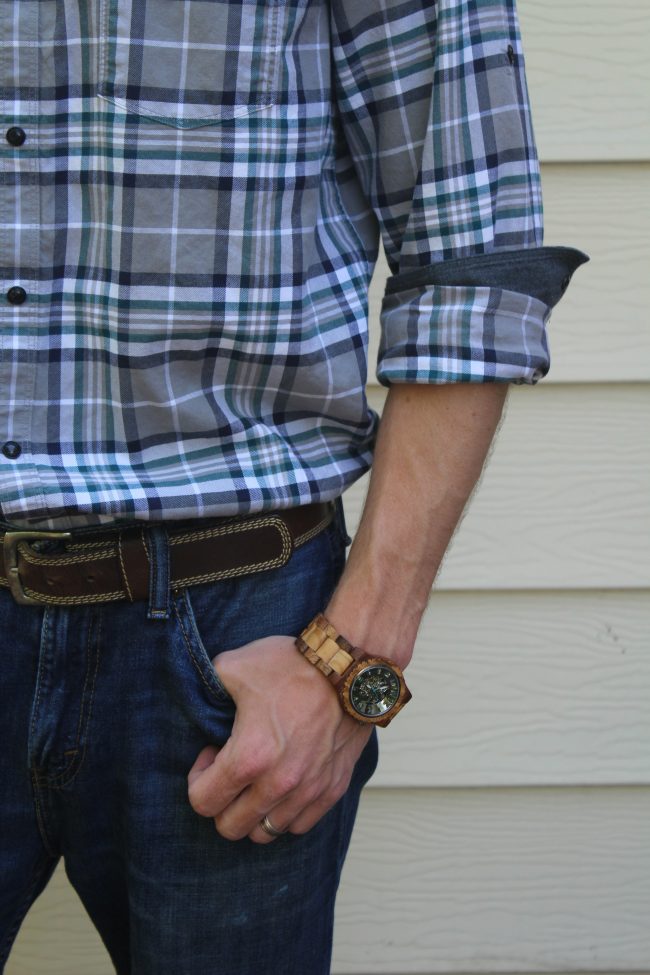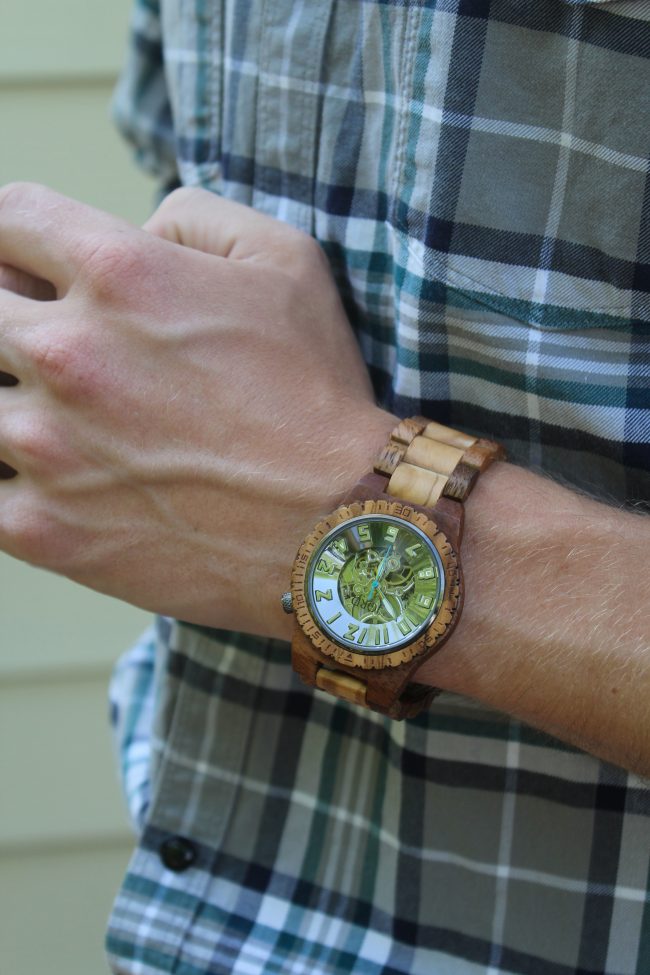 OK SO! Now it's time for the giveaway information!! GIVEAWAY CLOSED
One winner will receive a $100 E Gift Code for a Jord Watch. And here's the greatest part: every single entrant will get a $25 E Gift Code! So either way you look at it, you win! Pretty awesome, right?
Click [here] to enter to win!
The contest will close May 28th at 11:59pm. As a reminder, winner receives $100 E Gift Code. All other entrants receive a $25 E Gift Code once the contest ends. The $100 and $25 Gift Codes will expire June 30th, 2017.
————–
I hope you'll check out some of my other posts while you're here, too!
See my DIY projects and inspiration [here]
Check out a home tour [here] 
Check out some more fashion posts [here]