This Amazon Finds – January blog post may contain affiliate links!
It's time for my weekly Amazon finds!! I'm so excited to start this. I just shared my finds for week 1 over on Instagram stories and HOLY cow, you guys are loving it! You're totally my soul sisters because this girl LOVES a good Amazon find (and a good deal!).
I'm thinking that the best way to do this is to split my posts into months. So week by week I'll just compile my finds into ONE blog post. I'm also going to create an "Amazon Finds" tab at the top of my site (under "Shop") so that you can easily find everything!
I hope you'll check out some of my other posts while you're here, too!
See my DIY projects and inspiration [here]
Check out a home tour [here]
Check out some more fashion posts [here]
January will be a shorter month since I'm starting during the second week of the month, just an FYI!
Week 1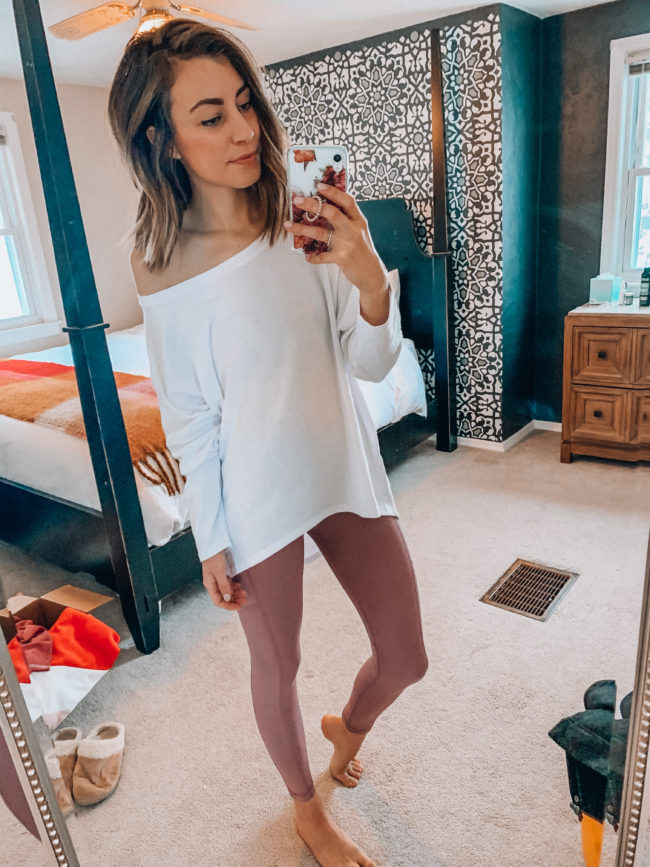 These are, by far, my most favorite finds from this week! This top is so stinking cute and PERFECT for wearing with leggings because it's longer in the back! It's oversized – I'm wearing a medium because small was sold out in the white color, but a small would fit as well. SO I'd say stick to your true size if you want it to fit a tiny bit more form fitting, or size up one if you want it EXTRA slouchy.
These leggings. GUUUUUYS. These LEGGINGS!! Find of the freakin' century right here. I'm not kidding. These are just as flattering as my Spanx faux leather leggings but a heck of a lot cheaper (they're only $23!). They have pockets, too, which I love for working out. I stick my phone in the pocket and just connect my bluetooth headphones! I'm wearing them in the tainted rose color, but they come in 23 colors! I sized down to an XS – I would say size down if you like your leggings on the tighter side like I do!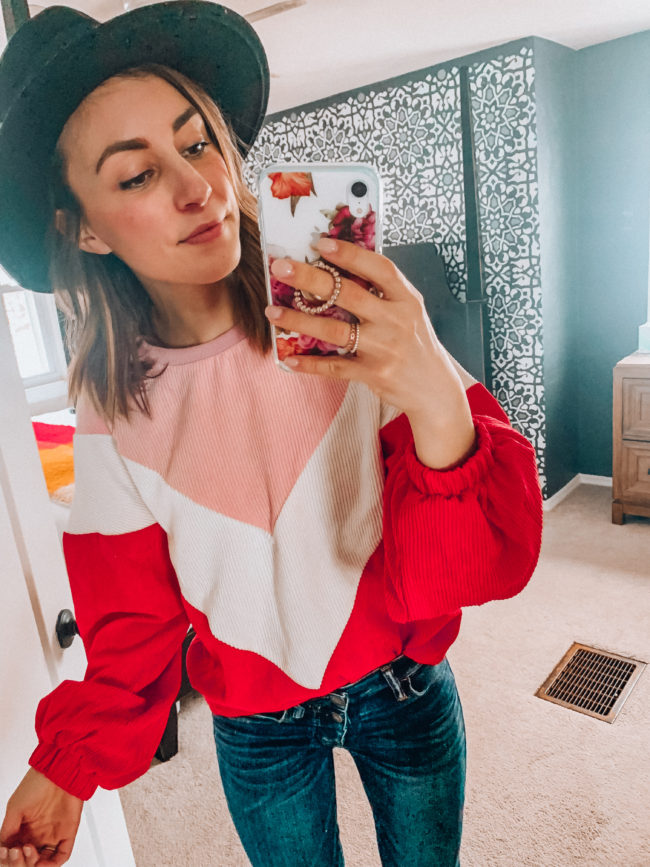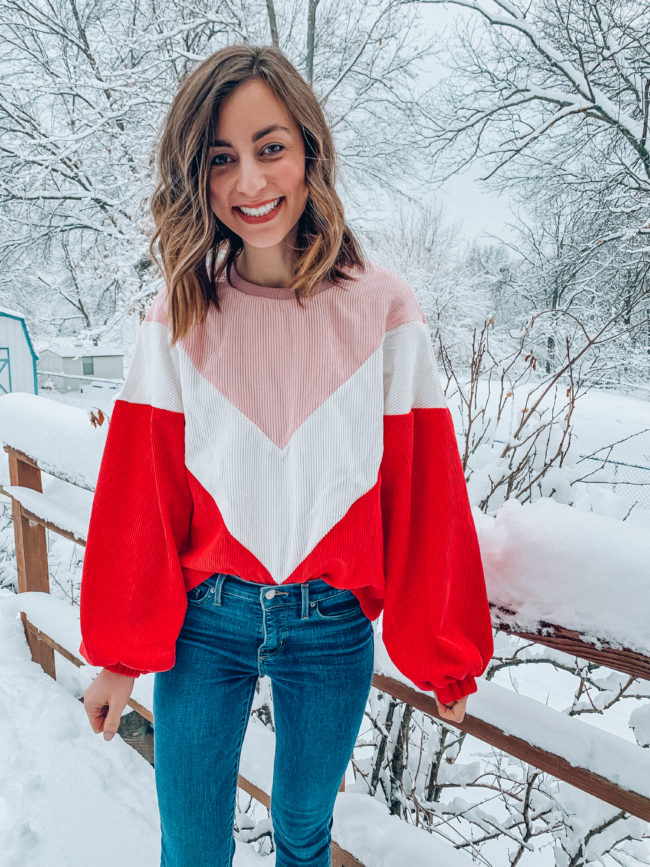 I shared this top on Instagram this week – how perfect is it for Valentine's day!? It's a corduroy material and so cute. It comes in 8 colors, but I'm wearing the "red" one! Fits TTS, wearing size small.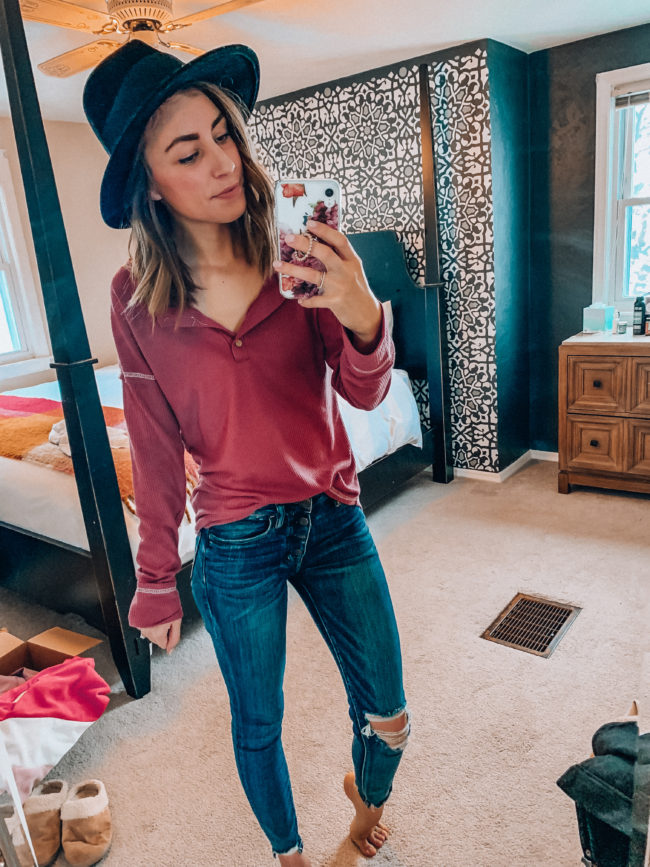 This henley is a great staple and looks so cute with jeans. It comes in 8 colors. I'm wearing the "brick" color, but it looks life more of a rose color in person. Fits pretty TTS – slightly oversized. Wearing size small.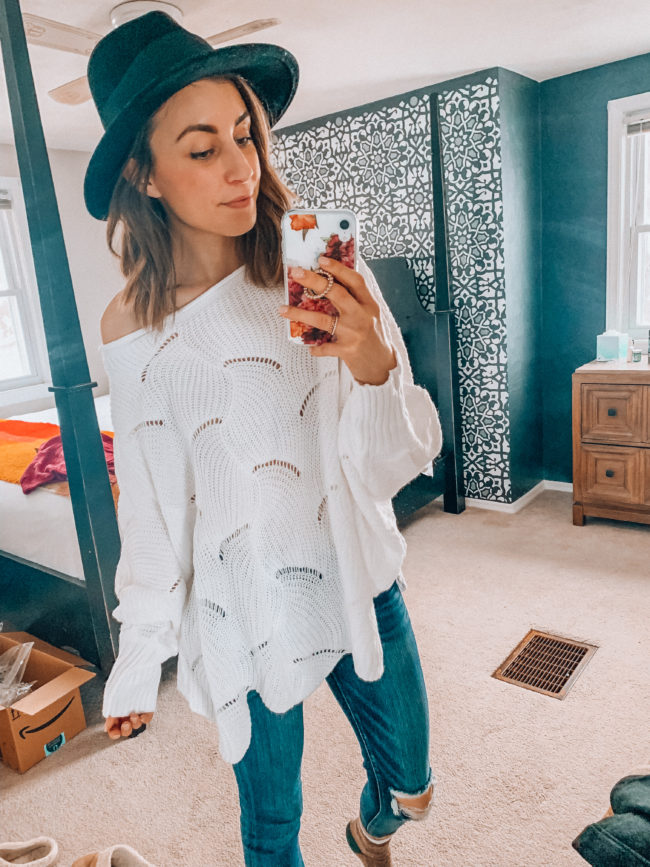 This slouchy white sweater is soo pretty and fun and has the cutest bat wing sleeves! Comes in this white color as well as black. I'm wearing a size small. Fits oversized so definitely size down or stick with your normal size for a slouchy/off the shoulder fit.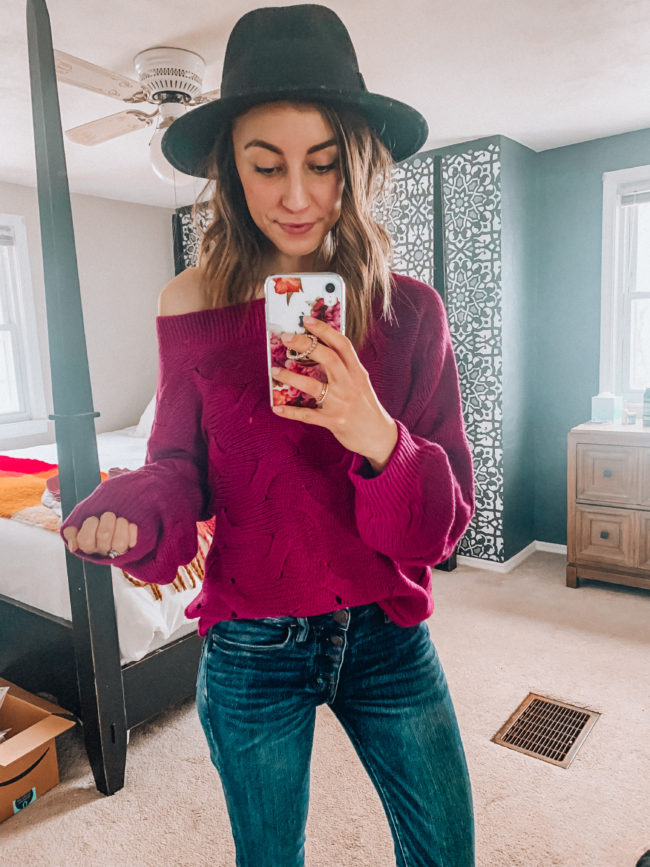 This off the shoulder sweater is ADORABLE! It's lightweight and perfect for spring. Comes in four colors (I'm wearing the purple!) and fits slightly small – I'm wearing a size medium. There isn't a small available right now, though. ;)
Week 2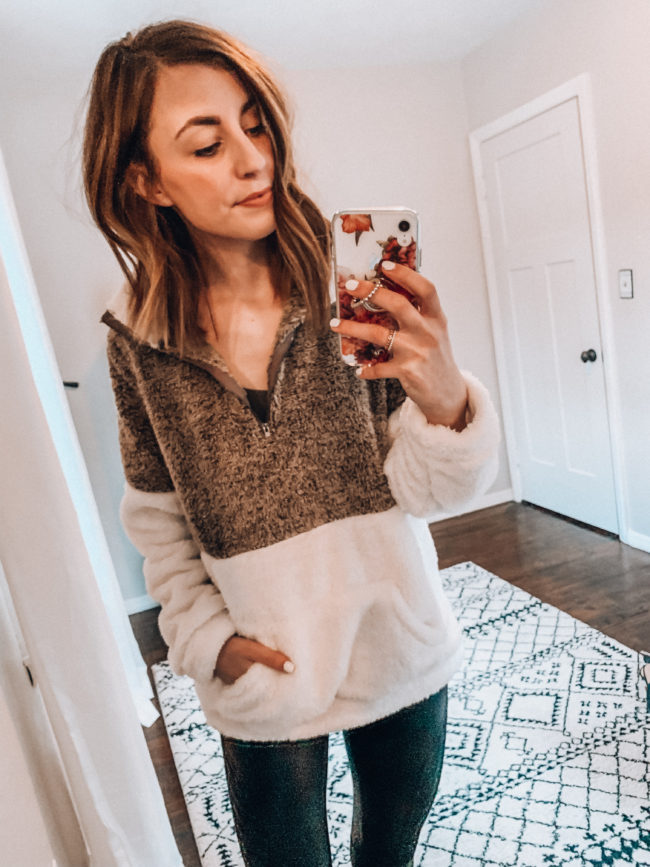 I am SO DANG EXCITED about this sherpa!! I can't believe how good the quality it is – it's the same material on the inside, too…which is pretty hard to find in these kinds of pullovers (and if you do find them, they're typically expensive!). This one is UNDER $27! I sized up one size (to a medium) for a little bit of a looser fit.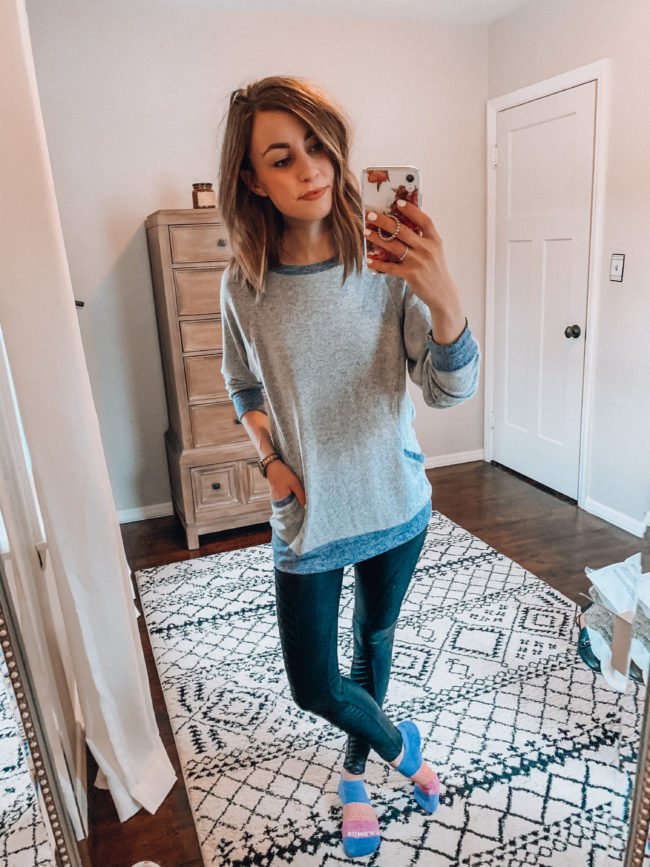 This lightweight tee comes in 4 colors. Love the cute pocket detail! This would be a great transition piece for Spring – would look cute with white denim or even shorts.
My leggings are not from Amazon – they're faux leather Spanx ones! Just wanted to link in case you were curious!
Buy long sleeve pocket tee here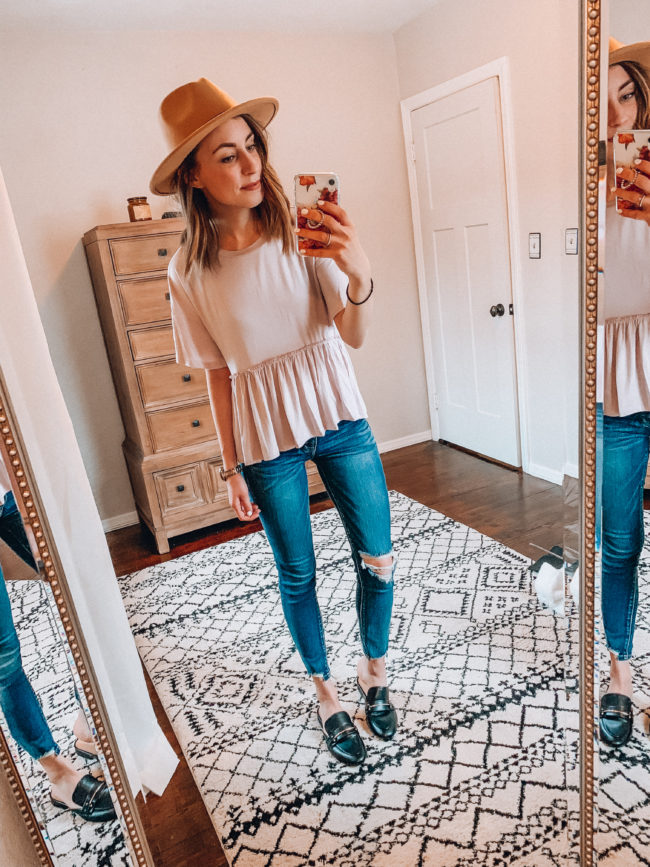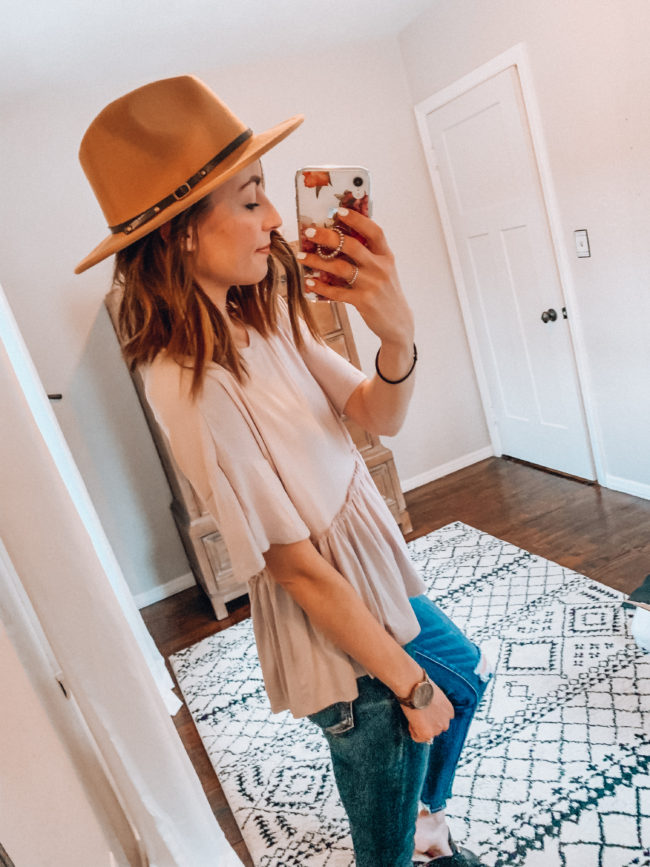 This high/low babydoll tee is SOOO stinking adorable and super versatile. Pair it with a cardigan or denim jacket when it's cool outside, or wear alone when it's warm. I have it in the "gray" color but it's definitely more of a lilac in person. Comes in a ton more colors, and is only $15!!!
I have a black hat like this one, and I wear it constantly. I wanted a brown version for spring, and this one is perfect. It's under $17! I have the "camel" color but it comes in a bunch of others.
My jeans are not an Amazon find. You can find them here, though! They fit TTS, I'm wearing a size 2.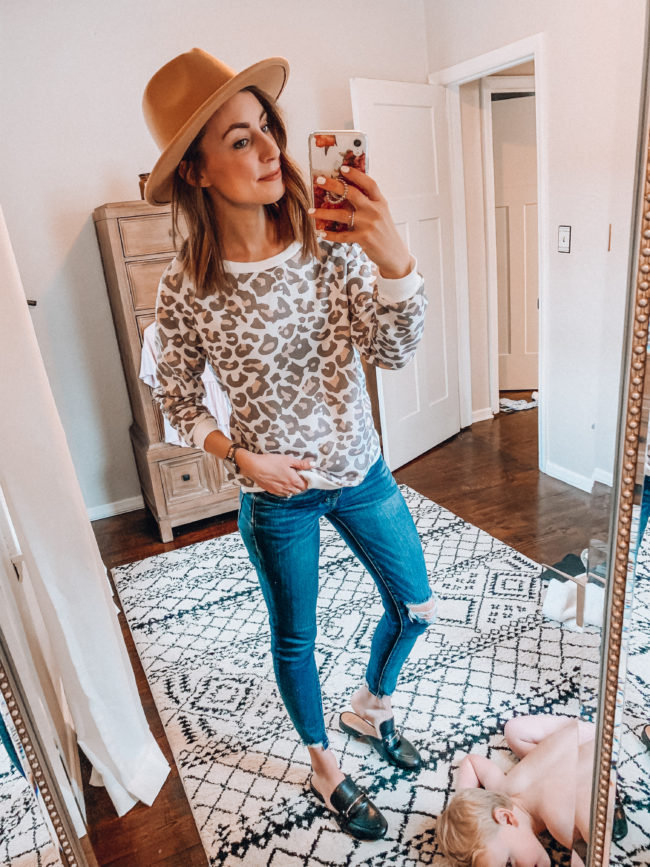 This leopard top is the cutest, and can definitely be worn all year long. With jeans now, or with shorts when the weather warms up! It comes in a couple different colors, I have the camel one. I recommend sizing up at least one size. I ordered a medium. Also, yes…that's my 3 year old in just his undies laying on the floor. LOL
My jeans are not an Amazon find. You can find them here, though! They fit TTS, I'm wearing a size 2.
Week 3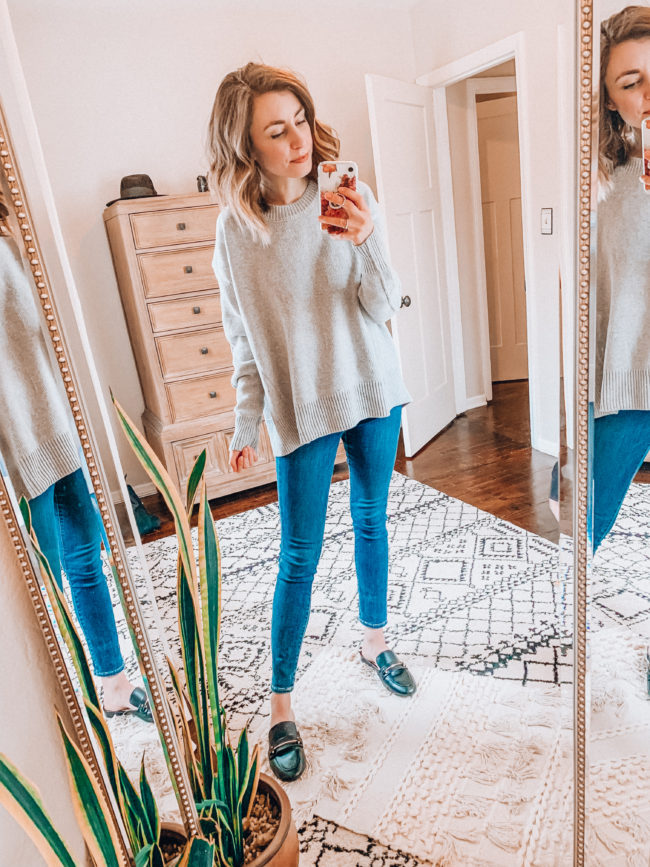 This sweater was my number 1 favorite this week, and DEFINITELY one of my all time faves from Amazon. It's really versatile – the back is long enough that you could wear it with leggings, but it would also look cute with white jeans, regular denim jeans, or shorts on chilly summer nights. It comes in 12 colors and is only $24 but feels like it cost a heck of a lot more. The quality feels amazing, the cut is so cute, and the "v" detail on the back is adorable. Buy this one! It's a one size fits all, FYI.
I didn't purchase my jeans on Amazon, but they ARE sold on Amazon! I love the fit and wear these several times a week. They come in several washes and fit TTS (I'm wearing a size 26).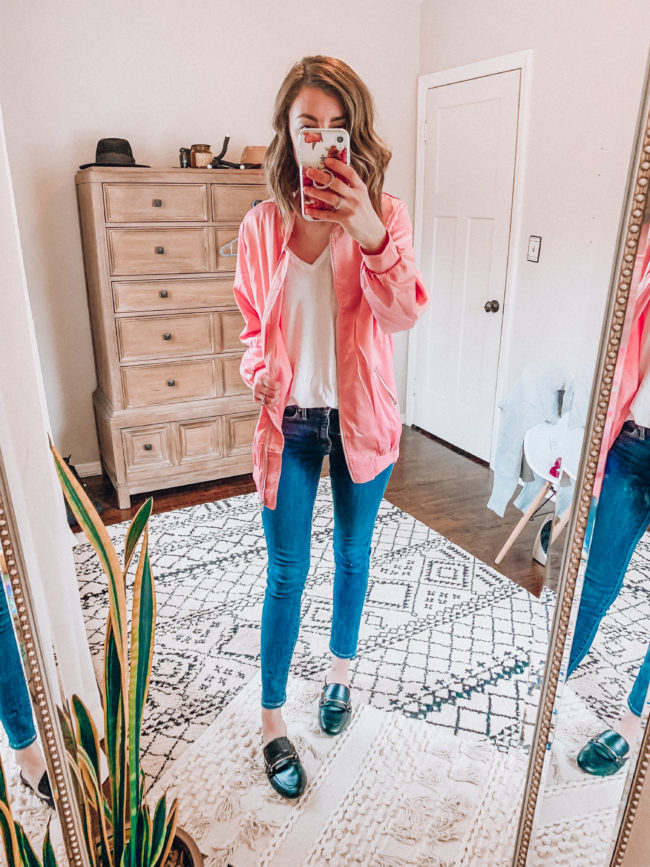 This pink satin bomber jacket is really cute and could be dressed up or down. It would be perfect for throwing over your gym clothes after a workout, but would also be really cute with a tank and skinny jeans/heels for date night (hello Valentine's outfit!). Comes in six colors and is just $19.99. I sized up to a medium for a little bit of an oversized/longer fit, but it would definitely fit TTS if you purchased your normal size!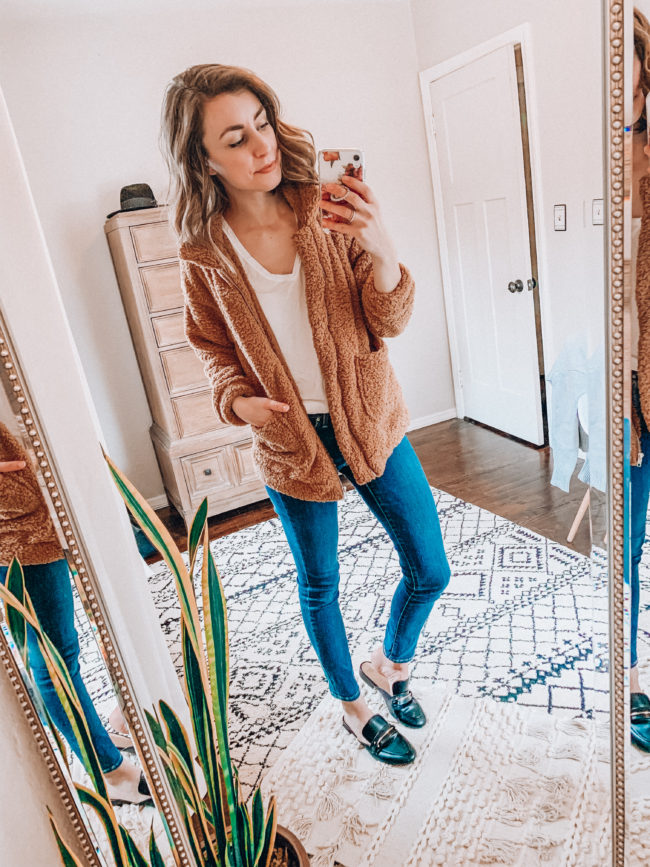 This teddy bear jacket is SO soft and is the same soft/fuzzy material inside and out. It zips up and has two pockets. The sleeves hit right at the wrist – I wish those were just a TINY bit longer, but honestly the rest of the jacket is so cute, I can look past it! I have it in the camel color, and it truly does look like the color of your favorite childhood teddy bear! Comes in 9 colors! Fits a little small, I sized up one size to a medium.
I hope you enjoyed this Amazon Finds – January blog post! This was such a fun month and I can't wait for February's finds!