Affordable (and pretty!) bathroom faucets – so many great options!
This post may contain affiliate links
You know how sometimes you go into a store with something specific in mind and realize there's only one option that is somewhat similar to what you pictured in your head?
That's been my experience when looking for bathroom faucets so far, although I have a few different ideas of what I like. I just know I want something different. And the stores I've been in either had nothing different, or there was like one faucet that I kind of, sort of liked…but I didn't have anything to really choose from. I wanted options! As in, several "special" feeling faucets that weren't your average, run-of-the-mill selections.
I hope you'll check out some of my other posts while you're here, too!
See my DIY projects and inspiration [here]
Check out a home tour [here]
Check out some fashion posts [here]
This morning I decided to stop in to a certain specialty store (which shall not be named) to check out their selection of bathroom faucets. I figured a more specialized store would probably have several options I liked.
And boy, was I right. They had a LOT of choices that I loved. So we sat down with a salesperson and began to narrow it down to just a few to choose from. I hadn't paid attention to the prices on the wall, so when we sat down at the desk and I asked her how much a certain faucet was, I almost laughed out loud when she told me the price. It was $750, you guys. Are you kidding me?
Maybe some people have $750 to spend on a bathroom faucet, but not this girl. But at that point, I was already sitting down at a desk with the salesperson and felt like I had to keep a straight face while she went over several more options with me. The entire time Henry was trying (successfully) to escape my grasp, run around the store, and yank on toilet handles and light fixtures. Every time I went to grab him, he'd start whining, squirming and grunting until I finally let him go do it all over again. He even lost his shoe, which we later found in the middle of the store. I was sure he was going to break one of those $750 bathroom faucets. Although everything was so pretty and I loved looking…I couldn't get out of there fast enough.
We finally made it out of the store (without breaking anything) and I sent Brandon a text laughing about how expensive my taste apparently is.
But I left that store determined to find affordable bathroom faucets that I loved. And so my internet search began. What a wonderful thing internet shopping is, amiright toddler moms?
Anyway, I've put together four different groups of affordable, pretty, and unique faucets. There are antique brass, matte black, chrome and nickel, and oil rubbed bronze options. Links are below the images for easy shopping.
There are a lot to choose from! Also, most of these options come in multiple colors so if you see a style you like in a color you don't, just click the link to see if it comes in the color you want!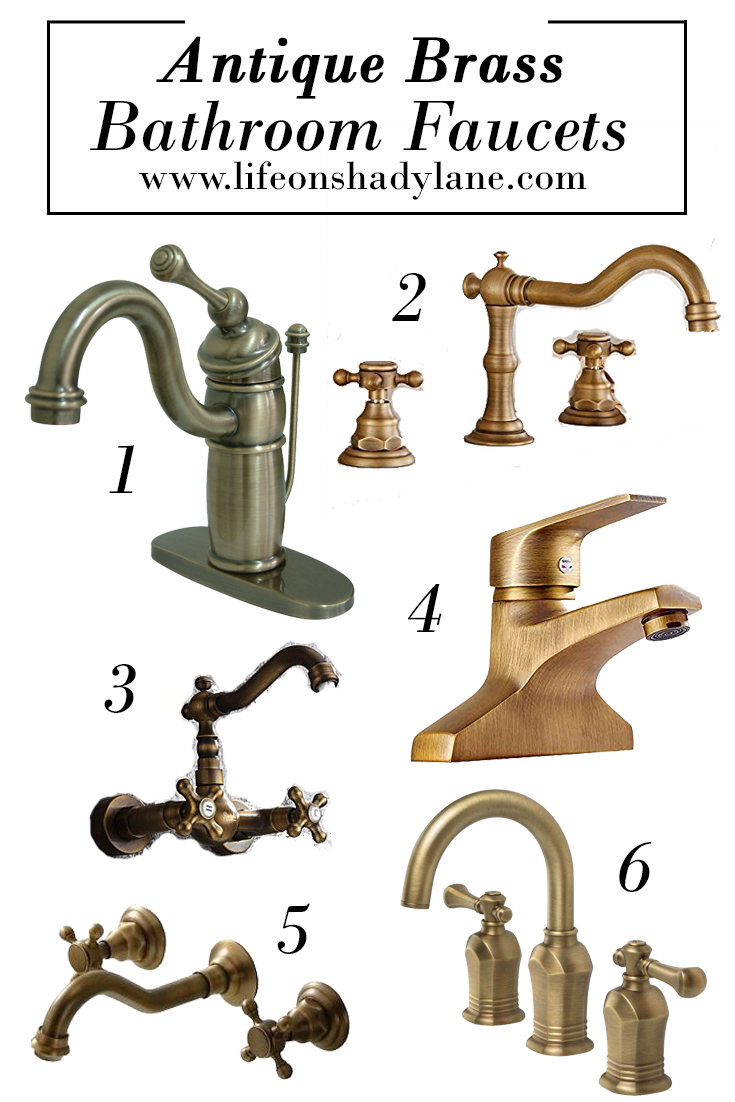 1. Kingston Centerset vintage brass faucet 2. Beelee deck mounted brass faucet 3. Votatmuta centerset antique brass faucet 4. Hiendure antique brass faucet 5. antique brass faucet 6. Verdanza antique brass faucet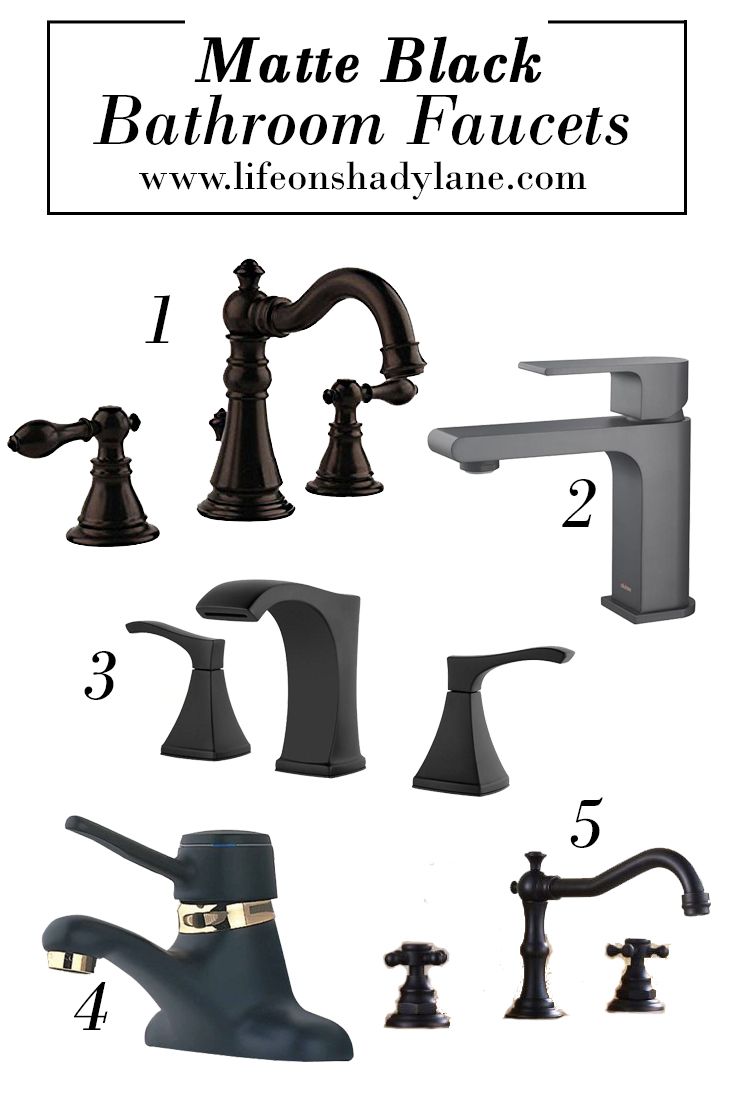 1. Derengge matte black faucet 2. Stufurhome matte black faucet 3. Venturi widespread black faucet 4. Centerset one handle matte black and gold faucet 5. Widespread antique black faucet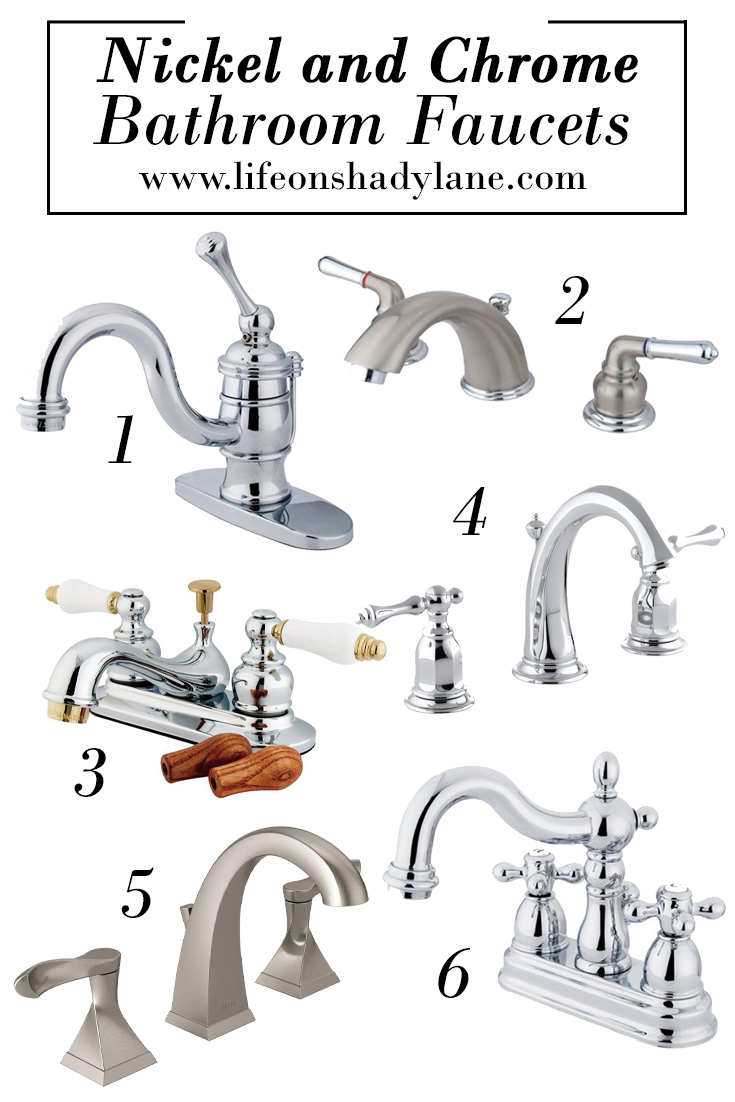 1. Satin nickel and polished chrome faucet 2. Polished chrome and polished brass faucet 3. Widespread brushed nickel faucet 4. Two handle low arc polished chrome faucet 5. Chrome two handle faucet 6. One handle chrome faucet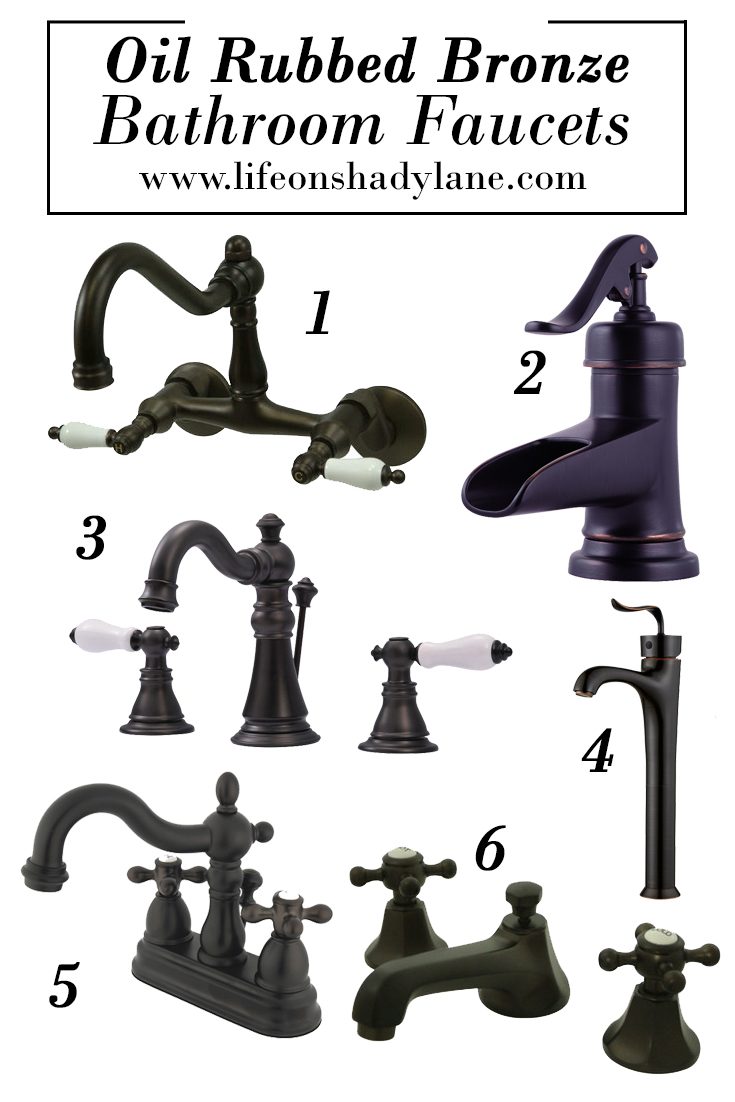 1.Vintage wall mount oil rubbed bronze faucet 2. One handle tuscan bronze faucet 3. Two handle oil rubbed bronze faucet 4. Vessel oil bronze faucet 5. Centerset double handle oil rubbed bronze faucet 6. Widespread double cross bronze faucet
PS Here's an image for you to pin if you'd like!

I hope you enjoyed this roundup of affordable (and pretty!) bathroom faucets !