I "officially" announced that we were moving at the end of June (see that post + our old house tour here). Since then, we've moved into Brandon's parents' house – we'll be here during the build of the new house!

Oh, and I also shared a family video [here] that captured some memories in our home before we moved out. I will treasure that video forever and highly recommend hiring a videographer if you're selling – such special memories!
We've been working on perfecting our floorplan + front elevation and gathering quotes from contractors. All of the preliminary work seems to take such a long time, so there hasn't been much to update you guys on until now. We finally have our plans finished, and today I just wanted to share a little sneak peek of what the house will look like when it's finished!
I'll also share my "inspiration" photos below. Obviously the floorplan we're going with is completely different (we're building a two story) so I wanted to take aspects of the inspiration photos and incorporate them into our own plan – not make them look identical.
Okay SO – here were my inspiration photos: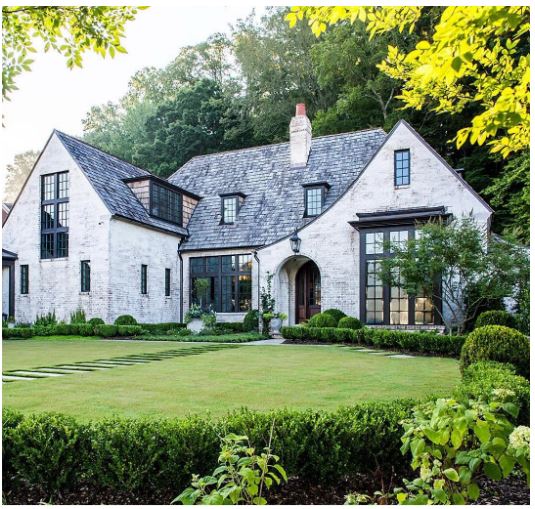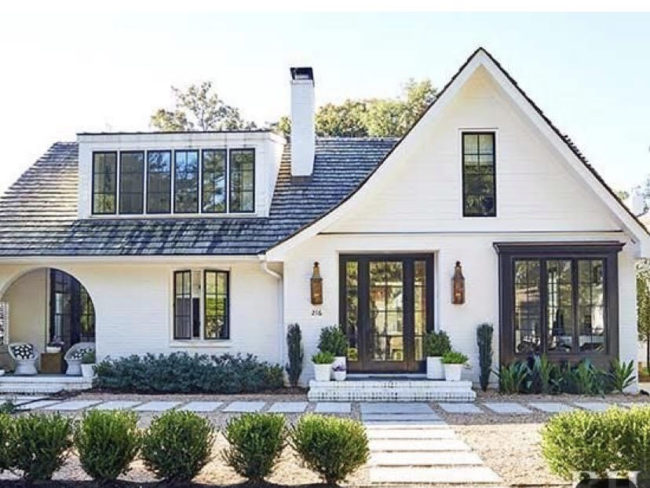 The biggest things I liked about the houses in the inspiration photos: color scheme, the slightly "curved" roofline in front, and the arch detail. These are the biggest things I wanted to incorporate into our new home's design.
The challenge was that we already had our floorplan – we started with one from Webster Architects and tweaked it ourselves, sent our markups to them and asked them to draw it up. So an existing floorplan comes with an existing front elevation. You can't move the front door, windows, etc. around too much, but you can change some things!
Our architect got to work on our plans, and sent us this mockup first:
I liked it, but still wanted to incorporate an arch and curved roofline somehow.
So they redrew it and came up with our "Option B" below: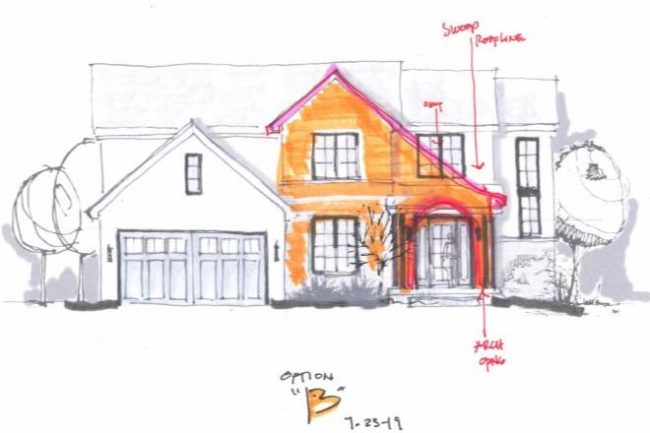 I knew as soon as I saw it that I loved it! The arched doorway and curved roofline give the house a bit of a cottage feel, but we're going to use modern colors (I'm thinking black windows and warm white paint). My goal is to create a home that has character with a spanish-modern feel. I'm thinking clean lines with some arch ways mixed in, warm woods, and whites.
I'll be putting together finish mock-ups for different rooms as I design them (cabinet and flooring colors, countertops, hardware, etc.) so I will share those in the future. Just wanted to share a little sneak peek at the initial drawing for the house to keep you guys updated!
————–
I hope you'll check out some of my other posts while you're here, too!
See my DIY projects and inspiration [here]
Check out a home tour [here]
Check out some fashion posts [here]
I hope you enjoyed this "A Sneak Peek at our New House!" blog post!