A new sliding barn door for our bathroom: it totally improved the look and feel of the bathroom AND the hallway!
Thank you, thank you to National Hardware for sponsoring this post!
This post may contain affiliate links
I shared our modern farmhouse bathroom remodel this Summer [here] and it took us a while, but we finally have the perfect sliding barn door to go along with it!
When we made the decision to completely gut, expand, and remodel the bathroom, I knew that I'd want to put in a sliding door. The hallway isn't that wide, and the door on the bathroom was directly across from a linen closet. You couldn't have both doors open at once – not ideal! So, since we were completely gutting the bathroom anyway, we moved the doorway into the bathroom slightly down the hall, and that (plus a sliding door) solved our problem!
I love farmhouse style that's sleek and modern, so I knew I wanted our door and the hardware to be modern. We found the perfect hardware at National Hardware, and I am so, SO happy with how it turned out. The door slides super quietly and easily – I was actually worried about it being too loud since it's right next to the kids bedroom, but you can't even hear it!
(PS: there are links to all of the exact hardware we used below! Let me know if you have any questions at all!)
I hope you'll check out some of my other posts while you're here, too!
See more of my DIY projects and inspiration [here]
Check out a home tour [here]
Check out some fashion posts [here]
We still need to install some trim in the hallway, but we're so close to finished!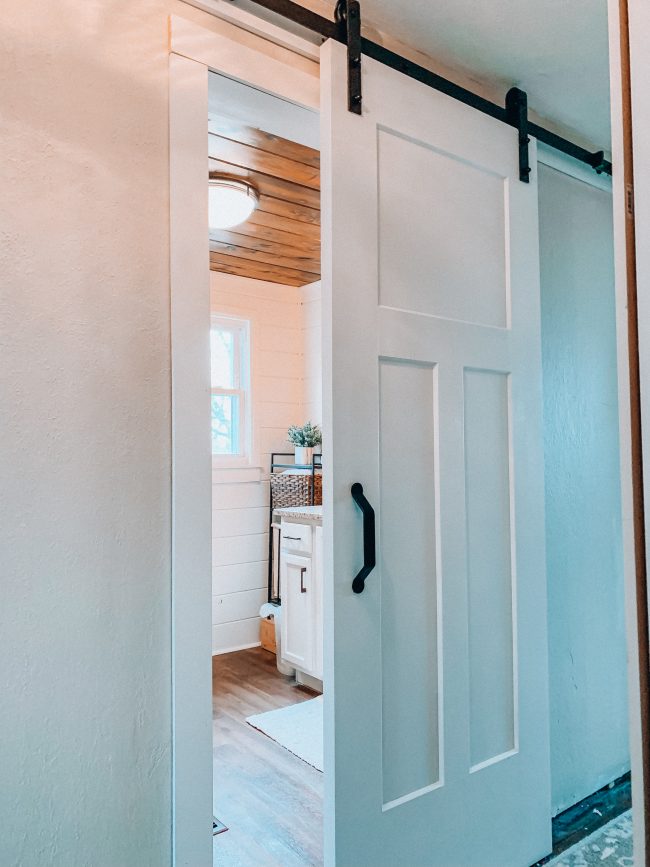 Buy sliding barn door hardware [here]
Buy privacy hook/lock [here]
Buy door pull [here]
So you can picture it a little better, the door into the bathroom used to be directly to the right of where the door is now. When we remodeled it, we also expanded the bathroom (and doubled the size!) so we were able to move the door down.
You can see how the bathroom looked before [here], and how it looked during the demo stage [here]. Brace yourself, though, neither of those posts are pretty! This remodel was the most extensive one we've ever done, and it was stressful. At some points I thought we'd never finish (I mean seriously, you need to check out those mid-demo pictures. It was a HOT.MESS.).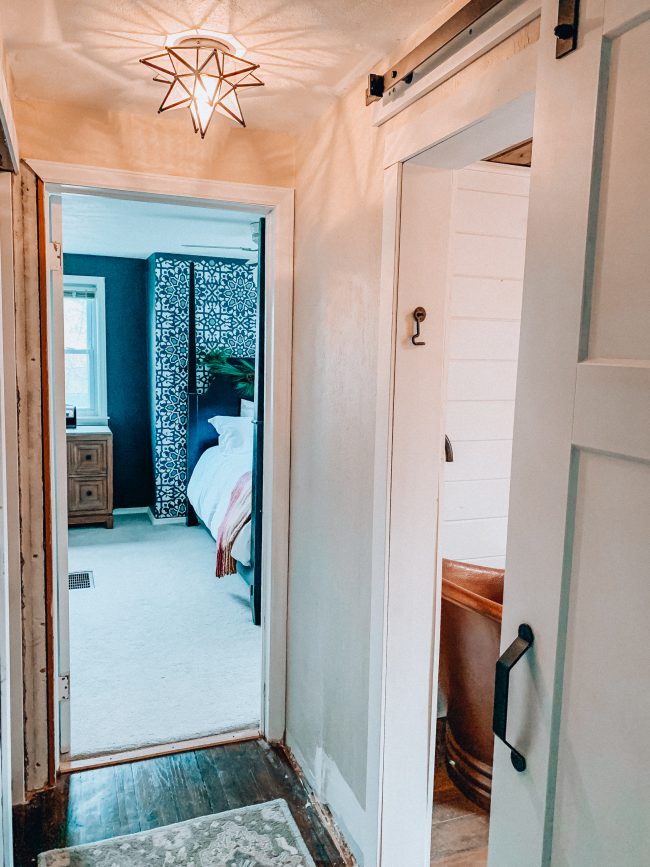 You can see where trim needs to be replaced in the photo above (and also where we patched up a wall). To get the gigantic tub up the stairs, Brandon had to rip out the doorway's trim, so that still needs to be finished as well. We've been living in a constant construction zone since we moved in over 3 years ago, though, so little stuff like this isn't really that bad.
Check out more photos of our beauty of a tub (and the rest of the bathroom!) [here].
We also recently replaced our hallway light and I am IN LOVE with it! You can buy it [here].
All of the doors (and hardware) that came with the house needed to be replaced, too, so we're currently working on that! I'll share more when we're finished…but I can't believe how big of a difference doors make in making a home feel updated. It's amazing, you guys!
If you missed any of my previous posts about our bathroom remodel, you can check them out here:
Affordable (and pretty!) Bathroom Faucets
Vintage Modern Farmhouse Bathroom Plan
Upstairs Bathroom Flooring, Paint, Tub, and Sink Selections
Upstairs Bathroom: Shiplap, Tub, Flooring, and Vanity
Upstairs Bathroom: Countertops and a Copper Sink
Thank you SO MUCH for following along on this bathroom remodel journey! It has been a long time coming, and I really appreciate you reading and staying tuned. If you have any questions at all, please just let me know – leave a comment here or shoot me an email!