This post may contain affiliate links
We finally got a coffee table for our living room and I LOVE it! I have been trying really hard to decorate this new house at a slower pace because I want to make sure that I'm buying furniture because I love it, not just to fill an empty space.
You can see more of our new home here (including an early video tour!).
So we've gone for a while without a coffee table in our main living room. Honestly the open floor space was kind of nice – I wrapped Christmas presents in front of our fireplace, the kids played on our new area rug, we just had plenty of space for activities. But the room did feel a little empty, and I needed a place to set my wine glass while watching The Bachelor. Ya know? We definitely needed a coffee table.
So I searched high and low for something a little unique, something that I really loved. And I found it!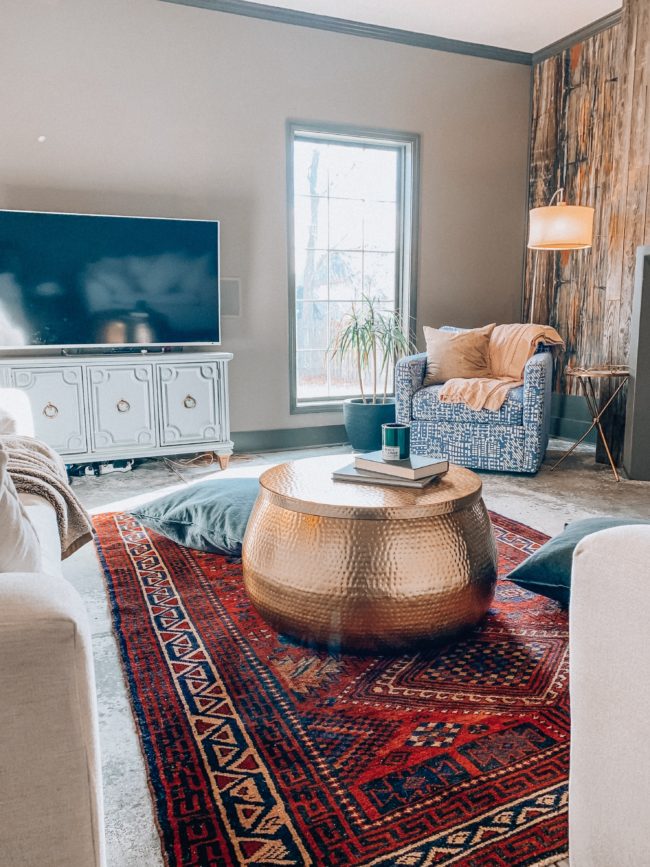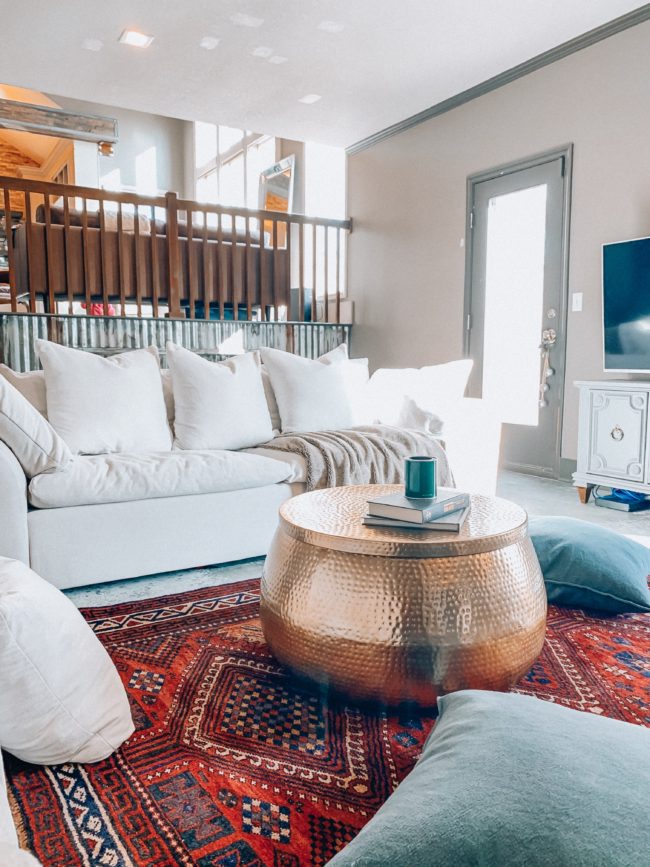 I get lots of questions on our area rug, too – you can read more about it [here].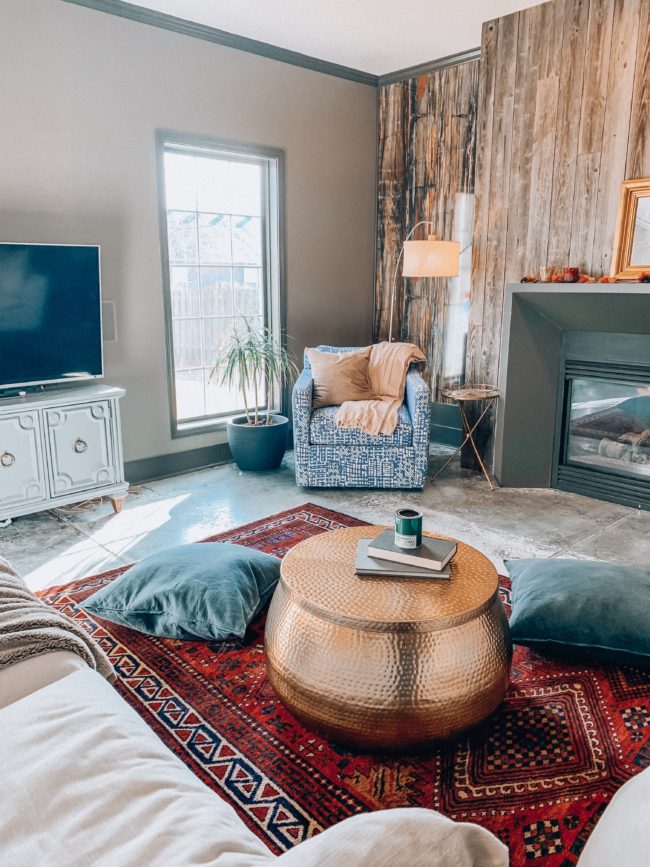 I knew that I probably wanted a table that wasn't wood – there's so much wood around our fireplace and I really wanted something that would kind of balance it out. I didn't want to go TOO rustic, and I think adding in a rustic-looking coffee table would have done that. Also, I needed a coffee table that would stand out from (but not compete with) our vintage area rug.
I love the hammered gold look, and bonus: the top lifts off for storage! Our sofa is pretty low profile, so I also was looking for a table that wasn't TOO tall, and this one is perfect. I love that it doesn't take all of our floor space, either – plenty of room for the kids to lay on the floor and watch a movie without having to rearrange the entire room.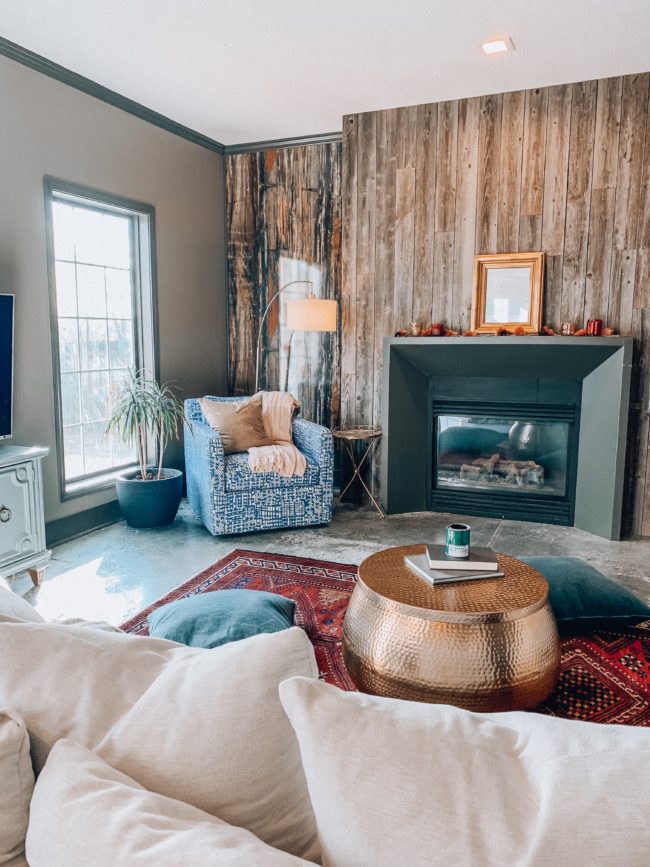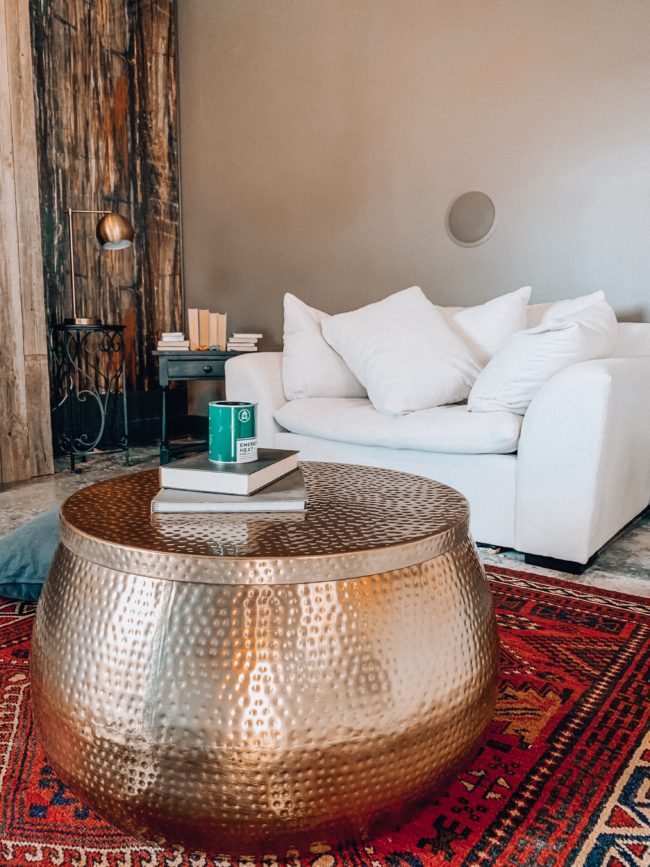 I have several other plans for the living room, too: adding in a low-profile bench behind the couch to store books/plants on, a larger neutral rug to go underneath our vintage one, a bigger gold mirror on the mantel, and a chandelier.
We're slowly but surely getting there – I'm just enjoying taking the decorating process slowly!
You can see all of my home-related posts here.
I hope you enjoyed this "A New Coffee Table for our Living Room" blog post!