Thanksgiving day style: The best leggings, jeans, sweaters, shirts, and shoes for a comfy and casual holiday!
This post may contain affiliate links
I saw a joke the other day posted on social media that said something like "Thanksgiving is coming…hope you have your outfit ready to walk to the living room and sit on the couch." It made me laugh, because sometimes we DO put too much effort into planning out a cute outfit when we're really just going to be sitting at home. BUT that doesn't mean we have to wear our pajamas!
I've put together a roundup of some great effortless pieces for Thanksgiving – they're cute, but most importantly they're comfortable – let's be real my Thanksgiving attire needs to be stretchy and not form fitting to allow for extra mashed potatoes and pumpkin pie. ;)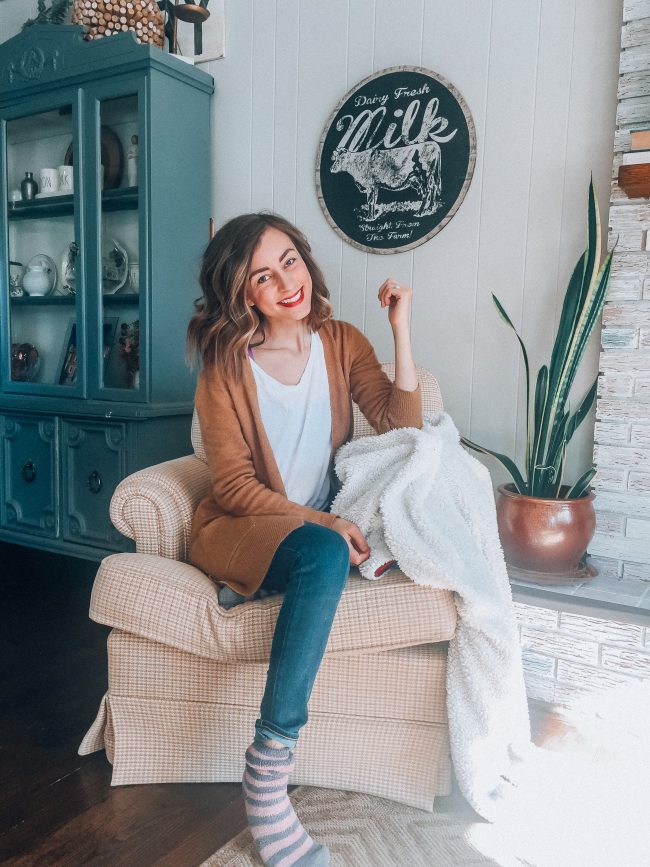 LEGGINGS/JEANS
I bought these moto leggings a few weeks ago and can't stop wearing them. They're so comfortable and seriously miracle workers – they're SPANX, so they're super flattering. The moto detail + faux leather makes them feel a little more special than your run of the mill leggings, too. They also come in just a plain faux leather (not the moto style), too, if you prefer that.
Another great option for leggings are these high waisted ones. They come in four colors, too!
If you're feeling ambitious ;) (because it's Thanksgiving and, duh, you'll be eating all that yummy food!) I really LOVE these jeans – they're one of my most favorite pairs, are so flattering, and the perfect color.

SWEATERS
This cardigan feels much more expensive than it is and is the perfect length. I have it in camel, but it comes in several additional colors too (I'm really loving the white/gray marl!).
This slouchy sweater comes in several colors and can be worn with leggings or jeans (it looks SO cute with a front tuck when worn with jeans!)
I love this fine-knit sweater so much. The green and gray are my favorite colors!
This dark pink sweater is such a pretty color for the holidays.
I have this leopard sweater – it's $20 and leopard print…what more could you want?! ;)
I love these sweatshirts – I have one from last year, but they've updated them and they're amazing!

SHIRTS
The softest long sleeve tee EVER. Comes in a bunch of colors!
My favorite boyfriend flannel – super soft, and I love that it's slightly oversized. So good for layering.
This plaid button up has the CUTEST sleeves and is under $14!

SHOES
If there's snow, I will most definitely be wearing these (faux) fur-lined boots.
I have these classic cozy boots on my wishlist – seriously I don't think there's anything warmer!
I've had my eye on these pointed toe boots – they are so perfect and go with everything.
These slippers have a hard sole on the bottom…so that counts as shoes, right?! All the heart eyes for these – so cozy.
Oh and while we're on the topic of shoes…here are my favorite warm socks to wear around the house and with boots when it's cold! I have them in several colors – they're so good!