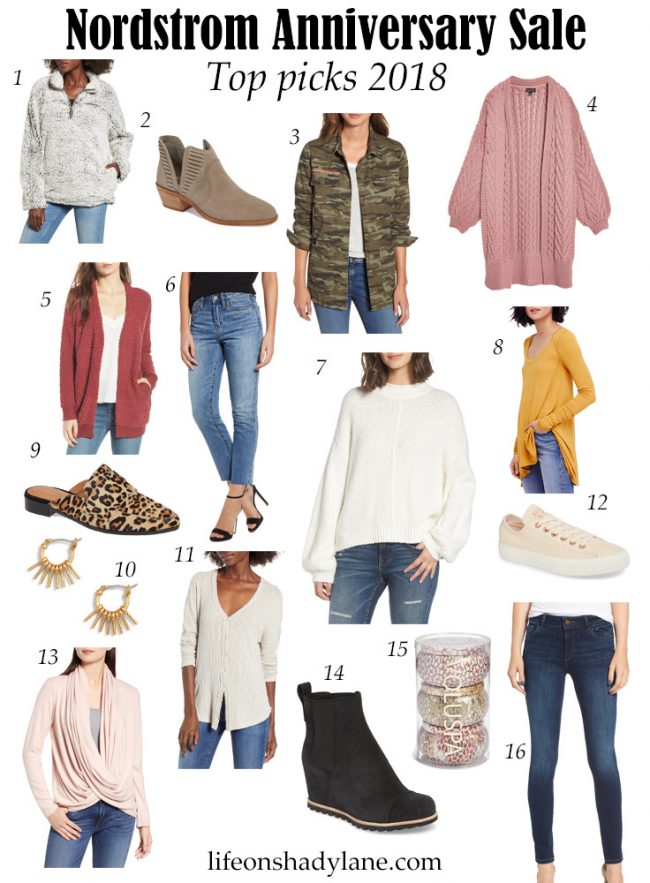 1/Fleece Pullover 2/Booties3/Camo Jacket4/Long Cardigan5/Nubby Cardigan6/Straight Leg Crop Jeans7/Balloon Sleeve Sweater8/Long Sleeve Tee9/Leopard Slides10/Sunflare Earrings11/Ribbed Cardigan12/Rose Converse13/Wrap Cardigan14/Wedge Boots15/Voluspa Candles16/Skinny Jeans
It's Nordstrom's Anniversary Sale time! I'm sharing my top picks – there are so many good deals right now.
This week is still "early access" – prices are super low…but that also means things sell out super fast. They are typically restocked, though, so if something is sold out just keep checking back! ;)
I'm linking everything below so you can shop easily. Prices will show up if you hover over the image below!

If you have any questions at all, please just let me know. And if there's anything you're looking for specifically (cardigans, dresses, athletic wear, etc..) just let me know and I can share that too!
Happy weekend…and happy shopping!