I've been in a little bit of a dinner rut again, so before I bought groceries this week I decided to check out Pinterest for a little inspiration. I'm always in search of high-protein vegetarian meal options, so when I found this recipe for Mashed Chickpea Salad, I knew I had to try it out.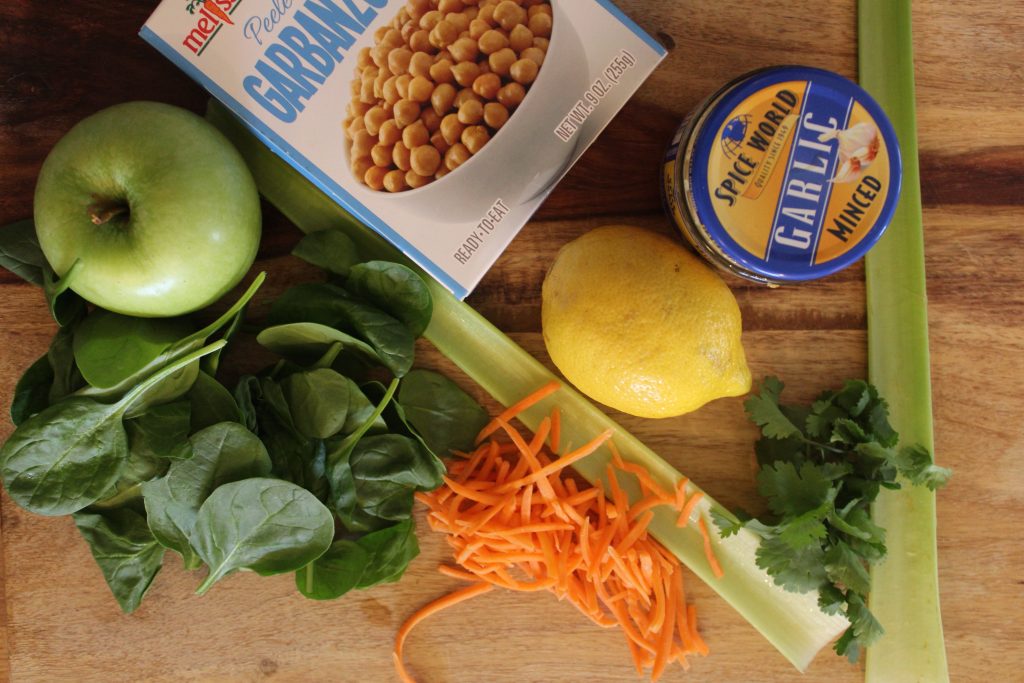 I put my own twist on the original recipe, and it turned out so good. Brandon even liked it! I'm calling it "almost-vegan" because I added a little sour cream. The original recipe didn't have any, and of course you could leave that out if you want to. I'm not a vegan though, so I went crazy and added it.
We had this for dinner wrapped in tortillas, and I ate it again the next day for lunch on a toasted english muffin. It would also make a great side – so versatile, and super healthy. Win-win!
Ingredients
9 oz of chickpeas (garbanzo beans are the same thing)
3/4 of a green apple
Two stalks of celery
A handful of shredded carrots
Dried cranberries
Sunflower seeds
Teaspoon of garlic
About two tablespoons of cilantro (I also added a little more at the end because I love cilantro, but you can do as much as you want)
Salt + black pepper
1/2 cup of spinach
Juice of 1/2 a lemon
Spicy brown mustard
About 3 tablespoons of sour cream (optional)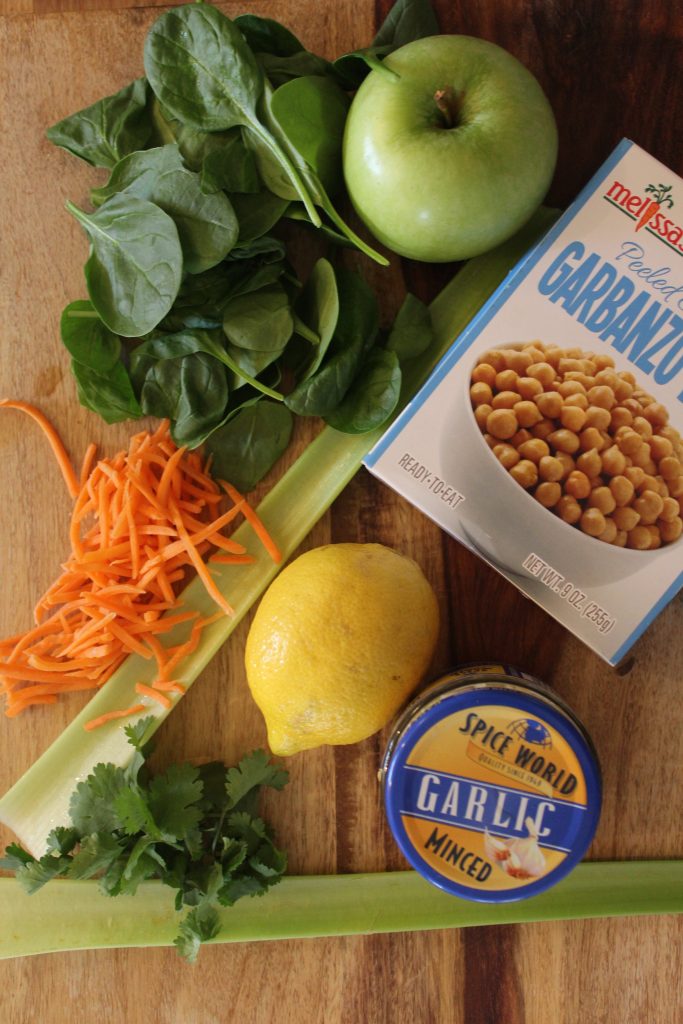 I drained & rinsed the chickpeas, then put them in my Ninja (a food processor or blender will work – whatever you have!). Then, I gave the spinach, celery, 1/3 of the apple, cilantro, and carrots a rough chop and threw them in with the chickpeas and blended everything up.
After everything was roughly blended, I added another 1/3 of the apple plus the mustard, sour cream, garlic, lemon juice, and salt and pepper and blended briefly again, just to get everything mixed up.
I added the rest of the apple + sunflower seeds and dried cranberries, plus salt/pepper to taste and a little extra cilantro and just mixed with a spoon to give the salad some texture and crunch.
This stuff makes really good leftovers, too!
Don't forget that you can sign up to receive my emails – I send one out every time I publish a new post, so you'll never miss out on anything that's happening on Shady Lane! There's a sign up form at the very top of the page. Let me know if you need any help!
Also, be sure and check me out on Instagram, Twitter, and follow me on Bloglovin'. I'm now on Snapchat too: lifeonshadylane – follow me! :)