You may have noticed that it has been a little bit quiet around here lately. I just wanted to write a quick post to let you know that I'm still here, and although this blog may not have gotten much attention the past two (or so) weeks, our home has been anything but quiet.
Baby Henry is almost 4 months old, and has recently decided that he wants to wake up every three hours at night, and not take naps during the day. Then there are days like yesterday, when all he wanted to do was scream unless he was being held. So that makes things like showering, doing laundry, washing dishes…and blogging…a little difficult.
My priority will always be my family, so needless to say, I have just been holding the baby and putting a few other things on the back burner. I promise I will be back very shortly with something more substantial than a "please bear with me" post. ;)
In the mean time, if you have any tips on how to get a baby to sleep, send them my way! Also – add me on Snapchat for little snippets of our daily life! My username is "lifeonshadylane"
I mean…look at his sweet face!!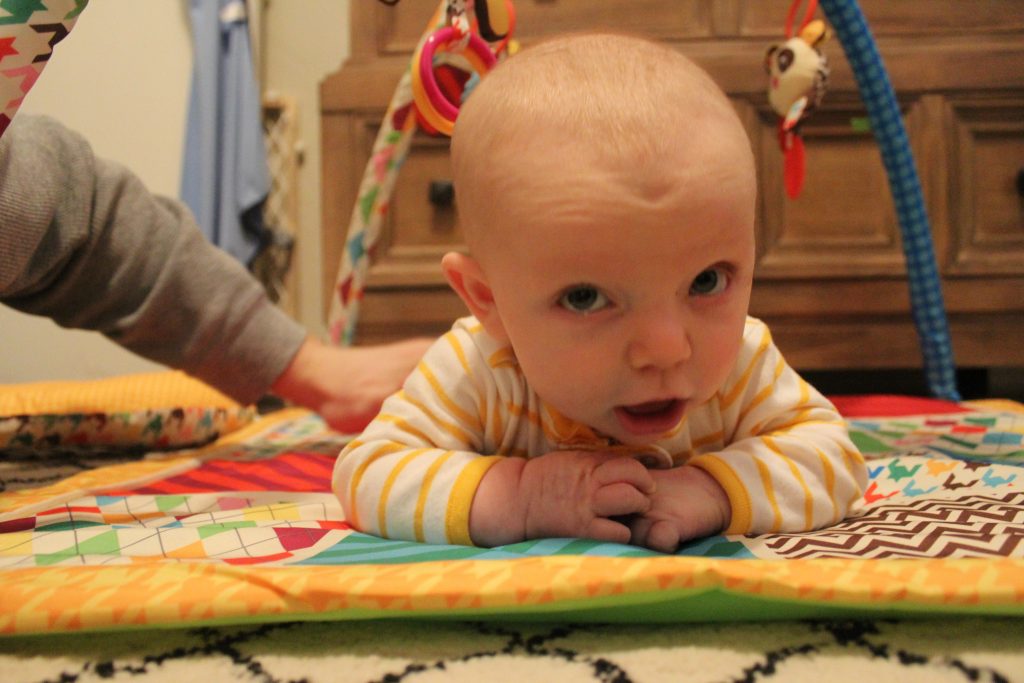 Project tummy time is in full swing – he's slowly starting to tolerate it little by little. 
Don't forget that you can sign up to receive my emails – I send one out every time I publish a new post, so you'll never miss out on anything that's happening on Shady Lane! There's a sign up form at the very top of the page. Let me know if you need any help!
Also, be sure and check me out on Instagram, Twitter, and follow me on Bloglovin'. I'm now on Snapchat too: lifeonshadylane – follow me! :)