A big thanks to Melissa's Produce for sponsoring this post!
When I was in college, I spent a semester abroad in Australia and while I was there, I tried a lot of new things – including skydiving and snorkeling in the Great Barrier Reef. There's just something about being in a foreign country that brings out a sense of adventure in you. I also got to try a lot of new foods, one of which was dragon fruit. Our grocery stores here in the states sell dragon fruit, of course, but I hadn't ever thought to try it before.
According to the Melissa's website, dragon fruit is "an exotic cactus fruit that has a delicately sweet and mildly acidic flavor, reminiscent of watermelon, cactus pear, and kiwi." Its texture and tiny black seeds remind me most of kiwi.
When they offered to send me some, I immediately started thinking about the possibilities for a recipe. I decided on a sorbet, and was so glad I did – this recipe is so good! It's simple, refreshing and light, so it would make the perfect summer treat. Or, if you're like me…you'll make it in the middle of winter because it's just that good. ;)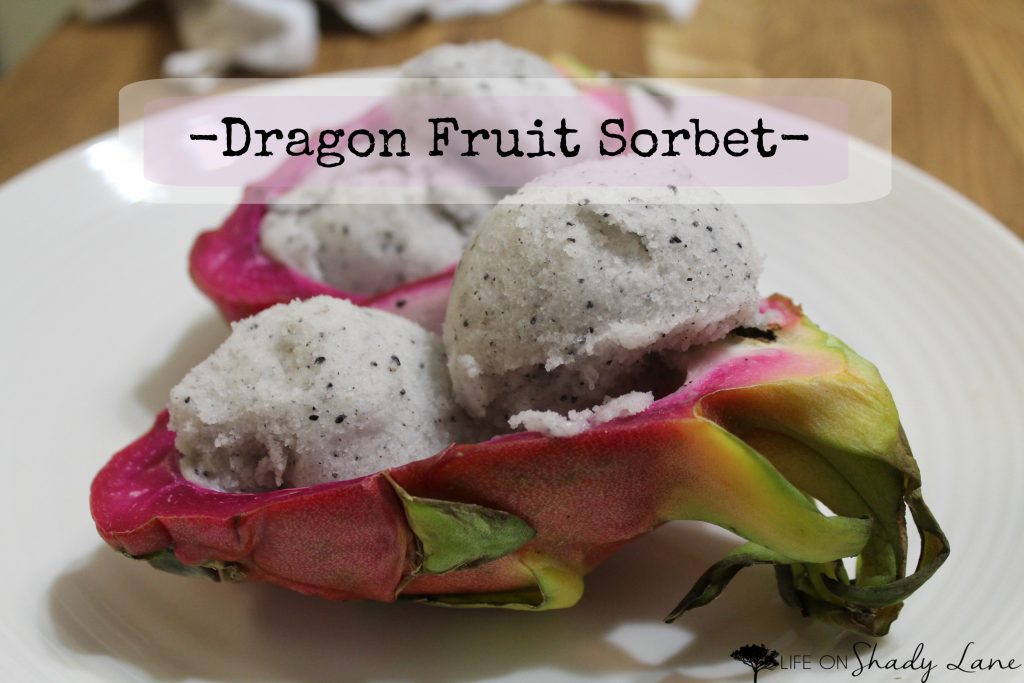 Ingredients
2 ripe dragon fruits
3/4 cup of cream of coconut
1.5 cups of ice
Juice of two limes
Ice cream maker
Directions 
(I feel like these shouldn't even really be called "directions" because they're so simple.)
Cut dragon fruit in half lengthwise and scoop fruit out with a spoon. Put in a blender along with the rest of the ingredients and blend until smooth.
Put in ice cream maker (follow the instructions for your specific model). When my ice cream maker was finished, I put the sorbet in the freezer so it would harden just a little more, but you could eat it right away if you prefer a softer sorbet.
That's it! Enjoy!
If you try it out, let me know what you think!!
Don't forget that you can sign up to receive my emails – I send one out every time I publish a new post, so you'll never miss out on anything that's happening on Shady Lane! There's a sign up form at the very top of the page. Let me know if you need any help!
Also, be sure and check me out on Instagram, Twitter, and follow me on Bloglovin'. I'm now on Snapchat too: lifeonshadylane – follow me! :)