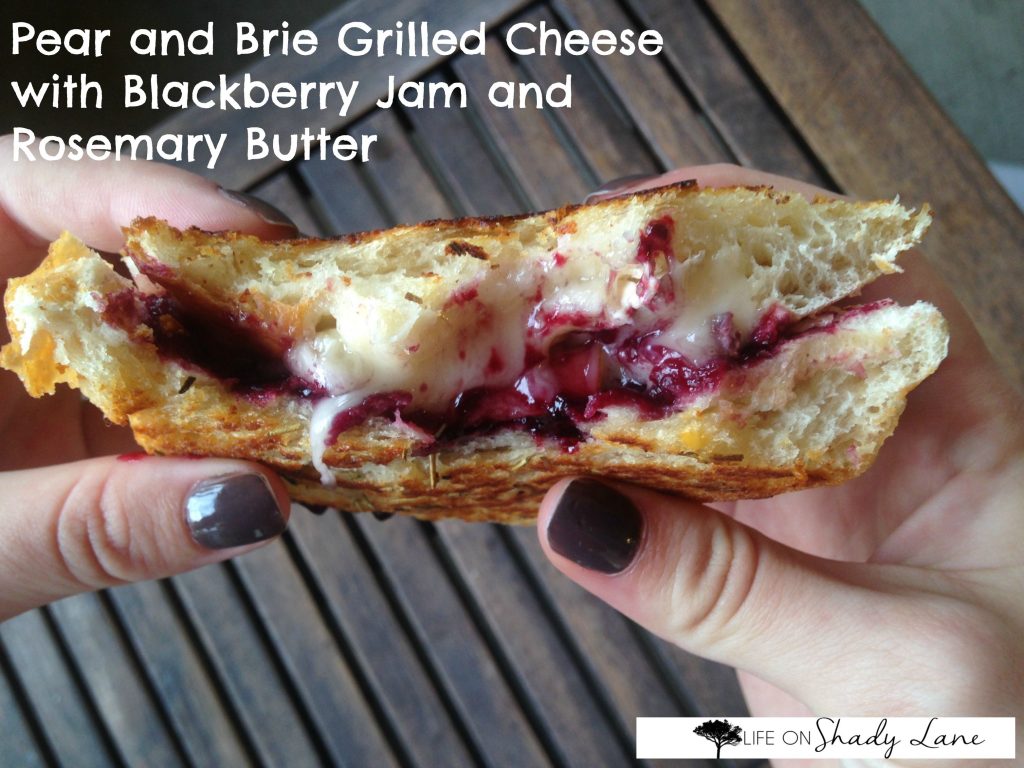 Grilled cheese has always been a favorite of mine – we even had it as an appetizer (with tomato soup shots) at our wedding. Not even kidding. That was the one thing that I knew I HAD to have when it came to food for the wedding.
While I'm always a fan of a classic grilled cheese with cheddar or american cheese, there's just something about a fancier sandwich that I can't say no to. I've committed to trying at least one new "recipe" per week to get us out of our rut (we always find ourselves eating the same things every week!), and while I didn't follow one particular recipe this time around, I was inspired by all of the delicious-looking varieties of grilled cheese on Pinterest.
This particular sandwich started with my favorite kind of bread – sourdough. I then layered on brie, blackberry jam, and pear slices. On the outside of the sandwich, I used butter + rosemary.
Holy cow you guys, this is one incredible grilled cheese.
Share your favorite grilled cheese recipes with me – I'm always open to trying different variations. And if you try this one, let me know what you think! :)
Don't forget that you can sign up to receive my emails – I send one out every time I publish a new post, so you'll never miss out on anything that's happening on Shady Lane! There's a sign up form at the very top of the page. Let me know if you need any help!
Also, be sure and check me out on Instagram, Twitter, and follow me on Bloglovin'