Brandon once asked me what my "last meal" would be, if I ever had to choose. You know what I said? Bread and olive oil. Not even kidding. Is that ridiculous? It might be, but it is one of my favorite things on the planet.
The other day, I came across an article about how many preservatives are in store-bought bread. The kind that sits on the shelf for a few weeks and still tastes perfectly OK. Not a good sign.
So…I decided to try making my own, and it came out really, really good. Here's how I made it:
Mix a packet of yeast with about a 1/4 cup of warm water. The water temperature is important: if it's too hot or too cold, the bread won't rise properly. You should be able to keep your finger in the water without burning it. I didn't use a thermometer, but if you do, the water should be 100-110 degrees Fahrenheit. Let the yeast sit for about two minutes, until it is thick, frothy, and smells slightly like beer. That's when you'll know it's ready to go.
In a separate bowl, mix together 6 cups of flour with 1 tsp. of salt. Then, stir in the yeast mixture.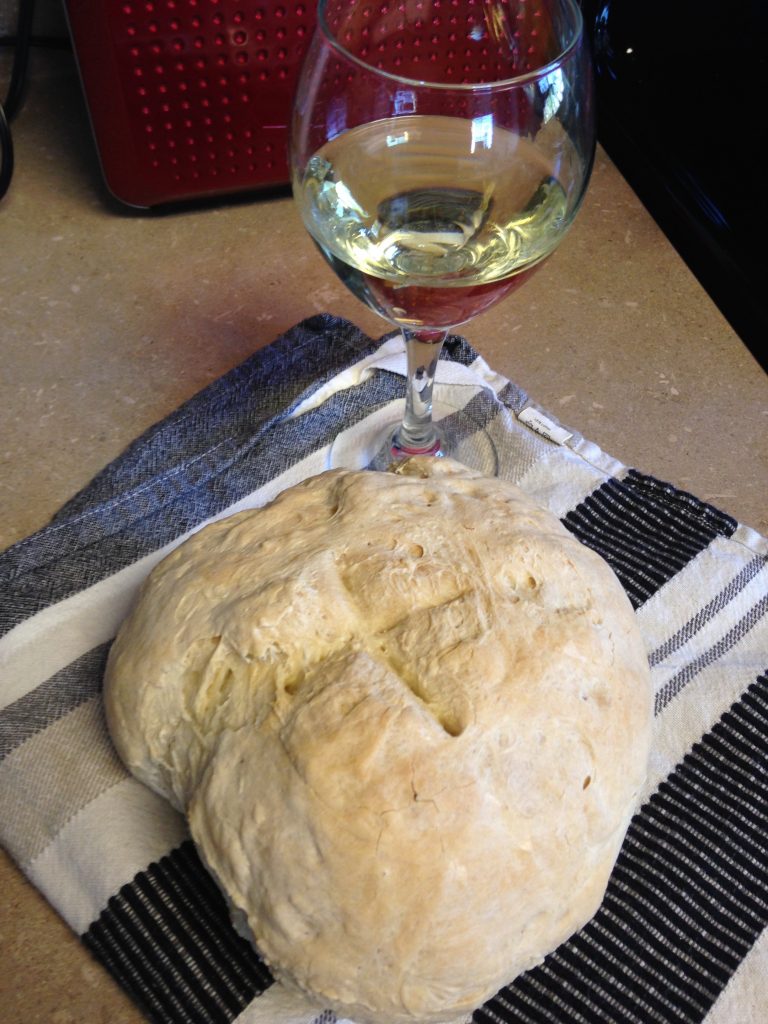 Slowly pour in 2 cups of water, mixing constantly with a wooden spoon. You'll want the mixture to become a sticky, workable dough, so be sure to continue mixing at a steady pace.
When the flour, yeast, and water mixture is combined, it should be sticky. Flour your hands and a large kneading surface, then pull together all of the dough and place it on your floured surface. Then, let the dough sit for about 5 minutes. This will allow the gluten strands to start forming.
While you're waiting, wash and dry your bowl – you'll need it again.
Next, knead the dough for 5-10 minutes, adding in just a little bit of the flour until the texture becomes smooth, not rough or lumpy. Place it back in the bowl and cover with plastic wrap or a towel. Let the dough rise for about 3 hours in a warm (not hot) place.
 After three hours, your dough will have expanded quite a bit.
Punch the air out, then take the dough out of the bowl and roll it into the flour a few times. You won't have to knead near as long this time, just long enough to get all of the excess air out. Place it back in the bowl, cover with the towel, and let the bread rise again for 90 minutes.
After 90 minutes, take your dough out of the bowl and cut into whatever  shapes you'd like – I formed mine into two boules. Then, place your bread loaves onto a baking sheet sprinkled with cornmeal. Cover again with the towel and let sit for about 45 minutes, until the loaves have plumped back up.
Bake at 400 degrees for about 30 minutes, or until the tops of your bread loaves are a light golden brown. You can also knock on the bottom of one of the loaves – if it makes a hollow sound, your bread is ready!
*Note: the secret to getting your bread to be crusty on the outside and soft on the inside is to use water. I placed a dish of warm water in the bottom of the oven, so that the water steamed while baking. You can also spritz with a water bottle a few times during the baking process, but I didn't have a water bottle. Either method works – so do whatever is easiest!
One of my loaves came out of the oven a little strangely shaped, but that just adds to the character, right? ;)
If you have the patience, wait until the bread cools to cut it. Or, if you're like me, take it straight out of the oven and dig in. We ate ours with olive oil, but also used it throughout the week for other things. It makes excellent toast and grilled cheese/bacon sandwiches. Just saying.
Let me know: have you ever made homemade bread? If you use this method, let me know how it goes!